Okanagan apple industry going through 'necessary reset,' says industry member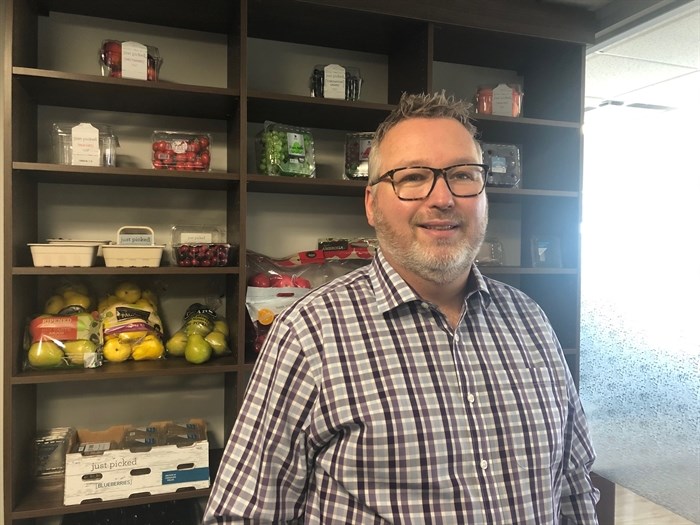 Apple farming may not be making anyone rich right now but from the perspective of one Okanagan packinghouse, conditions are far from dire.
"We see a lot of hope, but the industry is going through a necessary reset," Bryan Key, a category director at Consolidated Fruit Packers said. "That's going to be painful for some, but there are some great growers in the area and they should be rewarded."
Consolidated Fruit Packers is one of 10 local packinghouses taking in locally grown fruit and taking it to market both in Canada and abroad.
There used to be more but around 10 years ago, packinghouses merged to create less infighting in the industry.
It's around the same time Consolidated Fruit Packers started and Key said they've been slowly building a base of farmers they trust and who trust them, so they do things a little differently.
As one example, they operate on a smaller scale than others.
For another, they don't require farmers to give them all their fruit, or nothing, as some do.
"If they have (some) they want to save for the farmer's markets, they can do that," he said.
They just require that contracts are met and standards are kept high and they're reaching out to farmers that offer a premium product.
The Day's family farm, for example, boasts four generations of local farming and are a key member of the packinghouse and indicative of what they want to be taking to market.
"We try to under-promise and over-deliver to our growers," Key said. "Good growers deserve decent returns."
Getting those higher returns also requires a slightly different business model than bigger packinghouses are able to offer.
For one, Key said, they've found it easier to find what customers want and supply that than getting something customers don't want and expecting a high return.
So, they seek out high-quality medium to large-sized apples, and they sell them to customers who are awaiting them.
The mother company, the Star Group, also has a diversified portfolio that allows administrative and tech costs to be streamlined.
When one region isn't so busy, the admin and tech services shift to another area, allowing costs to be shared across multiple companies.
That said, prices are depressed — though he disagrees with some of the reasons that have been stated, however.
"I haven't seen Washington fruit being dumped into Canada — I don't see that," he said. "I see new varieties that are higher priced coming into Canada that we don't have …There are a lot of great growers in the industry and they should be rewarded, but there are also others not growing what the customers want."
He also said that there's an industry "disconnect" that's causing issues.
One of the biggest packinghouses gave its members their first advance recently and it was 15 cents per pound — compared to the cost of production, which is at 25 cents a pound. Apples retail for around $1.50 a pound.
"The demand from retailers is very high, so there's a disconnect that the price is so low," Key said.
B.C. Tree Fruits Board member Amarjit Lalli recently told iNFOnews things aren't right in Okanagan apple orchards. The industry has endured three years of declining returns while retail demands a price of $1.50 a pound and higher.
"Someone in the middle is making a lot of money, and it's not the grower. The grower is getting all the bits and pieces that are left over," Lalli said. "It's pretty dire. There are some farmers who can't make mortgage payments of purchase input for this year's crop."
Lalli says government needs to step in as the local industry continues to get hammered.
Key doesn't think that's what anyone should want. A healthy industry shouldn't require government intervention.
It should reflect the reality of the market, which is that there is a strong appetite for high quality fruit.
The cost of farming is higher in Canada than elsewhere, so the prices will reflect that, he said. It should also reflect "the blood, sweat and tears" that orchardists put into their product, he added.
Already, he said, his packinghouse has been able to make a case for that.
---
To contact a reporter for this story, email Kathy Michaels or call 250-718-0428 or email the editor. You can also submit photos, videos or news tips to the newsroom and be entered to win a monthly prize draw.
We welcome your comments and opinions on our stories but play nice. We won't censor or delete comments unless they contain off-topic statements or links, unnecessary vulgarity, false facts, spam or obviously fake profiles. If you have any concerns about what you see in comments, email the editor in the link above.
News from © iNFOnews, 2020