New way of preserving farmland championed in Okanagan, Kamloops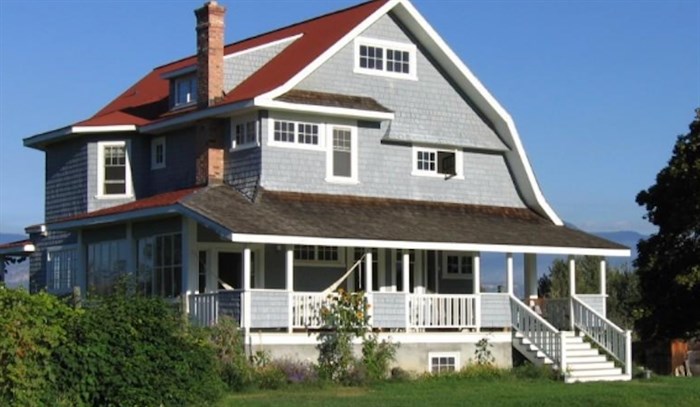 While there are a number of trusts that serve to protect wild land in B.C., that's more of a challenge when it comes to preserving working farms.
A Kelowna family is joining with Foodlands Cooperative of B.C. to put their farm into a trust that will preserve it as a working farm in perpetuity. Other groups in Kamloops and Armstrong are looking to join the fledgling Foodlands movement as well.
Mark Haley owns the 1909 vintage Cross House that he moved to his sister's Ceres Circle Farm in 1995 and operates the house as the Mission Creek Country Inn B & B. He's donating the house, once he and his partner die, and his sister, Sue, has already donated her 36-acre farm to the trust.
"We're not looking at land as a commodity that you buy and sell and make money off of," Mark Haley told iNFOnews.ca. "It's a new way to look at it. It's transferring it to a common ownership - or you could say no ownership in the sense of buying or selling. It can't be bought and sold again, if it goes into this charitable Foodlands Trust. It's kept as a trust for future generations."
The trust is in its infancy and is still trying to get charitable status from the federal government. The Canada Revenue Agency is having difficulty accepting a "surplus generating enterprise within a non-profit umbrella group," Haley said.
Trust staff member Heather Pritchard was a founding member of FarmFolk CityFolk in the Lower Mainland. That group is holding the Lohbrunner Farm in Langley in trust until it can be turned into the first holding of the Foodlands Trust.
She's working with Haley to make the Ceres Circle Farm Cooperative the second member of the larger group.
She's also talking with a group in Kamloops trying to set up co-op housing on farmland and talking with a farm in Armstrong as well as a few other interested groups around the province.
The idea for the Kelowna farm is to have it run by a cooperative which is in the process of drafting bylaws and establishing its structure but will eventually be open to others to join, Haley said.
As an immediate next step in the process, he has an application going to the City of Kelowna's Heritage Advisory Committee on Friday, Jan. 24, asking that the Cross House be put on the City's Heritage Register to protect it from future development.
"There are only about 20 buildings that have received the (City's) heritage designation status," Haley said. "Most of them are institutions, such as the firehall, the school house in Ellison, these types of historic buildings. I didn't see any others that are on a farm. So this is to protect the site and see how a heritage building can work with a farm."
It also allows the co-op to apply for heritage grants to help maintain the building.
"It's a recognition of our history and how our communities develop and what values we have to preserve, not only in buildings but, in this case, an entire farm is being used as a model of a different way of owning and husbanding and ensuring that land will be productive into the future," Haley said.
"It's made to address these questions: How do we address farmland into the future? How do we provide for housing for people that are working on farms? How do we make sure that land isn't just a speculative commodity to just buy and sell on the marketplace? How do we look at our relation to the land and food production?" he said.
"These are all things that we're thinking about and are passionate about and we think there needs to be another way to approach it rather than making a million dollars or a few million dollars. That's the program that's got us to where we are now. It's not working out. There's more homeless people than ever. There's more empty houses than ever. There's more abuse of the environment than ever. So, when you are living in the world, you want to make a difference."
CROSS HOUSE HISTORY
The Cross House was originally built about 1909 by Abel Gagnon at 202 Strathcona Ave. (later renamed Long Street).
From 1925 to 1944 Elwood and Islay Cross lived in the house. Elwood was an orchardist, general manager of the Dominion Canners plant and started Rutland Canners Ltd., near where Scandia is now located. It processed vegetables, especially tomatoes and juice, but was destroyed by fire in the winter of 1938-39.
He went on to build the Bulman dehydrating plant in Vernon and the Vernon Frozen Food Lockers but died before it was finished.
In 1995, Haley bought the house when it was being auctioned off to make way for the Kelowna Cancer Clinic and relocated it to his sister's farm on KLO Road near Mission Creek.
---
To contact a reporter for this story, email Rob Munro or call 250-808-0143 or email the editor. You can also submit photos, videos or news tips to the newsroom and be entered to win a monthly prize draw.
We welcome your comments and opinions on our stories but play nice. We won't censor or delete comments unless they contain off-topic statements or links, unnecessary vulgarity, false facts, spam or obviously fake profiles. If you have any concerns about what you see in comments, email the editor in the link above.
News from © iNFOnews, 2020