Naramata wineries opposed to use of Naramata Bench term to denote wine region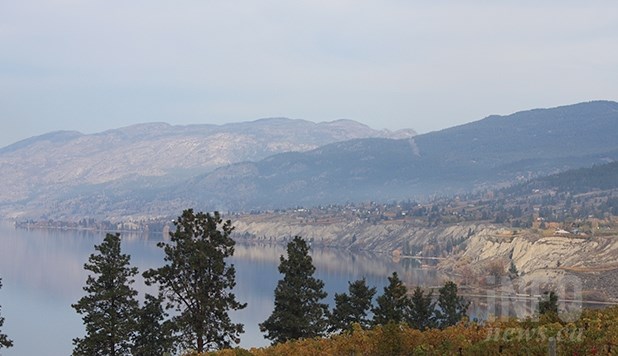 PENTICTON - What's in a name? When it comes to a wine region, a lot.
A vote in the works to establish a geographical indicator on the Naramata Bench, similar to that granted Okanagan Falls wineries a few weeks ago, has incited some opposition amongst Naramata winery owners.
Those against the move feel there are few benefits to the idea, calling it a bureaucratic waste of time and money.
They also don't want to see useage restrictions put on the term "Naramata Bench" due to its implementation as a geographical indicator.
La Frenz Winery owner Jeff Martin and Kettle Valley Winery owner Bob Ferguson recently pitched their argument against establishment of a geographical indicator for the bench, outlining their concerns. The winery owners also feel the issue hasn't been fully explained by the committee proposing the move.
Martin says those favouring implementation of a Naramata Bench sub indicator are a self-appointed group of individuals without significant personal capital in the Naramata Bench wine industry.
He says the proposal only includes wineries that are B.C. Wine Authority VQA members, while other legitimate stakeholders on the Naramata Bench aren't being given opportunity for input, a figure he says amounts to around 35 per cent of Naramata wineries.
"I have six vineyards on the Naramata Bench, (Kettle Valley Winery owner) Bob Ferguson has six vineyards on the bench, and we don't want it. We've invested a lot of skin in this game and we don't want it," Martin says.
Martin fears if the upcoming referendum is successful, only winery association members will be able to use the Naramata Bench designation.
"We don't want to join the VQA program because of the bureaucracy of it. We are a 100 per cent B.C. Canadian product. That's part of our license and we don't need VQA to prove that," he says.
He says the Naramata Bench Winery Association was established 15 years ago to make the bench more prominent in the eyes of the wine-buying public.
"It was a backwater on the wrong side of the lake between Kelowna and Oliver," he says.
"It was La Frenz, Kettle Valley, Poplar Grove, Hillside, Nichol, Lake Breeze and Lang Wineries who originally got together and coined the term Naramata Bench as a a banner to promote a united front of wineries to the public," he added.
Martin says if the geographical indicator is approved and copyrighted as Naramata Bench, its use will only be available to members of the B.C. Wineries Association for use in the VQA program, leaving founding wineries like his without legal means to use the moniker.
"We don't believe a GI will have any positive influence on Naramata wine sales. If some stakeholders believe it will, then why not use a different geographical indicator term like Penticton or Naramata. That way it appeases all parties and leaves the Naramata Bench brand alone," he says.
"I don't believe there is any net gain to having a geographical indicator. It divides the Naramata wineries, which is the opposite reason we started the Naramata Bench name in the first place. I don't see any positive to it at all," he says.
Naramata Bench's Hillside Winery and Bistro Winemaker Kathy Malone says the committee of five volunteers who put forward the application set up two town hall meetings and held two open houses to answer questions about the issue, including placing of a drop box and distribution of a fact sheet with pros and cons of the application.
"The only comment our group would like to make is it is unfortunate the wine authority is being accused of not executing due diligent in the application process, as they have tried to reach as many people as possible," she says.
Summerhill Pyramid Winery CEO Ezra Cipes also weighed in on the issue with an open letter he said he felt compelled to share because he had read Martin and Ferguson's opposing letter.
"They failed to communicate several years ago we all voted as an industry to give the BCWA authority to regulate all geographical locations, whether official or not. It's been loose up to now," he says.
Cipes called the Naramata Bench the most valuable geographical designation in Canada.
He said the BCVQA program, while not perfect, was evolving to better serve the industry
"Naramata Bench growers and wineries lead Canada in marketing terroir. I wish Kelowna vineyard people were as organized and well developed as (Naramata is), and that we had an application ready to go," he said.
B.C. Wine Authority General Manager Scott Hennenfent said opposition to a sub geographical indicator vote isn't unusual.
He said the authority doesn't take sides in the issue, but acts to ensure applications submitted by the province's wine industry find their way to provincial authorities.
He said the Naramata Bench term would not be trademarked in the event of the wineries securing a sub appellation.
"We don't copyright, it's a prescribed term only related to labelling on wine bottles. There is no copyright involved," he says.

The vote, being conducted through the B.C. Wine Authority, is scheduled to be finalized on Aug. 27.
---
To contact a reporter for this story, email Steve Arstad or call 250-488-3065 or email the editor. You can also submit photos, videos or news tips to the newsroom and be entered to win a monthly prize draw.
We welcome your comments and opinions on our stories but play nice. We won't censor or delete comments unless they contain off-topic statements or links, unnecessary vulgarity, false facts, spam or obviously fake profiles. If you have any concerns about what you see in comments, email the editor in the link above.
News from © iNFOnews, 2018