'My whole life has been in apples:' Davison Orchards from humble beginning to busy tourist spot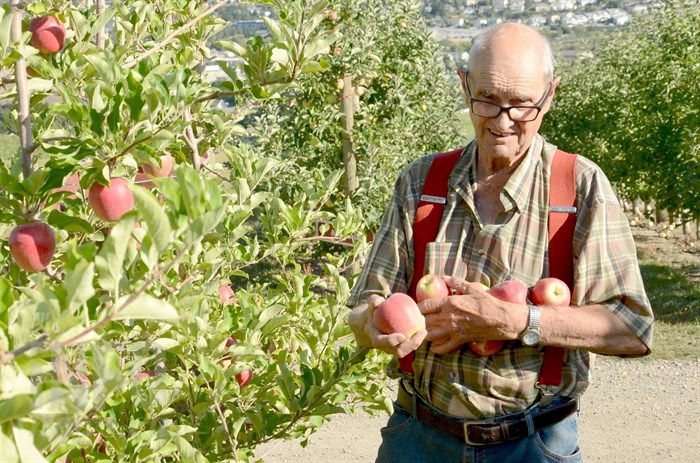 VERNON - Dressed in a baggy plaid shirt, with jeans that are at least one size too big held up by suspenders, the man affectionately known as Grampa Bob looks every part the old school farmer that he is.
With a slight frame, a wry smile and sharp wit, the 86-year-old sits down at a picnic bench outside Davison Orchards farm store on a warm afternoon in early September.
Even though the summer break has ended and kids are back at school, the popular Vernon attraction is still hopping on the weekday afternoon. He laughs at the suggestion the place is busy - compared to the week before it's dead, he says.
Sitting at the bench opposite the original farmhouse, which is now the cafe, Bob Davison recalls stories from the early days of the orchard naming plenty of apple growers in the North Okanagan as if the events happened just recently. He talks about old-time farmers using their title, first initial and last name, and recalls how all his business deals took place.
"It was all on a handshake but the relationship was rock solid," he says. "That's how business was done, eyeball to eyeball... it meant something."
From the orchard's beginnings as a 34-acre farm purchased by Bob's uncle, Tom Davison in 1933, to the destination farm experience the Davison Orchards Country Village has become today, Bob talks passionately about his life on the farm he took over in 1953, and the seven decades since.
Bob started working on the farm at age 17, in 1948. Five years later he married Dora McKenzie, and the two still live at the orchard and have been married for 66 years.
While Bob's stories from the early days are plentiful and difficult to keep up with, after more than 70 years growing apples, Bob is far from stuck in the past.
"You've got to remember this. Times change and that's the only sure thing here is change," he says.
Bob's memory is hazy when asked when the orchard began to transition into what it is today. Nonetheless, he's very clear about who's largely responsible for the dynamic success of what it is today.
Bob's son Tom married Tamra and moved to the farm in the early '80s. At the time the orchard largely grew macintosh apples.
"(Tamra) didn't know anything about growing anything, can't keep a plant alive," Bob says. "She told me she can sell apples... I didn't believe it."
However, Bob was quite wrong.
"She proved she had a nack, I didn't realize it," Bob says. "I had to eat crow."
The orchard had grown macintosh apples for decades but the variety was tough to grow and left little elbow room if things went wrong.
One day Bob caught Tamra eating a granny smith apple imported from New Zealand.
"I said to her you lost it. What the dish you eating? She said, 'I like it,'" he says. "That was the first sign I had that there was going to be a massive change coming."
From macintosh apples, the orchard diversified, and now they grow close to 20 varieties, along with pumpkins, several different varieties of squash, as well as peaches, plums, pears, tomatoes, peppers and corn.
Bob admits he embraced the idea of diversifying "slowly."
Over the years the orchard expanded to more than 100 acres and now hosts everything from orchard tractor tours, to a kids' corral, along with selling every conceivable product made from apples and the other produce grown on the farm at the farm store.
"If you're going to attract people you've got to have a lot of different products," Bob says.
And attract people they do. With no admission charge, it's difficult to keep numbers, but they estimate around 350,000 people visit the orchard every year.
As Bob heads up into the orchard to check on the many varieties growing, he jumps onto the rear of the golf buggy, insisting the passenger seat is given to his guest.
He seems immensely proud when he walks through the rows of trees, carefully inspecting the crop.
"My whole life has been in apples and I've seen some fabulous changes," he says.
Tragically he developed diabetes 20 years ago and isn't allowed to eat apples.
He denies it's tragic.
"That's life, I'm here and enjoying every day," he says, adding with a wry smile on his face "I eat a few when nobodies looking."
Davison Orchards Country Village is located three kilometres west of downtown Vernon. Whether heading to Vernon from either north or south take Highway 97, travellers then need to turn onto 25 Avenue and follow the signs, its just a five-minute drive. It can be found at the aptly named 3111 Davison Road, and is open seven days a week from 8 a.m. to 6 p.m. For more information go here.
---
To contact a reporter for this story, email Ben Bulmer or call (250) 309-5230 or email the editor. You can also submit photos, videos or news tips to the newsroom and be entered to win a monthly prize draw.
We welcome your comments and opinions on our stories but play nice. We won't censor or delete comments unless they contain off-topic statements or links, unnecessary vulgarity, false facts, spam or obviously fake profiles. If you have any concerns about what you see in comments, email the editor in the link above.
News from © iNFOnews, 2019