Mild winter playing havoc on Okanagan icewine producers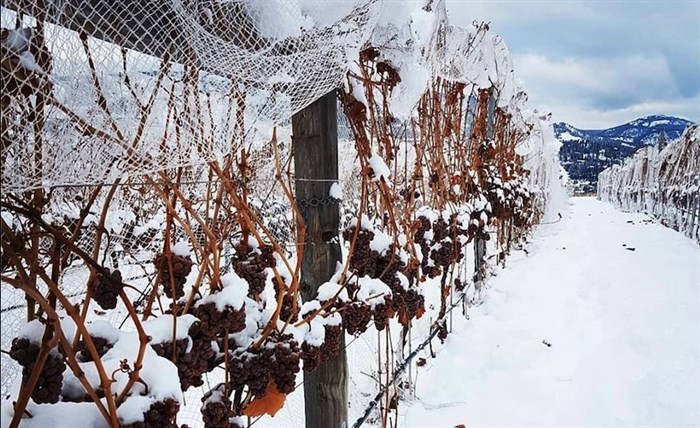 Edwin Chu is keeping his fingers crossed, checking the weather forecast obsessively and unlike the rest of us — hoping for colder temperatures.
For the manager of West Kelowna's Grizzli Winery, the mild winter is playing havoc with this season's icewine harvest, with grapes still sitting on vines waiting for the mercury to drop before they can be picked.
"Our harvests tend to be at Christmas time and in the new year. This year has been an exceptional year as even up to today our grapes are still waiting for the temperature [to drop]," says Chu.
Chu says the grapes that produce icewine can only be picked when temperatures drop to a minimum of -8 C, anything warmer than that and the wine won't be classified as ice wine by the BC VQA (Vintners Quality Alliance). With icewine making up around 50 to 60 per cent of the winery's business, Chu's putting a brave face on the stress the mild winter is having on the business.
And according to Environment Canada it doesn't look like temperatures are due to plummet anytime soon. Environment Canada meteorologist Carmen Hartt said this winter has been a "developing El Niño phase" which corresponds with mild winters for Western Canada. Hartt said climate models predicted this weather pattern and so far they've been right.
Weather stations in Vernon and Kelowna have only recorded four instances so far this year when temperatures have dipped to -8 C and not a single day where the temperature has remained -8 C or colder. In Vernon, the winter of 2017/2018 saw 10 days below -8 C with the winter of 2016/2017 seeing 19 days below -8 C. The years from 1901 to 2006 averaged 9.9 days per year of temperatures - 8 C or below.
B.C. Wine Institute spokesperson Laura Kittmer said this season has been the toughest season since 2009 for icewine producers. With bumper icewine harvests in 2013 and 2014 with roughly 1,000 tons of grapes picked, this year's crop stands at a mere 121 tons picked. Of approximately 200 wineries in the region, 20 are registered icewine producers and of those, only seven have picked their grapes.
This winter's mild weather is a sharp contrast to the frigid temperatures experienced by Ontario's icewine producers. Wine Marketing Association of Ontario spokesperson Magdalena Kaiser said Ontario icewine producers picked their first harvest Nov. 20, a date she believed could have been the earliest since the province started producing icewine in 1984. Milder temperatures throughout December saw no grapes being picked until the mercury plummeted at the beginning of January. Kaiser said all the ice wine grapes have now been harvested but it was too early to know volumes or predict how good a season this year will be.
But the longer the grapes stay on the vines here in B.C. the fewer grapes a producer has to make icewine.
"You'll lose those grapes to animals, the longer they hang there they'll drop, they'll shrivel up," said Kittmer. If the cold weather doesn't come, Kittmer says growers will likely use the grapes to produce late harvest dessert wine.
And if and when the temperature does drop below -8 C icewine producers face another challenge. Grapes have to be harvested and processed straight away, whether that's during the day or in the middle of the night. Chu said the winery then needs to find the labour to pick the grapes at short notice.
"It could be midnight and recruiting can be difficult," he adds. "There's a reason why so many wineries don't want to make icewine. There's so much involved and the risks are beyond our control," says Chu.
The Grizzli Winery normally produces anywhere from 100 to 300 tons of grapes per season to make icewine. With 200 tons of grapes producing roughly 10,000 cases of wine, Chu admits this season has been "very,very stressful."
Chu says if the cold weather doesn't come the only option will be to use the grapes for late harvest wine, and that's only if lab tests give the grapes the okay.
For the time being, he's trying to be optimistic about some colder weather coming to the Okanagan. He says the weather forecast predicts Jan. 28 to be cold but admits the forecasts changes every couple of days.
---
To contact a reporter for this story, email Ben Bulmer or call (250) 718-0428 or email the editor. You can also submit photos, videos or news tips to the newsroom and be entered to win a monthly prize draw.
We welcome your comments and opinions on our stories but play nice. We won't censor or delete comments unless they contain off-topic statements or links, unnecessary vulgarity, false facts, spam or obviously fake profiles. If you have any concerns about what you see in comments, email the editor in the link above.
News from © iNFOnews, 2019