Make a Paella for your 'bubble' of friends and family this summer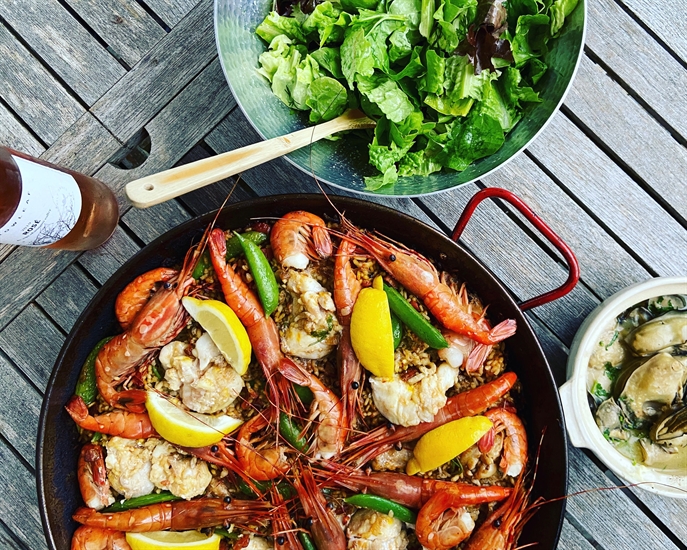 Looking for a new summer wow party dish? I have a great suggestion and one that really celebrates B.C. Ocean Wise seafood.
You may have seen Paella (pah-ay-yah) popping up on Instagram stories lately or seen it on restaurant menus. This traditional Spanish dish is rice loaded with seafood and usually chicken and is most authentically created over an open fire. It is not as daunting as it looks and is all about heat control and timing of adding ingredients.
In Spain, the combinations of ingredients that can make up a paella are endless. Every paella cook will have his or her signature style. So this is a dish that calls to your inner creative and your own individual tastes, so go wild and make your own legend. For the seafood options, mussels, lobster, clams, prawns, white fish and even salmon are all wonderful options. For the meat, you can use chicken, rabbit or a variety of sausages.
We were cooking on Quadra Island so used what the local seasonal bounty provided.
Digging for our own geoduck (see notes below), we picked up Spot Prawns from a local fisher, cod cheeks, and sugar snap peas were ready in the garden. Quadra Island is one of the Gulf Islands accessible through a short ferry ride from Campbell River.
The pan. A good paella pan is important for success and we suggest investing in one. Paella pans are made of a very thin, conductive metal (carbon steel), usually plain or enamelled steel. No lid. If you don't have a paella pan, the alternative is to use a large skillet- 18 inch or larger for a group, in stainless-steel or cast-iron. You can make smaller paella for groups of two to four people with a smaller pan, but here we go big for a party.
You must find a heat source that will cook the surface area evenly. We suggest cooking the paella outdoors on a large gas or charcoal grill, or better yet a wood fire, which is how it's done traditionally in Spain. If you are building a fire pit, like we did on Quadra Island, make sure that it can sustain a constant even source of heat.
Quadra Island Paella Party
Serves 8-10
1/3 cup olive oil
12 chicken drumettes
1 large Spanish onion, finely chopped
½ cup (1 link) cured chorizo, minced
5 cloves, garlic, minced
4 Tbsp Smoked paprika (sweet or hot or a combo)
1- 795 ml can crushed tomatoes
3 cups Bomba rice (short grain paella rice)
5 cups shrimp stock or fish stock
1 cup white wine
Saffron 2 large pinches
16 Spot prawns
8 ling cod cheeks (or other small pieces of white fish)
2 pounds clams, rinsed (or 1 cup geoduck, thinly sliced *see note below)
12 or more pods (2 cups) sugar snap peas (optional shucked peas)
Salt and pepper
To serve:
2 lemons, quartered lengthwise
¼ cup parsley, chopped finely (optional)
1 15-18-inch paella pan
Method:
Heat oil in pan on medium high heat. Add the chicken and cook for 4-5 minutes or until lightly browned. Then add chorizo and onion and cook for two to three minutes or until onions are slightly translucent. Add garlic and sauté for a minute, then add smoked paprika and tomatoes with juice and stir for two minutes to combine flavours.
Add the wine, stock, saffron and rice, stir to distribute evenly ensuring that the rice is submerged. Bring to the boil and simmer on low for 10 minutes and then arrange cod cheeks, peas and spot prawns on top. Cook for another eight minutes then add the clams (or clam meat) and cook for two minutes longer or until shells open. Before you finish with the clams, taste the rice and make sure it is tender.
*Note: we dug our own geoduck from the beach! Geoduck is a prized species of large clam, native to the coastal waters of western Canada. The large protrusion of the actual clam provides a lot of meat but has to be prepared by shucking and skinning it properly, (google instructions) and then best way to is to slice thinly.
Note: If possible, the goal is to create a crispy bottom crust, traditionally known as soccarat (soh-kah-raht). This will set you apart as a master of paella. Use your ears and nose to gauge the readiness. You will hear a crackling sound and smell that glorious toastiness from the crisping rice.
Hooray you are ready to wow your guests! Top with chopped parsley and a lemon wedge for each plate. Serve with copious amounts of B.C. Rosé!
---
We welcome your comments and opinions on our stories but play nice. We won't censor or delete comments unless they contain off-topic statements or links, unnecessary vulgarity, false facts, spam or obviously fake profiles. If you have any concerns about what you see in comments, email the editor.
News from © iNFOnews, 2020