Kelowna's new brewery Rustic Reel is open and reeling in customers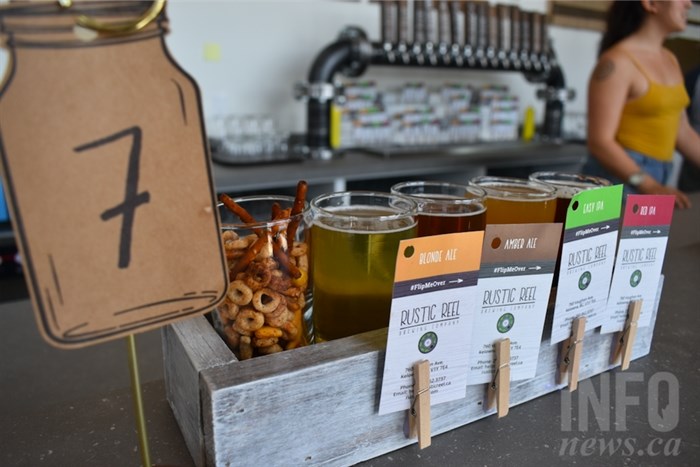 KELOWNA - Rustic Reel Brewing Co. is the most recent brewery to open its doors in downtown Kelowna, and customers are already raving about it.
On August 24, Rustic Reel announced that the work was finally complete and they're ready to serve the public.
Located at 760 Vaughan Avenue, just off Richter Street, Rustic Reel's new home features huge roll-up doors that open out onto the patio, ample seating and rustic, fishing-themed decor.
Hold onto your hats, because they're also serving brunch.
You may have joked with your friends about having beer with breakfast, but at Rustic Reel, it ain't no joke.
"Sundays are for just casual enjoyment of life," owner Susi Foerg says. "It doesn't matter how late you sleep in, you get that brunch all day long."
Their Sunday brunch menu includes camping inspired dishes like skillets, baked beans, waffles and French toast.
From Tuesday to Saturday, Rustic Reel serves up even more comfort food, from nachos to charcuterie, to pulled pork sandwiches or assorted avocado toast.
"It's feel-good food," said Foerg, "We've created a menu that is easily adjusted for anyone who has either a dietary restriction, or has made a lifestyle choice that's important to them."
Good news for vegans, you won't be stuck with a lame salad anymore — at Rustic Reel, those days are over.
Providing dietary options is something Foerg feels strongly about, as it hits close to home.
"My mom has a lactose allergy and is celiac," she said. "This is why we have these different options, including our gluten reduced blonde beer. I wanted to make sure there was something she could have, always."
Dietary options are not Foerg's only priority.
"I have very strong feelings on the ethical treatment of animals," she said. "It was really important to me to find companies to work with and purchase from that are ethical farmers."
The majority of these farmers are located in B.C., some even in the Okanagan.
These ethics not only apply to the meat and dairy on the menu, but also to the cleaning products used at the brewery — none of the chemicals have been tested on animals.
In the future, Rustic Reel will be collaborating with a new company Okanagan Cured to create some delicious, locally sourced charcuterie. Okanagan Cured will be opening in the next couple months.
Another feature at the brewery is the Tackle Box, an in-house market featuring products from Taste of the Okanagan Specialty Foods.
"They source their products from the Okanagan," Foerg said. "We're incorporating some of their ingredients into our menu items, and you can purchase those menu [ingredients] in our Tackle Box."
Taste of the Okanagan also has a tent at the Kelowna Farmer's Market every Saturday beside Orchard Park Mall.
The opening of Rustic Reel marks the finish line in a long road of hard work.
"This project, I knew it was going to be hard, but I underestimated just how hard it was going to be," Foerg said. "It's not for the faint of heart."
Much of the struggle comes from coordinating so many different trades during construction.
"There's constantly things that come up that are unplanned," Foerg said. "It can derail you for one to two weeks."
Foerg explains that it's no ones fault, these delays are all part of the industry, but unfortunately they caused Rustic Reel to open later in the summer than she'd hoped.
Another obstacle that all breweries must overcome is acquiring licensing.
"There's definitely a need for change in terms of how the licensing process happens for breweries, unfortunately the B.C. liquor licensing branch is understaffed."
It's difficult to get an inspector, and communication is slow between city and provincial governance.
"Even though craft breweries have been around now for awhile, it's still a fairly new industry," Foerg said. "Each city has their own regulations, and then there's the province that has its regulations."
As of yet, a streamlined process through all this legislation is greatly lacking. However, Foerg is grateful for the immense support from within the craft beer community.
"Other craft breweries in general are very helpful to each other, and that's a really great aspect of this industry," she said. "They're very willing and ready to help."
Foerg learned some valuable advice from Vancouver's Electrical Bicycle Brewing crew, and that's to settle in.
"There's always going to be an obstacle," she said. "You've just got to settle in to dealing with it, because there's another one behind it."
Currently, Rustic Reel has four brews on tap, with a Hazy IPA coming in a week, and a Chocolate Imperial Stout coming September 28. But this is only the beginning.
Rustic Reel is open Tuesday to Thursday 11 a.m. to 10 p.m., Friday and Sunday from 11 to 11 and Sundays 10 a.m. to 8 p.m.
---
To contact a reporter for this story, email Brie Welton or call (250) 801-9235 or email the editor. You can also submit photos, videos or news tips to the newsroom and be entered to win a monthly prize draw.
We welcome your comments and opinions on our stories but play nice. We won't censor or delete comments unless they contain off-topic statements or links, unnecessary vulgarity, false facts, spam or obviously fake profiles. If you have any concerns about what you see in comments, email the editor in the link above.
News from © iNFOnews, 2019