Kelowna farmers make core changes to produce Karma Apple Soda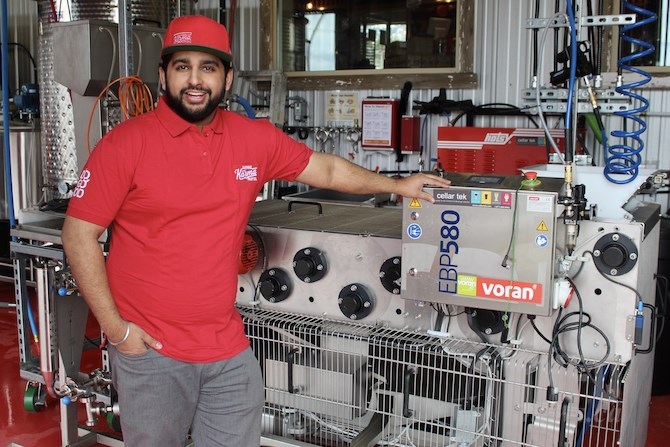 The story of Karma Apple Soda is more than a story about a new product being launched by a fruit-growing Kelowna family.
It's also the story of community support for a new business venture, the creation of a new beverage classification and the education of a farming family into the world of retail business.
"It's not really a sparkling water and it's not a fruit juice and it's not a pop," Avi Gill told iNFOnews.ca about Farming Karma Fruit Company's Apple Soda. "We've received very good response so far. Moms love this drink for kids. Kids love how it tastes and it's fizzy and it's generally a very healthy product. There's one apple in a can, no sugar added, not from concentrate. A very clean product."
Karma and Kuku Gill have been growing fruit – mostly apples and cherries – for 26 years on what is now 150 acres.
Their son, Avi, grew up in Kelowna and graduated from Kelowna Secondary School before going to UBC in Vancouver to become a pharmacist. He was working in that field in Kelowna for only a year and a half before sitting down with his parents to talk about the future.
With apple prices falling, Avi talked about changing from selling a commodity to selling a brand.
"The analogy I use is, when we buy our phones, this is an iPhones versus a Samsung," Gill said. "We're essentially buying a brand and the marketing behind it. Even on a smaller level, when we go to a winery or buy wines, there's a marketing availability there to market the wine as this is a so and so wine and it's different than all the other wines because of A, B, C, D.
"We found that, when we're selling apples we're just growing and shipping it off. It's just a commodity. There's not really an opportunity to set your own price or to say why your apple is better."
Coming up with the name was obvious.
"Farming Karma is the concept there because my father's been farming for a long time," Gill said. "What we like to do with the word is to do good in the community, so it's do good Karma, good Karma and Freedom, Family and Fun."
It was the product line that took some work.
It started off by chatting with Tony Lewis from Vibrant Vines in East Kelowna. The family knew him from once having leased that orchard. Lewis, with his experience in wine production, helped Gill find the equipment needed to, first of all, make cider and teach Gill how to use it.
Gill found that apple cider was too sweet so they experimented with options.
"Then it was me and him learning as we went along," Gill said. They came up with the apple soda. The cider is diluted with water, some preservatives are added then it's carbonated. It has only 50 calories per 310 ml can, much less than the 160 in a 355 ml can of pop or 120 calories per 250 ml for orange juice.
He started selling it at the Kelowna's Farmer's and Crafter's Market last summer and now it's in more than 300 stores throughout the province.
A big part of that expansion he credits to Peter Boyd at Peter's Independent Grocer in the Capri Centre.
"We were just working through our formula and he called me and said 'tell me a little bit about what you're doing,'" Gill said. "He basically walked me through everything from getting it from my facility and how to get it into grocery stores. And he's still taking me through the steps on the things I don't know. I'm kind of learning on the fly."
And the learning curve has been huge – from learning how to file incorporation documents to how to properly wrap a pallet.
Gill stressed that this is truly a family business. He and Karma usually run the processing line together and his wife Binny and brother Sumeet play huge roles in the business.
The product is now in grocery stores like Save-On-Foods, Safeway, Nesters, Lakeview Market and more.
"One thing is getting it in stores," Gill said. "Another is getting it picked up by customers."
Putting out samples in those stores is a key tool in getting the message out but Gill is giving himself a crash course in marketing as well.
He's also working on new products. He's created a two litre apple cider kit that can convert his non-alcoholic cider into six per cent alcohol in six days. The product is approved by Health Canada but Gill wants to do further testing before putting it on the market.
"I want to make sure it's good and my claims are appropriate," he said. "We want to make high quality, safe product for all ages.
Next up will likely be the development of a cherry soda to join the apple soda line. His equipment can produce one million cans a year so, he's got a lot of room for growth.
Their McKenzie Road property now boasts an RV park, frisbee golf and a retail store that opened briefly last summer and will re-open in April. Part of the goal is to create an educational experience in an effort to inspire the next generation to embrace farming.
---
To contact a reporter for this story, email Rob Munro or call 250-808-0143 or email the editor. You can also submit photos, videos or news tips to the newsroom and be entered to win a monthly prize draw.
We welcome your comments and opinions on our stories but play nice. We won't censor or delete comments unless they contain off-topic statements or links, unnecessary vulgarity, false facts, spam or obviously fake profiles. If you have any concerns about what you see in comments, email the editor in the link above.
News from © iNFOnews, 2020