It's getting hot out there, it's time for a cool cocktail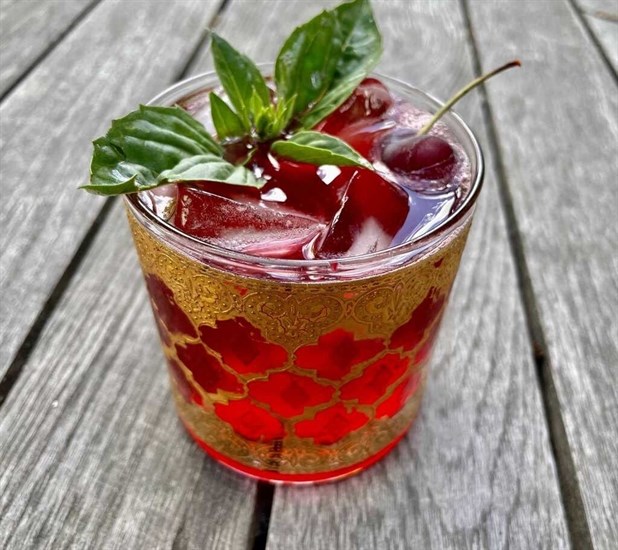 As the temperature continues to rise in the Okanagan, locals are finding ways to stay cool.
A chilled cocktail is just the thing to chill out with so pick up some ingredients for one of these delicious favourites drinks from our very own newsroom staff. Just don't overdo it: too much alcohol doesn't mix well with extreme heat and sun.
Kathy Michaels
Pimms cup
When it comes to summertime drinks, one boozy beverage has them beat, in my books.
The Pimms cup is delicious and refreshing — not too sweet or too dry — and you get to toss in a few local ingredients you get to make it taste both familiar and from afar.
Pimms is a gin-based drink, was first created in 1823 by James Pimm, an oyster bar owner based in London. The original version featured gin, quinine, and various herbs, and it reportedly aided digestion, according to Britannica.com.
Then, as time marched on and health issues fell to the wayside, Pimms cups took on a life of their own.
Place 1/2-inch-thick cucumber slices in a cocktail shaker and muddle it up. Add 1 and 1/2 cup of Pimm's, 3 tablespoons of fresh lemon juice and half a cup of mint and shake it up. Let that sit in a jug for a while and add ginger beer.
Waiting on the side should be four big glasses filled with ice and, as per my preference, a selection of mixed berries, then pour the Pimms mixture over and enjoy.
Pastis
If you've ever spent time in Paris you may have come across Pastis, which taste a lot like ouzo or Sambucca, but like anything French is a little more, how do you say… fancy.
Pastis is an anise liqueur used to make an aperitif and unlike its other anise counterparts it's not something people drink like a shot.
If you order it in a bar, you'll get three deconstructed elements: pastis, water, and ice.
Pour an ounce of the Pastis into a big glass, then pour roughly four ounces of water on top, and add some ice.
The colour changes from clear amber to a transparent green.
Basically, it looks like science and tastes like magic.
Carli Berry
Hail Caesar
Use 50 ml Family Reserve Vodka, a couple of dashes of Worcestershire Sauce, a couple of dashes of Tabasco Sauce and 300 ml of Clamato juice to make one serving of this Canadian staple.

The Canadian version of the Bloody Mary has been growing in popularity, according to The New York Times. The drink was supposedly invented in 1969 in Calgary, Alberta, by a restaurant manager named Walter Chell but other drinks like the Bloody Mary predate this.

The recipe can be made even spicier by adding Extra Spicy Caesar mix from Walters Craft and garnishing with a jalapeno.
Top with Caesar mix. Rim a glass with Montreal steak spice, a celery stick, a lime wedge and whatever else you feel like.
This recipe is from Okanagan Spirits and @the.secondsshot
Jennifer Schell
Cherry Basil G&T
When life gives you cherries… make cherry basil G&Ts of course. Gin and tonic is a classic summer go to. Super refreshing with loads of botanical flavours, they are a great cocktail to get creative with and with Okanagan cherries in season right now, this is a perfect local drink.
1 oz gin
3 Tbsp fresh squeezed cherry juice
150 ml tonic (I love the aromatic Fever-tree brand)
2 sprigs basil
2 frozen cherries
Muddle the basil in a glass and top with ice and cherry juice. Pour over the gin and tonic and garnish with frozen cherries.
Cheers!
Marshall Jones
Aperol Spritz
A friend introduced me to this little gem a couple of years ago and it's been a favourite ever since. It's not overly alcoholic, but it is super easy to make — and share.
There are many finer points to making a true Aperol spritz but we're not trying to impress anyone. Get yourself a bottle of Aperol and a dry prosecco or better yet, find a bottle of local bubbly — there are plenty to choose from. Ask any of the fine folks at a B.C. Liquor Store for help if you're not sure.
Ingredients
3 ounces prosecco
2 ounces Aperol
1 ounce club soda
Pour over a glass of ice, give it a stir, garnish with an orange slice then hit the patio and chill.
Got a different favourite? Let us know in the comments below.
---
We welcome your comments and opinions on our stories but play nice. We won't censor or delete comments unless they contain off-topic statements or links, unnecessary vulgarity, false facts, spam or obviously fake profiles. If you have any concerns about what you see in comments, email the editor.
News from © iNFOnews, 2021