iNwine: Schell flourishes exploring her roots and sharing their bounty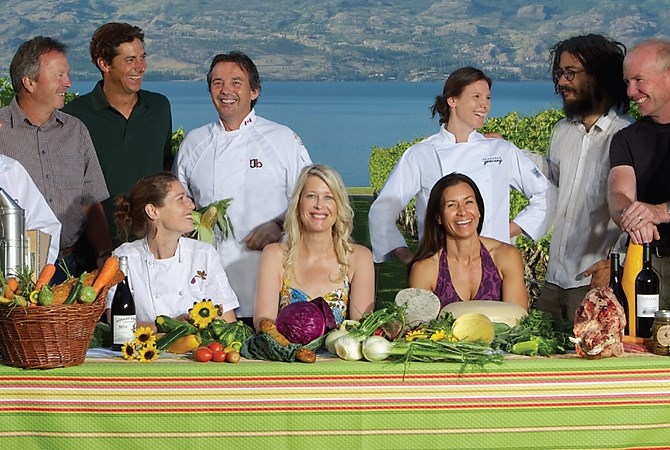 KELOWNA - There's so much to take in at Jennifer Schell's home: a stunning bouquet of fresh flowers in varied pinks, bookshelves buckling with well-read travel and wine guides and, of course, cookbooks.
Chatting with the award-winning cookbook author and iNwine's host in her home offers a full sensory experience, providing a window to the natural world and insight into her many passions.
A love of food, wine, farming and dining came naturally to Jennifer, also known as Jenny Wren to her family. She and her two brothers grew up on her family farm in East Kelowna, with her grandparent's orchard across the street. Harvest time, pruning and planting were a way of life; as were all the deliciously prepared meals she learned to create from scratch.
"I had a really idyllic childhood. I did a lot of the 'girl' chores," she said, laughing. "I would make snacks for break time during harvest, and did chores and weeding."
She has many sweet memories of childhood, her time at the farm and even school at East Kelowna Elementary, but one of her favourites highlights how strong her bond to the Okanagan is.
That memory is returning home from school finding her parents had packed the car for a family weekend at the Vernon Lodge is a particularly fond reflection.
"We just loved it there. It was like going to Hawaii," she said, reminiscing about her hair turning green from the chlorinated pool surrounded by tropical trees and flowers.
Like all Okanagan teens, however, Schell had to leave the valley to find her way back. She took to working in the advertising and publishing world in Vancouver.
Years into that career, her past came back to guide her future and she decided to focus on applying her knowledge and talents toward writing; first as a columnist and former editor of BC Food and Wine Trails Magazine, then as an international award-winning cookbook author.
"I've always been into food, wine, travel and cooking. I was a foodie at a very young age and writing about it is my passion," she said.
Jennifer has managed to bring this all together in her cookbook series; The Butcher, The Baker, The Wine & Cheese Maker. The first was published in 2012 (no longer in print), followed by the By The Sea version in 2015. Her current cookbook was released in Spring of 2016 and is an all-new version of the first book featuring the food, drink and farm community of the beautiful Okanagan Valley. She is currently at work on her fourth creation, the BC Wine Lover's Cookbook which will be published by Appetite by Random House.
Jennifer's photography fills the pages of these cookbooks, capturing the joy and beauty in her subjects.
The recipes and their accompanying stories do the same. Sourcing all she can from local growers, meat and vegetable farmers, orchardists, vineyards and artisans, Jennifer says there is much more to running a farm than what meets the eye. She wants to show readers of iNwine what these hard-working professionals are made of.
"It's a real science. It takes a lot of love, time and knowledge. There is a real renaissance for the farmer," she said. "They are now celebrated, whereas before they weren't thought of that way. It's important to know their stories. I also really try to help people to buy locally and support our farmers."
Vineyards and wineries are experiencing exceptional growth and recognition throughout the province as well, she says. Wineries and vineyards are sprinkled from Osoyoos through the Okanagan, Fraser Valley, Kootenays, Lillooet, Similkameen Valley, Thompson Valley, Shuswap and on and Vancouver Island and the Gulf Islands.
Jennifer's keen interest for food and wine has taken her all over the world. Some of her favorite places include Spain, Italy, France, Morocco, South Africa and Zambia; a place she says is filled with spirit, movement, instinct and survival.
"The absolute wildness, the awareness of the proximity to the magnificent animals living, and the realization of being so near the cradle of civilization whispers deeply to the ancient part of our spirit," she describes of her visit to Livingstone, Zambia, where she visited the Elephant Café that saw patrons interact with elephants on the banks of the Zambezi River while visitors savoured African fusion food dishes prepared by chef Annabel Hughes-Aston.
iNFOnews is fortunate to have Jennifer onboard with iNwine. Readers will be drawn in to her interesting and helpful articles featuring local farmers, artisans, recipes, wine and so much more. iNwine is the go-to for everything food, farming, wine and BC travel and will leave you wanting more.
"We are the destination for all things food and wine and we want to share our news. iNwine will pique the interest in everyone is some way," says Jennifer, who has recently, along with her two brothers, launched Schell Wines which features a Chardonnay and Cab-Merlot.
It was while operating the Garagiste North Wine Festivals for the past few years that Jennifer fell in love with the idea of making her own wine so she asked her two brothers to join her in building their own brand. And why not add wine-making to her repertoire? That is where Garagiste winemaker Rob Westbury agreed to be their winemaker.
"As they say, we now have the bug and are in the game for the long run," she says of their wines that are exclusively offered in some of BC's finest restaurants and wine stores. http://www.jenniferschell.com/schell-wines
Jennifer will always be cooking up something fresh and interesting to read and learn on iNwine. A winery map guide, restaurant reviews, wine suggestions and pairings are also featured, so you'll want to check back daily. You'll love what Jennifer Schell is up to on iNwine - www.iNwine.ca
---
To contact our events coordinator, email Stacy Pavlov or email the editor. You can also submit photos, videos or news tips to the newsroom and be entered to win a monthly prize draw.
We welcome your comments and opinions on our stories but play nice. We won't censor or delete comments unless they contain off-topic statements or links, unnecessary vulgarity, false facts, spam or obviously fake profiles. If you have any concerns about what you see in comments, email the editor in the link above.
News from © iNFOnews, 2019