iN wine: When life gives you apples, make Okanagan vodka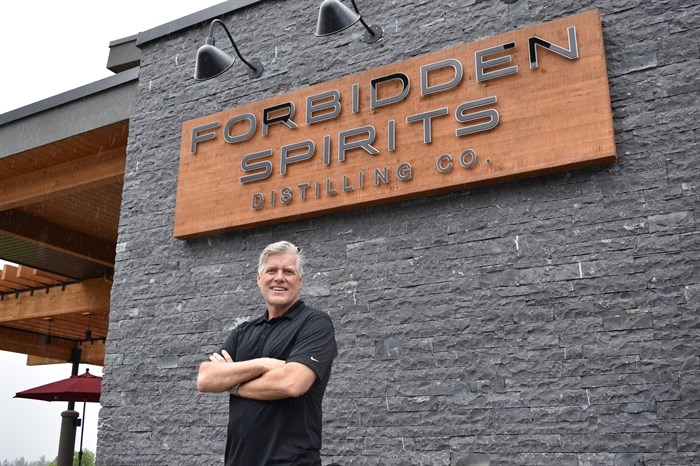 KELOWNA - In 2010, Blair Wilson and his wife moved to Kelowna and bought a 20-acre apple orchard. However, with lots of apples comes lots of hard farm work.
In the Okanagan where the apples are plentiful, Wilson realized after a couple years that there's a lot of competition, and not a lot of money.
So what's a city boy with hundreds of apple trees to do? Well, make vodka of course.
"I went down to Seattle and attended a distiller's conference and met Kothe the company that manufactures these stills in Germany," Wilson said. "I said, 'I like the stills, I've got fruit, is there anything I can do with them?' And they said, 'of course, you can turn your apples into vodka...' I didn't know you could do that."
After taking a week-long still operation training course in Chicago, the ex-CPA drew up a business plan for what would in January 2019 become Forbidden Spirits Distilling Co.
"Our first product, which is our 25 times distilled Rebel vodka hit the market January 1st of this year. So we're brand-new," said Blair. "It's been busy. Two days ago we just started bottling our first Forbidden Spirits vodka, which is 50 times distilled."
Distillation is a chemical process where the product goes from a liquid to a gas back to a liquid. "It's an actual chemical process that removes a lot of impurities and makes the vodka smoother and easier to drink with less of a hangover," explains Blair.
The purity of craft vodka is what sets it apart from its competitors. While Forbidden Spirits' vodkas are distilled 25 to 50 times, Smirnoff is mass-produced and only distilled three times.
Another unique aspect of Forbidden Spirits vodka is that it's made entirely from local Okanagan apples. All the apples are grown on location in the Forbidden Spirits orchard. In September, the apples are picked, crushed, and made into concentrate. Because all the apples are ready to be harvested at once, not all the juice concentrate can be stored on location. The extra is shipped off-site to be frozen until needed at the distillery. The concentrate is put into the fermenting tank with water, then pitched with yeast to create alcohol.
The alcohol then goes through the distillation process.
The 25 distilled alcohol takes about six to eight hours to go through the still. To distill the vodka 50 times, the alcohol just goes through the same process again. Each window in the side of the still represents one distillation.
"It goes from a liquid, to a gas, then condenses at the top of the plate, and goes to the next level like a fish hatchery," Blair said. There are 24 windows in total, with a final distillation process occurring as the alcohol leaves the still.
The still is custom made in Germany, many of the parts made by hand. Kothe only makes 52 stills like this per year, and there's a long waiting list.
"We were in the queue for two years waiting to get our still," Wilson said.
Evidently, it was worth the wait. Even though the product is barely six months old, Rebel vodka is already being served at both Cactus Club locations in Kelowna, at the Eldorado, Manteo Resort and is available at any Metro liquor store here, and also in Vancouver.
"Just last weekend we expanded into Whistler," says Wilson, "there's a lot of things happening in a short period of time."
There's plenty more on the horizon for Forbidden Spirits, with plans for an outdoor picnic area and new drinks in the works.
"Our Apple Brandy is made with just our Spartan apples, and will be out in November," Wilson said. "We've sampled it out of the barrel and it's coming along beautifully."
To try the Rebel and Forbidden Spirits vodkas for yourself, visit the distillery for a tasting any day of the week between 11 a.m. and 6 p.m.
---
To contact a reporter for this story, email Brie Welton or call (250) 801-9235 or email the editor. You can also submit photos, videos or news tips to the newsroom and be entered to win a monthly prize draw.
We welcome your comments and opinions on our stories but play nice. We won't censor or delete comments unless they contain off-topic statements or links, unnecessary vulgarity, false facts, spam or obviously fake profiles. If you have any concerns about what you see in comments, email the editor in the link above.
News from © iNFOnews, 2019