iN VIDEO: Drying Okanagan cherries from the perspective of a helicopter pilot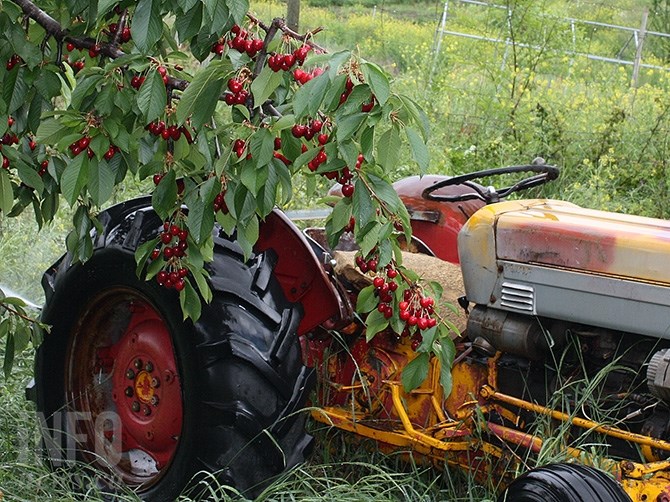 VERNON - Okanagan residents have become all too familiar with the thrum of helicopter blades spinning above local orchards as cherry farmers worked to save their crops from a particularly soggy summer.
Few, however, have witnessed crop drying from above.
A flight school called B.C. Helicopters is offering the chance. It was tasked with drying some crops and posted a video of its work above a Vernon farm on its YouTube channel, Pilot Yellow. Check in at the 12 minute mark to view the farm work or start from the beginning if you want to take a scenic ride to the Okanagan from the Lower Mainland.
In the video the pilot reveals that the farmer of the land they were drying spent $2 million this year on helicopters to protect his crops. As they pointed out, however, the expense was well worth it once the cherry revenues were factored in.
The pilot also says if anyone knew how much work went into protecting the crops, they'd never complain about paying $2.99 a pound at the grocery store.
This has been a particularly rough year for cherry farmers.
The Ministry of Agriculture said earlier this month that nearly 800 insurance claims had been filed by cherry farmers whose crops have been damaged by rain, causing the fruit to split.
Growers have to file claims and have their orchards examined before trying to harvest their fruit, which means within a few days of the damage being done. Since there are more late season varieties being grown these days, more cherry claims may still be on their way.
The insurance claims are being made under the Production Insurance program, often referred to as crop insurance, that growers and government pay into. Because premiums are adjusted over a number of years, the fees charged are fairly stable and may not be impacted by the high number of claims this year, Glen Lucas of the BC Fruit Growers Association said.
David Geen, VP of the cherry growers association and co-owner of Coral Beach Farms, said cherry farming has become big business in the Okanagan.
Statistics Canada reported that acreage devoted to sweet cherries in the Central Okanagan region grew 35.7 per cent between 2011 and 2016 to 2,146 acres.
Today, Geen thinks the Okanagan has around 5,000 acres dedicated to cherries.
It's an impressive number on its own, but even more when compared to where things were in the 1970s when cherry farmers saw their crop "fizzle out" after a couple of decades of success.
At that point, the total amount of cherry-dedicated farmland was in the range of 500 acres in the Okanagan.
There are a couple of good reasons for the turnaround.
"The range of areas that can be (used for) planting cherries is greater than it was in my grandfather's, even my father's, time," said Geen. "Back in the day, it was the South Okanagan that had most cherry orchards, and there were few cherry orchards in the Central Okanagan — you wouldn't even contemplate a cherry orchard in the North Okanagan."
Part of the reason, he said, is that until the 1970s, winters were a lot more intense. Okanagan Lake had a tendency to freeze over once every eight years, and the damage to trees in those times was devastating.
"We still get cold winters, and it is possible to get winter damage in trees, but the likelihood and severity are much less," he said.
Another more significant part of the industry's success came along in the 90s when the Summerland Agriculture Innovation Centre offered new later ripening varieties of cherries.
---
To contact a reporter for this story, email Kathy Michaels or call 250-718-0428 or email the editor. You can also submit photos, videos or news tips to the newsroom and be entered to win a monthly prize draw.
We welcome your comments and opinions on our stories but play nice. We won't censor or delete comments unless they contain off-topic statements or links, unnecessary vulgarity, false facts, spam or obviously fake profiles. If you have any concerns about what you see in comments, email the editor in the link above.
News from © iNFOnews, 2019