iN VIDEO: Drones distributing sterile moths in Okanagan to curb pest numbers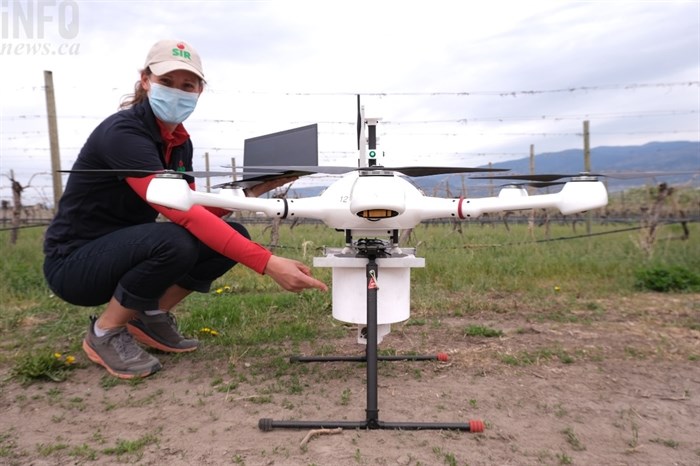 A chance encounter on a winter vacation has led to a whole new way of distributing sterile codling moths into Okanagan and Kootenay orchards.
It all started when Melissa Tesche went to Phoenix, AZ to visit her grandmother who was vacationing there in 2016.
As the general manager for the Okanagan-Kootenay Sterile Insect Release Program, Tesche had a standing invitation to visit the U.S. Department of Agriculture's pink bollworm rearing facility there. Those moths were being dropped into cotton fields by airplanes by M3 Consulting Group, a technology consulting firm.
"I didn't know who M3 was," Tesche said. "They were just in a tech development room and they had a fixed wing aircraft on the table at the time so, I said what's this?
"For them the pink bollworm program was winding down, so they didn't want to be keeping Cessnas on standby anymore. They wanted a cheaper, more flexible solution."
It took five years but that solution is now off the ground and using drone aircraft to drop sterile codling moths into local orchards. The moths are sterilized using radiation back at a lab in Osoyoos, said field supervisor Shawn Fennell.
Up to now, the moths were placed in coolers on the backs of All Terrain Vehicles to keep them calm and still. Workers would drive into orchards, load them onto a small conveyor belt that would take them to be blown out into the orchards.
"They're going from being kind of chilled in the cooler to, all of a sudden, being kicked out of an ATV, so it's probably a bit of a rude awakening for a moth," Tesche said.
Now, flying them over the orchards eliminates the need for a fan so the moths are released more gently into the orchards.
They breed with wild females but because they're sterile, it prevents them from reproducing.
The alternative to the sterile release program is to use toxic chemical sprays or leave the moths' larvae to burrow into apples, causing them to rot.
Traps set up in the orchards show more of the drone-released moths survive so, Tesche concludes, the process is gentler for them.
Pilot projects were run in local orchards in 2017 and 2018 in conjunction with M3 and the New Zealand Institute for Plant and Food Research.
At the time, codling moths were being shipped from the Okanagan sterilization plant to New Zealand. While other pest insects are used in similar programs, the Osoyoos plant is the only one in the world that breeds and sterilizes codling moths.
Plans to launch a full-scale drone program in 2019 collapsed when the federal government changed its policy and banned all live animals from being carried in drones.
"I think they meant puppies, not moths," Tesche joked. "We had to apply for an exemption, which took awhile to get."
That two-year exemption was in place in time for a 2020 launch but was squelched by the simultaneous arrival of COVID-19 and travel bans.
As it was, the trainer who came from Washington state earlier this year was quarantined in a basement suite for two weeks before being able to go out and train the field staff.
The program, which releases 10.3 million sterile codling moths in Okanagan and Kootenay orchards every week from mid-April until the apples are all harvested by mid-September, is just now being rolled out so it will gradually replace the ATVs.
This, is the second of two years for the month exemption so Tesche has to apply for further exemptions.
This change in technology should make the distribution of the moths more efficient and cost effective as a drone will be able to cover much more territory in a shorter time than the ATVs did.
But, it does take detailed mapping and planning since Okanagan apple orchards tend to be relatively small and scattered. The system will become faster once the mapping is done for each orchard and the workers become more familiar with the equipment.
All this comes at a time when the number of apple orchards is steadily declining. It's down to about 7,500 acres this year compared to 20,000 in 1992.
READ MORE: The Okanagan has only one-third the apple acreage from 30 years ago
That doesn't mean a looming end to the Osoyoos sterilization plant as it is finding a growing market in Washington State and, once COVID travel restrictions ease, there could be international markets as well.
There is, however, no way that the plant can fully service the Washington market. The facility has a capacity to provide moths for about 20,000 acres. There are roughly 180,000 acres of apple orchards in Washington.
Growers there are working with the local program to develop their own sterilization facility further south in that state. And, certainly, building up that market is cheaper and easier than flying moths to places like New Zealand where they have to be kept chilled for about two full days, Tesche said.
---
To contact a reporter for this story, email Carli Berry or call 250-864-7494 or email the editor. You can also submit photos, videos or news tips to the newsroom and be entered to win a monthly prize draw.
We welcome your comments and opinions on our stories but play nice. We won't censor or delete comments unless they contain off-topic statements or links, unnecessary vulgarity, false facts, spam or obviously fake profiles. If you have any concerns about what you see in comments, email the editor in the link above.
News from © iNFOnews, 2021