iN PHOTOS: Why tobacco failed to be the Okanagan's biggest crop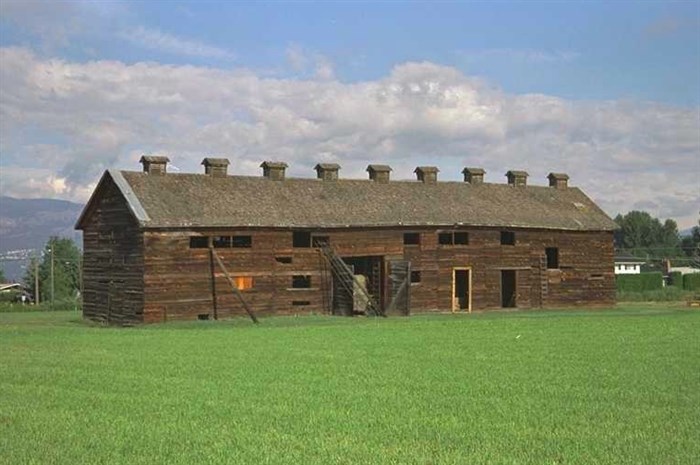 Not once but three times in Kelowna's history, tobacco looked to become the dominant crop in the region.
While First Nations people grew and harvested tobacco for hundreds of years before European settlers, the modern tobacco story started in 1893 and ended some 40 years later.
"Local histories of B.C. tobacco cultivation note that the Wisconsin immigrant, Louis Holman, launched his tobacco experiments in 1893 after observing the growing practices of the Salish-speaking Okanagan people," according to 'Farm to Firm: Canadian Tobacco c. 1860-1950.'
"To Holman's surprise, he found a number of tobacco plants of Indian planting and, upon inquiry, learned that the Indians had grown tobacco for their own use as far back as their traditions and folk-lore reached in the dim past. With an eye trained by constant sight of the fertile fields of his native state, he immediately recognised the district now called Kelowna as containing the great essentials necessary to produce the soothing weed in its finest form, namely, soil perfectly adapted to the plant and right texture, fertile beyond imagination, and climate ideal in every particular."
READ MORE: How a South Okanagan town got its name from a waterfall that no longer exists
In 1933, Author Mann came to a completely different conclusion.
Mann was hired as the first university graduate at the Dominion Experimental Farm at Summerland in 1920. It had opened in 1914. He was put in charge of field husbandry and forage crops.
"It was in 1933 that Mann showed his true professionalism," says 'Summerland Research Station, 1914-1985,' an historical review by Agriculture Canada.
"Although he had attempted for many years to develop the exacting culture methods, varieties and curing procedures necessary to produce high-quality tobacco, he determined that the Okanagan Valley does not have a climate suitable for growing tobacco."
Just five years before reaching that conclusion, tobacco had become an important commercial crop in its third "bubble" of popularity in the region.
"Approximately 142 ha were in production. However, insects such as cutworms, flea beetles, and hornworms and diseases were beginning to destroy the new crop. Mann also found that proper amounts of irrigation were critical for tobacco; too much or too little water could devastate a crop."
READ MORE: The Kelowna police chief who murdered two people in broad daylight
By 1928 there were only 22.5 ha where tobacco was grown because of a poor 1927 crop.
In between the two events was the second "bubble" whose impact can be seen today with tobacco barns still in existence in Kelowna.
The best known historical remnant of the failed industry is the popular BNA Brewing Co. in downtown Kelowna that was originally built by the British North America Tobacco Company in 1912 as a cigar factory.
But the European tobacco story really begins with Holman in 1893. He planted a field of tobacco across from Eli Lequime's blacksmith shop in the Mission area of Kelowna.
It was Lequime's sons, Bernard and Leon, who laid out the original Kelowna townsite.
Little seems to have been written about what is referred to as the first "bubble" in Kelowna's tobacco history.
The second "bubble" is said to have begun around 1905 when Daniel McEachern bought land from the Kelowna Land and Orchard Company. He was listed in the 1910 city directory as "rancher and tobacco farmer," according to a City of Kelowna heritage registry posting on the McEachern Tobacco Barn.
It's still standing at 3139 Benvoulin Rd., just south of KLO Road.
The barn was built in 1912 or 1913, shortly after the launch of the British North America Tobacco Company.
"From 1912 to 1914 British North America Tobacco Company embarked on an ambitious scheme to make tobacco-growing and processing a major industry here," the City of Kelowna posting says.
"The company bought considerable land, including the Mission Ranch, erected infrastructure such as curing barns for the industry, and contracted with local farmers to plant 500 acres of tobacco in 1913. At that time tobacco was grown extensively on both sides of Benvoulin Road, in other fields at Okanagan Mission, and on the downtown site later occupied by Kelowna Secondary School."
That venture did not last long.
"The early enthusiasm for Kelowna tobacco briefly abated after the collapse of the aforementioned British North America Tobacco Company in 1914, only two years after its formation, owing to a limited commercial market for the high quality cigars they produced," says the From Farm to Firm report. "The mismanagement of Louis Holman, who began the firm by buying and expanding operations aggressively, has also been identified as a factor. It was the market more than soil or climate that limited production."
Before folding, the company built a warehouse and cigar factory near downtown Kelowna.
"The three-storey central brick portion was built in 1912 as the handsome premises of the ambitious British North American Tobacco Company," according to the City of Kelowna. "This company had been started in 1910, with a capitalization of $500,000, mostly British investment, with the intention of making cigars from Kelowna-grown tobacco in a large way.
"The building was close to the Canadian Pacific Railway yards. It was constructed for heavy use, with the floors made of 2-by-6 planks laid on edge and spiked together (called 'millwork' construction). The cigar factory was located on the second floor, while the first and third floors were used for storage.
"The factory had the capacity to turn out 25 million cigars a year. However, it never achieved more than 800,000 at peak production, and by the end of 1913 unwise land contracts, coupled with embezzlement by an officer of the company, combined to bring British North America Tobacco Company (and the local farmers who had planted 500 acres to tobacco for the company) crashing down. By May 1914 the company was in liquidation."
The building was sold to the Occidental Fruit Company that, in 1918, started operating a fruit cannery in the building (known on the City of Kelowna heritage registry as The Old Cannery).
A single-storey frame building was added on the south end in 1918, a two-storey brick building on the north end in 1919 and storage warehouses in the back in 1920.
Occidental operated the cannery until 1929, when it packed almost 200,000 cases of canned goods, mostly tomatoes and catsup.
In 1929 the cannery was bought by Canadian Canners Ltd. which continued to operate it until 1960.
In 1971 the buildings were sold to the Cannery Group, which remodeled it as a night club that went through a number of name changes: Bernie's Supper Club, the North Forty, Changes, the Casbah and Flashbacks.
It's now home of the BNA Brewing Co, which reverted to the initials of the original owners.
While the collapse of the tobacco company ended the second bubble in Kelowna, it didn't kill the tobacco industry altogether.
The Thomson tobacco barn at 4139 Gordon Dr., south of the Capital News Centre, was built during the third "bubble." That phase started in 1926.
"This barn has value as a relic of the third and final phase of the local tobacco industry, an endeavour that ultimately failed, but which, for a time, looked poised to become Kelowna's main industry," the City of Kelowna's heritage website says.
"Tobacco is demanding both in its growing and in its curing, and barns such as this were designed to give closely controlled conditions for drying the tobacco after it was harvested. They were made large enough for a wagon and team of horses to drive right through.
"Cupola ventilators on the roofs and hinged slats in the walls could be opened or closed for air circulation. The harvested tobacco plants were speared through the thick bases of their stalks onto four-foot laths, and then hung in the barns in layers, with an air space between. Ventilation in the barn was controlled to allow fermentation, or 'curing', of the leaf as it slowly dried."
One of the growers in this era was G.D. (Paddy) Cameron who had a plot that later became home to Kelowna Secondary School next to Harvey Avenue.
"He and his brother tried to farm together," his granddaughter Lorraine Cameron told iNFOnews.ca. "Uncle Alistair was interested in sheep. My grandfather had a dairy herd, the last commercial processed milk produced in Kelowna."
Cameron House was named after Alistair while Paddy lived in the Aberdeen House at what is now Guisachan Heritage Park, she said.
Tobacco seemed to have been a sideline to make extra money.
"People seemed a bit more versatile in those days," his granddaughter said. "I think it was grown under cheesecloth so there was more to it than putting seeds in the ground."
Paddy grew tobacco for the outer leaves of cigars but much of the other tobacco grown locally was for pipe tobacco and cigarettes since the demand for cigars was declining.
It was sold under the 'Kelowna Pride' brand, the city's website says.
Ultimately, the third effort to make tobacco a major Okanagan crop failed.
That was fuelled in part by the impact of the 1930s depression but also by the findings of Arthur Mann down in Summerland who determined that the Okanagan climate really wasn't suitable for tobacco growing.
The tobacco industry reached its peak in B.C. in 1941, according to From Farm to Firm.
"Ultimately, distance from domestic manufacturers and the British market, challenges in acquiring equipment and the tobacco price collapse during the Depression all contributed to the decline of British Columbia tobacco," it says.
The Kelowna effort did outlive the Kamloops cigar boom that used imported tobacco but failed a little after 1917.
READ MORE: How Kamloops' once booming cigar industry went up in smoke
In 2021 a "mysterious" video surfaced about a cigarette factory that, apparently, opened somewhere in the Okanagan in 1960. Despite media coverage at the time, it does not seem to have been verified as actually being in the Okanagan.
READ MORE: iN VIDEO: Mysterious footage emerges of Okanagan cigarette plant
---
To contact a reporter for this story, email Rob Munro or call 250-808-0143 or email the editor. You can also submit photos, videos or news tips to the newsroom and be entered to win a monthly prize draw.
We welcome your comments and opinions on our stories but play nice. We won't censor or delete comments unless they contain off-topic statements or links, unnecessary vulgarity, false facts, spam or obviously fake profiles. If you have any concerns about what you see in comments, email the editor in the link above.
News from © iNFOnews, 2022