Hainle: The legacy behind Canada's first organic winery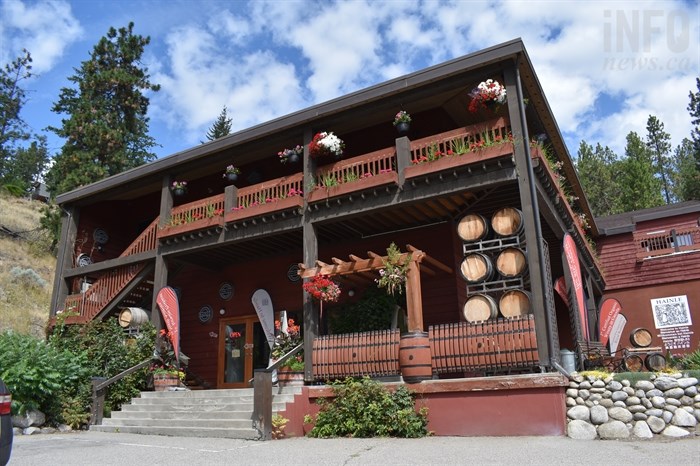 KELOWNA - The Hainle Vineyards legacy began in 1972, and was built on a number of impressive firsts. In 1978, it became the first commercial icewine producer in North America. In 1988, they became the first certified organic winery in Canada. In 2008, Hainle was the first Canadian winery to serve wine at the Oscars. In addition to numerous other prestigious awards, they won Best Pinot in the world for their 2007 through 2010 vintages.
Behind all these firsts are 800-year-old European winemaking techniques, and unique organic and biodynamic practices. These key factors set Hainle apart from any other winery in the Okanagan.
"We do it quite different from everyone else," said Dr. Walter Huber, General Manager and Wine Maker at Hainle.
This differentiation begins in the field.
"We wanted a vineyard that sits on lots of gravel and sand," Huber said. "First of all, phylloxera, which is a bug that eats the roots of the vines, doesn't exist in gravel and sand, so we can plant the vines on their own roots, we don't have to graft them on."
Another reason this terrain is ideal is because it allows for the use of biodynamic farming methods. The first five years after the vines are planted, they are watered regularly, causing the roots to spread wide.

"Then for the next five years we take the water gradually off, where we have no water after 10 years," Huber said. "The roots, from going wide, go straight into the ground. And by having 800 feet of gravel and sand, they go really down."
For the past 45 years, the vines' roots have grown about 450 feet straight down. This is beneficial for wine making.
"When it rains, the water runs down, and as it runs down it brings the minerals to the roots," said Huber. "The roots, since they're that long, they will keep a lot of the water in there so we don't need to irrigate."
As a result, Hainle grapes are smaller, and filled with more juice and more minerals than other grapes, he said.
Because Hainle is a fully organic operation, they only fertilize if they have to, and if they do, it's with exclusively all natural ingredients.
"The only spray we use is lime sulphite," Huber said. "Sulphite is organic, natural, so it doesn't harm anything, it just harms the growth of fungus and mildew."
Huber stressed the difference between true organically made wine, and wine that has a "certified organic grapes" sticker.
"As long as it says from certified organic grapes, you can make them with chemicals and it's still 'organic," he said. "That's where I disagree with the organic certification, because if it says organic, it should be 100 per cent organic."
Huber uses traditional European winemaking techniques that have been passed down through his family through generations.
"My great grandfather, when he passed away, he actually left me all his books from 1650 until 1950," Huber recalls. "if I do wine making in the fall time, I usually go by the 1950 to 1850 books, so the wine making techniques we use are from the 1850s."
At that time of course, the only winemaking practices were completely organic.
"There's not that many organic wineries left anymore," said Huber. Because of the increase in popularity of wine in Canada, it became common for larger companies to mass produce their wine.
However, storing all the wine to let it age is impossible due to lack of space. The faster wine is made, the faster it must be sold. That's why in many cases, wineries put chemicals in their wine in order to mimic the aging process that would otherwise take three to five years.
"An organic wine is not good when it's a year old," Huber said, "It has to be two or 3 years old before it actually develops all the flavours."
Hainle's white wines are also free of sulphites.
"When people tell you you can't make wines without sulphites which last, they're lying," said Huber. "I have wines all the way back to '78 that are still good. They just don't know how to do it, that's the problem. And it's very difficult, that's why they don't."
To make the whites, the grapes are picked and put through the crusher, which separates the stems from the grapes and squeezes out the juice. The juice is pressed and put into large steel tanks.
"We usually keep them cool, about 7 to 8 degrees, so they don't ferment right away," Huber said.
Once the harvest of that varietal is complete, the tanks are warmed to 15 to 20 degrees. Then the lees, which is dead yeast, from the previous year is added to the juice to ferment. Although lees can be purchased, it is chemically produced, so Hainle chooses to use their own.
"It's a little bit more difficult to make the wines, we have to be very careful controlling the temperature," said Huber, "but with today's technology we have tanks that are climate controlled."
Although Hainle's chosen practices are more challenging and do not able them to mass produce like the larger wineries, Huber believes it is well worth it.
"I believe in organic wines for the simple reason, I'm very sensitive to stuff in wines, I can tell from drinking just a sip on wine what's in there," he said. "When you drink a cheap wine, you know there's chemicals in it, you get headaches from it."
Over the past 5 to 10 years, Huber has noticed a change in attitude towards traditional European wines. People are more appreciative of good wines, and looking for less of the oaky flavours that characterize newer wines, and more of the deep fruit flavours of old wine.
"Since we are European in general… we're going to try and make European wines, which is doing very great for us," Huber said.
Their tasting room offers award-winning wines and exclusive vintage wines which can only be tasted by appointment. Visit Hainle Vineyards on Trepanier Road in Peachland to taste the difference between organic and commercial wine for yourself.
— This story was corrected at 8:34 a.m. Aug. 20 to remove unverified facts.
---
To contact a reporter for this story, email Brie Welton or call (250) 801-9235 or email the editor. You can also submit photos, videos or news tips to the newsroom and be entered to win a monthly prize draw.
We welcome your comments and opinions on our stories but play nice. We won't censor or delete comments unless they contain off-topic statements or links, unnecessary vulgarity, false facts, spam or obviously fake profiles. If you have any concerns about what you see in comments, email the editor in the link above.
News from © iNFOnews, 2019