Great brewing minds think alike in Kelowna's North End brewery district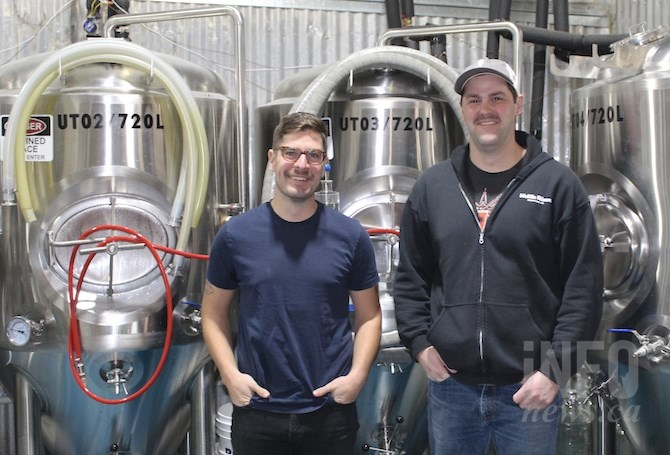 When Chris Dedinsky and Russ Burmell-Higgs decided to open a craft brewery in the industrial North End of downtown Kelowna they didn't realize they were launching a whole district.
In the summer of 2016 they opened Kettle River Brewing to become the first small-scale craft brewery north of Clement Avenue in what is now becoming known as the North End brewery district.
"We moved over here because the rent was cheap and we found a landlord who was really open to us doing this kind of thing in his space," Dedinsky told iNFOnews.ca.
"We kind of had an inkling it (brewery district) was coming," Burmell-Higgs said. "If you look at the market in Vancouver - we kind of say we're about five years behind Vancouver for just about anything - so, we definitely see the popularity (of craft brewing) increasing."
At that time, Tree Brewery was operating nearby but has since moved to the Lower Mainland.
Now, there are three other craft breweries open within a couple of blocks of Kettle River with Jackknife about to open in the new year, bringing the total to five.
The developers of the nearby PC Urban housing project at the corner of Richter Street and Clement Avenue are expecting to have a couple of craft breweries in their buildings while nearby Clement Business Park is looking at as many as four.
The most recent to have opened, in August 2019, is Rustic Reel on Vaughn Avenue. For owner Susi Foerg, it was important to be near other breweries.
"The whole culture of the craft beer industry is that you have a beer and then you walk over to the next place that's around the corner," she said. "I did want to make sure I was in the area that already had some breweries so we could be part of that culture."
While it may seem strange to have businesses that sort of look like pubs setting up in an industrial area, it's actually required. Since these are craft breweries they are manufacturing a product so they need to be on industrially zoned land.
And, while five breweries may make for an attractive brewery district, there is also some concern about the market being oversaturated, especially in the quieter winter months.
"There could be dilution but, if everyone focuses on quality and a great pub experience, hopefully that encourages more people to come and investigate these businesses in the North End because there's still a lot of people that don't even know about us," Matt Jewell, co-owner and general manager of Vice and Virtue on Richter St. said.
"More of these little places that pop up, I think there's value in it," he said. "I'm just not sure about the amount of seats that are popping up in comparison to amount of people actually moving into town."
Not only is there the possibility of new breweries moving into the area, Red Bird, also on Richter Street, is already looking at expanding after first opening in 2017.
It was not a conscious decision by owner Adam Semeniuk to help Kettle River create a brewing district.
"We were just about to start construction (when Kettle River opened)," he said. "I wasn't aware of them at the time. It was pretty lucky and pretty fantastic they wanted to open up in the same area. We thought 'wow, now there are two.'"
He started off small but knew the lease on the neighbouring building was coming up so he now has two applications at City Hall. One is to expand the seating capacity in his existing space and the second is to expand into the other building.
Like many of the others, he started at a time when they could see that downtown development was heading north as the city looked at where best to house the 50,000 people expected to move into the city in the next 20 years.
"I was really planning this out from a 20-year viewpoint," Semeniuk said. "I was kind of looking at where all that population was going to go. It did work out well that Sunset (high rise) was getting finished. One Water was announced and all that was going on during the planning of this.
"That's why we actually staggered Red Bird the way that we have in that we've opened in a smaller location in order to get the recipes right, to get a brand awareness, to get a following with people. Really, we were waiting for, one, all those high rises to be built and populated and then, two, the building lease next door to become available and for us to move into that space and have a bigger capacity."
Here's a bit more about each of the breweries.
Opened in July 2016 at 731 Baillie Ave., 50 seats inside.
"What made us unique was that we had quite a small brewhouse with a lot of fermenters so we were able to try out a lot of recipes, kind of on a whim — different styles, stuff that's not traditional to what other people were doing — at a fairly low risk because there was not a lot of it," Dedinsky said. "If it didn't work out, we didn't make it again. We could try lots of different things, like big alcohol beer that maybe we would have a hard time pushing at a big volume but, if you only made three or four kegs of it, it was okay."
At 50 seats, they are packed in the summer months but cut back a bit on staff hours in the winter.
They also added Provisions Kitchen which helps make it quite a family friendly place.
They like the idea of staying small.
"Russ and I are more of a mindset that we're not going to take over the world here," Dedinsky said. "We're going to make our space more serviceable and make a good product that we can get behind and create loyal customers. That's lots for me."
And his friendly competitors around the corner all agree that Kettle River has done a great job of building a loyal customer base.
Opened August, 2017 at 1086 Richter St. with 40 seats inside.
Opening a craft brewery requires a lot of paperwork getting permits and licences from the city and the province, which can be challenging when you're new to the business.
Semeniuk freely admits he made a mistake in his liquor licence application in getting 40 seats when there is actually room for 76. He's applying to have that fixed.
"It did limit our sales this past summer," he said. "The Liquor Board made me very aware you can't go over capacity."
And, that capacity increase is needed.
"Fortunately, business did do well due to the population of the North End and due to the multiple breweries nearby," Semeniuk said. "We have to expand into that new space because we're turning people away."
He explained that Red Bird has taken a different route than some in how they make their beer.
"I love what all the craft breweries are doing with all the unique traits they're putting on their beers and the different types of sours and the different types of flavours that everybody's hitting," Semeniuk said. "What we try to do to differentiate is to actually not push the beers too far but to make the best version of the style of beer that we can. We focus on having a clean crisp, not too hoppy but definitely hoppy IPA, a nice clean and crisp lager, a nice sweet, malty Kölsch."
Red Bird also sells into liquor stores but, since it doesn't have packaging equipment, Semeniuk contracts with a Vancouver brewery. The planned expansion will allow for more beer to be brewed and packaged on site.
Opened July 2018 with 45 seats inside at 1033 Richter St.
Opening up in the emerging North End brewery district was not a conscious move on Jewell's part. He "just wanted to bring a cool product to Kelowna," knew he wanted to be in the general area and knew the landlord.
"I don't think we actually thought that putting it here would create a brewery neighbourhood, like they paint it to be now," he said. "But, it's definitely becoming a destination area from outside Kelowna. We're starting to get a bit of a reputation as a brewery district, much like Port Moody's Brewers Row."
Food is another factor that seems to help.
"We went into business with a really good chef (Nelson Daniels)," Jewell said. "I think that helps us stick out quite a lot. My business partners, most of them are in the wine industry so we tried to focus on the female clientele and people with families. We try to focus on doing a lot of beers with fruit. We do some wine beers every year. We focus on making the stuff that we think will pique their interest and then go all out on quality."
Vice and Virtue was the first craft brewer in Kelowna to rent out nearby BNA Brewery's canning line and they work with a local artist to design the labels. They're also available in some independent local restaurants that draw a "like-minded clientele." That allows them to keep production going during the slower winter months.
"The concentration of having these cool little breweries and eateries and so forth that people can wander to gives the city a little bit of validity," Jewell said. "We try to create a little bit of culture. There's a lot of really talented people in Kelowna. What these businesses do is, they provide people with a platform for talented and ambitious people to actually do something creative that has a reflection on Kelowna. That's pretty much what we're all about."
Opened in August 2019 with 100 seats inside at 760 Vaughan Ave.
Foerg wanted to start her business in the North End, partly because of the industrial zoning, partly because of the other breweries in the area and partly because "it kind of just fell into my lap that this building was available. When I took a look at it, there was no other option. This was the perfect building."
It's an old service garage for large trucks that was quite run down. The landlord had plans to revamp the outside but the inside was her idea.
"They (customers) are not always necessarily coming for the beer," Foerg said. "They're coming for the environment, and that was my main goal anyways. While we are a brewery, I wanted people to come because they loved the ambiance and the experience."
While it's the largest of the four breweries when it comes to indoor seating space, "we also have the coziness of some nooks and a fire place and a community room that we rent out for groups," she said.
That's one of the things she likes about being in a burgeoning brewery district where customers like to bar hop.
"Every brewery always has its own kind of style," she said. "The cool thing about going from one to the other is that you're experiencing different styles of building space and beer styles. The more that are there the more interest there will be from tourists to do brewery tours."
And, despite being open for only a few months, she's finding business has not slowed down all that much.
"We're slower during the day than in the first month or so," Foerg said. "We are definitely busy in the evenings and on the weekend. We're not cramped like we were in the summer when we first opened. We have that casual relaxed vibe, which is why people are coming."

OTHERS NEARBY
The walking distance between Vice and Virtue and Rustic Reel – the two most separated of the four breweries, is only 350 metres, or about four minutes. Expanding the district to BNA would add another six minutes to the walk while the Tree Beer Institute is a 15 minute walk from Vice and Virtue.
Jackknife had planned to open this fall but that's been pushed into the new year. It will open at 727 Baillie Ave. with 70 indoor seats. It's almost next door to Kettle River and it's being set up by Brad Tomlinson, the former head brewer at Kettle River.
Tree Brewing's remaining presence in Kelowna is the Beer Institute in the Grand Okanagan resort at 1346 Water St.
BNA Brewing opened at 1250 Ellis St. in 2015. It's actually the second oldest craft brewery in Kelowna but it is south of Clement Avenue, which is why it was not included as part of the North End brewery district, even though some of the other owners included it as part of their district.
---
To contact a reporter for this story, email Rob Munro or call 250-808-0143 or email the editor. You can also submit photos, videos or news tips to the newsroom and be entered to win a monthly prize draw.
We welcome your comments and opinions on our stories but play nice. We won't censor or delete comments unless they contain off-topic statements or links, unnecessary vulgarity, false facts, spam or obviously fake profiles. If you have any concerns about what you see in comments, email the editor in the link above.
News from © iNFOnews, 2019