Go forage for wild berries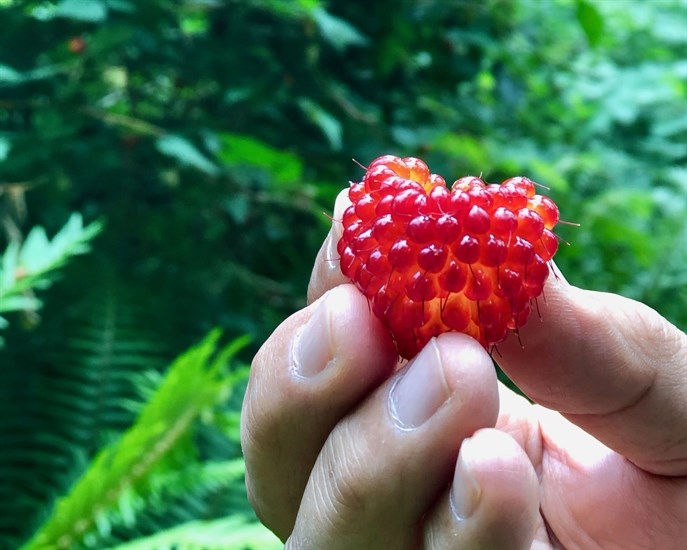 Foraging for food has been experiencing a renaissance over the past few years. Now more than ever, the hunter-gatherer in many of us has been piqued during these scary days of COVID. And with grocery shopping becoming a daunting task, many have opted to plant gardens this year and eating local has been more 'in' than ever.
B.C.'s diverse and bountiful lands are a gold mine for gourmands. Wild raspberries and blackberries are some of the most commonly known foraged berries to harvest. However, lesser known delicacies also abound like salmonberries and, if you know where to look, huckleberries are also there for the taking.
Salmonberries are native to the pacific northwest and their flavour is much subtler than the usual wild raspberries and blackberries. Their name comes from the beautiful orangey-pink colour and because they are less thorny, they are so much easier to harvest. Salmonberries are great in all ways the usual suspects are used. If you have an ice cream maker, make a sorbet!
Huckleberries are a staple for the coastal First Nations peoples. These tart berries can be eaten fresh, frozen or dried. They are also known traditionally for their medicinal qualities and are a good source of Vitamin C. There are both blue and red huckleberries in B.C. depending on the region.
This recipe comes from my second cookbook: The Butcher, The Baker, The Wine & Cheese Maker- By the Sea. Contributed by Inez Cook, proprietor of Vancouver's buzzed-about indigenous restaurant Salmon & Bannock, this delicious dessert can be made with any berries. Inez receives periodic deliveries of huckleberries from her special foraging contacts and when possible, will integrate the special berries into her menu.
Huckleberry Crème Brûlée
Serves 8
3 cups whipping cream
8 egg yolks
1⁄3 cup sugar
1 tsp vanilla
1 scant cup huckleberries—enough to create a layer on the bottom of each ramekin
1⁄2 cup sugar
Tools:
8 small ramekins
blow torch
Gradually heat the whipping cream in a medium saucepan on medium-high heat and bring to a boil. Remove from heat, cover, and allow to sit for 15 minutes.
In a separate medium bowl, whisk together the egg yolks and the sugar until they start to lighten in colour. Add the whipping cream a little at a time, stirring continually. Whisk in vanilla.
Place 8 ramekins in a large roasting pan or casserole dish. Divide enough (moisture-free) huckleberries to form a single layer on the bottom of each ramekin, then pour the blended cream evenly over the berries, dividing equally.
Create a water bath in the roasting pan by pouring in enough hot water (from the tap is fine) into the roasting tin to come about 1.5 cm up the sides of the ramekins. Bake at 350°F for 30 minutes or until set, but still trembling in the center.
Remove the ramekins from the oven and refrigerate for at least two hours but preferably overnight. Remove from the refrigerator at least 30 minutes prior to browning the sugar on top. Divide the remaining 1/2 cup sugar equally among the ramekins and spread evenly on top. Using a torch, melt the sugar to form the famous crispy top. Allow the crème brûlée to sit for at least 5 minutes before serving. Garnish with huckleberries and a mint leaf.
---
We welcome your comments and opinions on our stories but play nice. We won't censor or delete comments unless they contain off-topic statements or links, unnecessary vulgarity, false facts, spam or obviously fake profiles. If you have any concerns about what you see in comments, email the editor.
News from © iNFOnews, 2020