For food and wine lovers, Whistler's 23rd Annual Cornucopia Festival is a must attend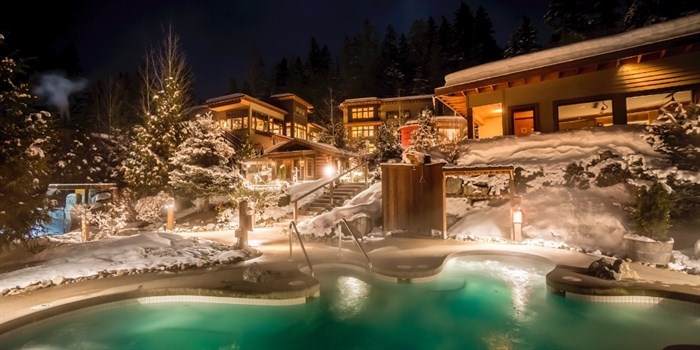 Head to Whistler for the 23rd Annual Cornucopia Festival presented by BlueShore Financial happening Nov. 7 to 17, 2019. With hotel deals, wine, cocktail and beer events as well as fabulous parties, this is the perfect November get-away. With over 150 events, there is something for everyone and every budget.

The flagship event of the festival, The Crush Grand Tasting allows guests to explore the wonderful world of wine. Join more than 70 participating wineries for an evening of sipping and swirling. Saturday, Nov. 9 from 8:30 p.m. to 11 p.m. Tickets $91. For serious wine lovers, The Cellar Door Tasting showcases fine wines starting at $25 and up. Find wines worthy of your cellar collection. (Nov. 8, 8 p.m.- 11 p.m., $120). For food-lovers, the Night at the Market showcases 12 food dishes from local Sea to Sky restaurants paired with wine, beer and cocktail tastings. Friday, Nov. 15, 8 p.m. - 10:30 p.m., $49)

Eat, Drink & Watch. A hidden gem of the festival, The Culinary Stage Series offers outstanding value. The $43 price ticket includes live cooking demonstrations served with generous food and wine pairings. This year's highlights include Ethical Table and Fort Berens Estate Winery (Nov. 9, 12 p.m.) Ocean Wise Demonstration with Skipper Otto paired with Okanagan Wines (Nov. 10, 12 p.m.) and Balancing Flavours Salty, Sour, Spicy, Umami, Sweet with Chef Alana Maas (Peckham) & Lang Vineyards. (Nov. 16, 12 p.m.)



Cornucopia's drink seminars provide an opportunity to hear from the experts with guided tastings. Excellent value! Try fun themed seminars such as Wine and Junk Food Reloaded, Bourbon and Cheese and Bubblicious. Expand your knowledge and learn about terroir, world wine regions and different varietals through tastings of carefully chosen wines. Try seminars such B.C. Varietal Showdown, Inside Scoop: Australian and South African Wine Revolutions, Discover Chianti, New California: Beyond Napa and Rock n' Rhone. See website for dates, prices and full listing of all the seminars being offered.

The exceptional Chef Table Luncheons held at luxury Whistler private homes are a highlight of the festival. Guests meet at the Whistler Conference Center and are then whisked away to a private residence where the chef prepares an intimate multi course wine-paired luncheon. Chefs participating this year include Wildebeest's Ian McHale, Boulevard Kitchen & Oyster Bar's Alex Chan, Edible Canada's Albert Tran and Top Chef Season 3 finalist Rich Francis who has won serious accolades for showcasing First Nations cuisine.

For evening dining, Whistler's best restaurants create wine-paired gourmet meals with selected chosen wineries. Highlights for B.C. Wine include Araxi Restaurant with Time Winery (Nov. 7, $139+), Burrowing Owl (Nov. 10 $139+), Tinhorn Creek (Nov. 15). Fairmont Chateau Whistler with Culmina Winery (Nov. 8, $179), Quails Gate Winery (Nov. 9, $149 ) Foxtrot Vineyards (Nov. 10, $179+) and Little Engine Winery (Nov. 16. $179+).

Riding on the success of its inaugural Cornucopia event in 2018, the Audain Museum returns with a new Abstract theme. For one night only, the Museum will be transformed into the iconic Warhol Factory. Guests are invited to dress in their best Pop-Culture fashion and dance the night away. Cornucopia's "it party" promises to be an instagram-worthy evening to remember. (Nov. 16, 9 p.m. - 2 a.m. $125.)

Finally, when in Whistler, nothing says relax like the Scandinave Spa. Join them on Friday, Nov. 8 for the Scandinave Spa Bubble Bath with live music from Jennamae Webbe, canapes from The Collective Kitchen and tastings of Haywire Winery's award-winning traditional method sparkling wine, The Bub. Includes hydrotherapy bath access, towels and robe rental. ($139.)

See you in Whistler.

Tickets, accommodations: Cornucopia Wine Festival presented by BlueShore Financial.
November 7th to 17th, 2019.
News from © iNFOnews, 2019