Fooding Around Vancouver: 10 places you must eat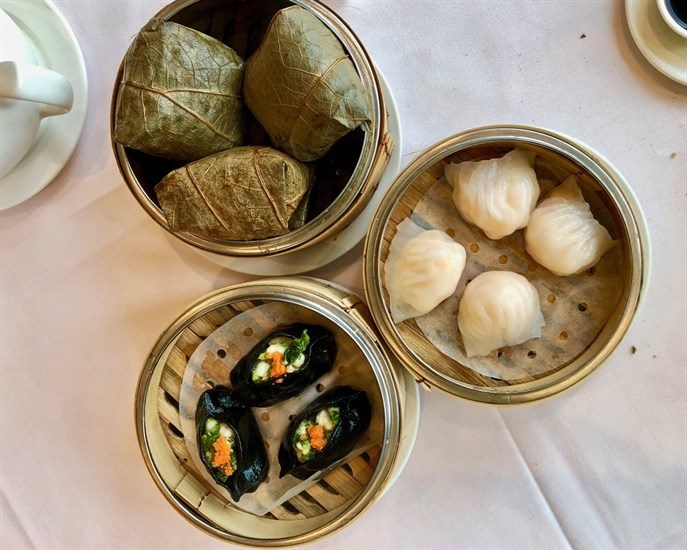 I lived in beautiful Vancouver for many years and still return frequently for business and pleasure. Part of that pleasure is roaming this delicious food city with friends and revelling in its many flavours. With intense cultural diversity comes exceptional, authentic palate diversity, and here you can treat your tastebuds to an international frenzy of flavours. Here is a list of my top 10 haunts that never disappoint.
1. Granville Island is one of my favorite places on the planet. I go early morning, sit with a JJ Bean cappuccino and a blueberry bread from Terra Breads. I absolutely adore this morning ritual. Strolling through the crowd-free market, surrounded by the buzz of activity while the market folk set up their stalls makes me feel part of the old-world magic that I never tire of. Then I take my view seat by the window looking out to the Granville Bridge and out to sea, sip my coffee and dream.
2. Dim sum is one grand food experience that I greatly miss. This is the most delightful way of eating and sharing a meal in a group, Sunday morning, around one big round table loaded down with pots of Jasmine tea and baskets upon baskets of the perfect little dumplings known as dim sum is simply sublime. Dim sum is a Chinese meal of small plates and is literally translated to mean "touch the heart". It is served usually from around 10 am to 2 pm. My go to for dim sum is Dynasty Seafood Chinese Restaurant at 777 West Broadway and my orders always include: Har Gow (shrimp dumplings), Sticky Rice Lotus Leaf Wraps, Taro dumpling and the black squid ink dyed shrimp and scallop dumpling (oh ya and the deep fried squid is to die for too). Not only delicious, dim sum is a super affordable meal.
3. Dynasty unfortunately does not have Xiaolongbao soup dumplings as they are a Shanghai style cuisine. These amazing little dumplings come in a steamer basket, and you eat them with a spoon because they are filled with broth. When you get them onto the spoon, you poke them with a chopstick to release the broth inside and slurp and then bite into to the meat centre. Oh, they are so yummy and fun to eat. Lin Chinese Cuisine at 1537 West Broadway is my fave.
4. AnnaLena restaurant at 1809 W 1st Avenue in Kits never disappoints. Smallish share plates with moreish food (means give me more!). Start with the fresh oysters topped with shaved, chilled foie gras (I'm not kidding you and yes they are that good), followed by the buttermilk fried chicken, the mussels (served without the shells) and crazy addictive tallow pull apart bread. For the finale, chocolate covered deep fried chicken skin (again, I am so serious). Thank me later.
5. Bao Bei at 163 Keefer Street in Chinatown is simply the bomb. I have loved this place since it opened years ago and never tire of its super cool décor, hip vibe and crazy good food. The Kick Ass Fried Rice is going to kick your ass – in the way that you just CANNOT stop eating it. And the Shao Bing - crisp sesame flatbread with cumin lamb sirloin, pickled red onion, green pepper, cilantro, and salted chilies - it is so delicious. Prepare to bao down and pledge allegiance.
6. Nook at 781 Denman. I have a soft spot for this place, because years ago, my friends and I were dining there and realized that Jon Hamm (at that time I was obsessed with Mad Men so this was heart stopping lol) was at the next table and get this, his dining partner was Bradley Cooper (sa-woon). Back to food. Chicken liver crostini – you won't be able to stop eating them. Gnocchi, like clouds with mini meatballs if you choose. Pizza is fab too and really everything.
Speaking of Italian eats, I have a couple more to share:
7. Pepino's Spaghetti House 631 Commercial Drive. You are walking right back into the '70s here, old school awesomeness and new school fantastic food. The Spaghetti & Meatballs, and Chicken Piccata - are you kiddin me? So good, you are going to be singing 'when the moon hits your eye' in no time, and really, with true amore in your heart.
8. Robba di Matti is fairly new and there are two. One in Yaletown and one in one of my favorite restaurant venues in the city tucked into the west end near Stanley Park at 1906 Haro Street (old school Vancouverites will remember it as the original Delilahs – dating myself). So this is real homecooked mama food. The seafood risotto transported me to the Amalfi Coast it was so good and so fresh. The signature Pappardelle Roshe Roshe, is a family recipe and the hearty ragu sauce includes short ribs, Italian sausages and free-range chicken.
9. Minami in Yaletown offers Aburi style sushi. Aburi means "flame seared" and whatever that does do a piece of sushi will leave you panting for more. I fantasize about the Aburi Ebi (shrimp) and Aburi Salmon. Really, I do. 1118 Mainland, Yaletown.
10. St. Lawrence is a tiny, gorgeous room tucked away in the Railtown neighbourhood of Vancouver. Described as classic French cuisine with Quebecois inspiration, dishes like the gorgeous individual Tourtiere and the cod cake quenelle, mussels & Normande sauce... beautiful. The steak & frites is incroyable and the Riz au lait façon L'ami Jean (rice pudding and salted caramel) will seriously send you. You must make a reservation – they keep winning awards making it harder and harder to get in. It is soooo worth the wait.
I have more places to share, but this should serve you well for your next food safari in Vancouver. Enjoy!
---
We welcome your comments and opinions on our stories but play nice. We won't censor or delete comments unless they contain off-topic statements or links, unnecessary vulgarity, false facts, spam or obviously fake profiles. If you have any concerns about what you see in comments, email the editor.
News from © iNFOnews, 2019