Cutting taxes on craft spirits in Kamloops, Okanagan could boost Canadian economy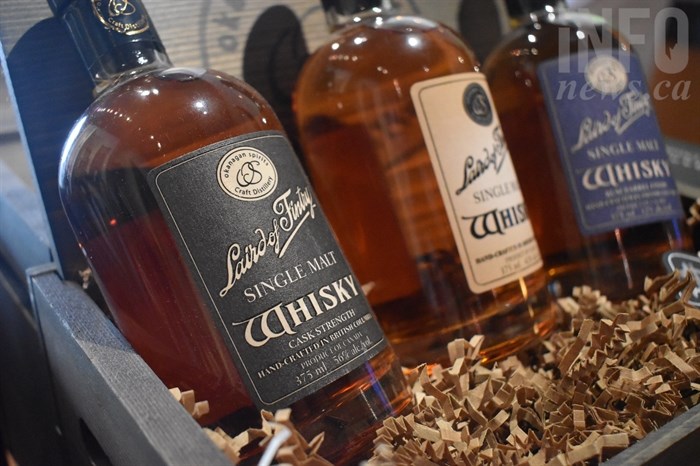 Small craft distilleries are struggling to get a tax break from a federal government that has made them the least competitive in the world.
"The birthplace of craft spirits in Canada is in the Okanagan, with Okanagan Spirits and spilling off from there," Tyler Dyck, the president of the Craft Distiller's Guild of B.C. and spokesperson for an industry association called Lift Canada's Spirits, told iNFOnews.ca. "Canadian craft distilleries are probably the least competitive on the world market even though they are one of the places where craft distilling started on the world stage."
Okanagan Spirits was started by the Dyck family in Vernon in 2004. It's the oldest distillery in Western Canada and the first since prohibition.
READ MORE: Okanagan distillery sweeps the podium at World Spirits Awards
Today, B.C. has the highest concentration of craft distilleries in Canada with about 90 of the 225 operating in the country. That includes about two dozen in the Okanagan and a handful of relatively new distilleries in Kamloops.
But their world started going sideways in 2017 when the Canadian government chose to stick with a relatively high excise tax on craft distilleries and lock in an escalator clause so it would increase with inflation every year.
An excise tax is charged to manufacturers of certain goods and collects more than $12 per litre of spirits.
At the same time that Canada was increasing the tax, many other countries, like the U.S., U.K, Australia and South Africa, were cutting their taxes, Dyck said. In the U.S. it's about one-seventh of the Canadian rate, between $1.50 and $2 Canadian per litre, Dyck said.
In the U.S., it was lowered as a pilot project for two years but has now been made permanent after government discovered that it gained $4 through growth in the industry for each $1 given up, he said.
"They didn't do it because they cared about alcohol production," Dyck said. "They did it be because they would get more money back in the government coffers."
The U.S. saw its domestic market for craft distilleries double in the first two years, hundreds of thousands spinoff jobs were created and millions of acres of land were planted for distilleries, Dyck said.
This is the first time the entire distillery industry, which includes big manufacturers along with craft distilleries, are united on this issue, Dyck said. They've also got the support of the Canadian Chamber of Commerce in their efforts to get the federal government to change its mind on the tax and they are trying to make this an election issue.
"Being the spokesperson for Craft Spirits Canada, I was asked by all the government parties," Dyck said. "They wanted economic development stimulus packages. They wanted ideas to stimulate the economy in a post-pandemic world.
"We're asking them to see sense and reason and saying, you know, unless you have the arrogance to think all the other countries in the world have got it wrong in making $4 for every $1 they gave up, follow sound policy. This is a first world policy that works and it stimulates domestic growth in jobs so this would be a massive boost to the Canadian economy."
Not only is it good for the distillery industry, but it takes 10 times the agricultural product to make a litre of spirits versus a litre of wine. Those grains and other products are sourced locally by the distilleries.
That means hayfields that are left fallow could be planted with high value grains.
Okanagan Spirits is the biggest craft distillery in the province but is smaller than a medium-sized winery, Dyck said.
His company uses 200 to 300 acres of land to grow grain, 60 acres of orchards and 23 acres of berries so, growth of the distillery would require growth in the agricultural sector.
In comparing spirits to wine, Dyck explained that it's like making six bottles of wine then taking most of the water out of them to make one bottle of vodka.
Yet, each of those bottles of wine sell for $20 to $30 while the vodka will sell for $40, with more than $12 going to the federal government.
The federal Liberals have raised concerns that changing the tax would trigger trade disputes but, Dyck said, the U.S. model shows that's not the case.
Lift Spirits Canada, which is a coalition of small and large distilleries, has an online petition encouraging government to change its tax policy on the industry. It can be signed here.
"I'm always hopeful that common sense will prevail," Dyck said. "But, I'm always slightly shocked and disappointed at how that same common sense doesn't seem to go along with the word 'government.'"
READ MORE: Okanagan distillery bypassed as government spends millions elsewhere on hand sanitizer
---
To contact a reporter for this story, email Rob Munro or call 250-808-0143 or email the editor. You can also submit photos, videos or news tips to the newsroom and be entered to win a monthly prize draw.
We welcome your comments and opinions on our stories but play nice. We won't censor or delete comments unless they contain off-topic statements or links, unnecessary vulgarity, false facts, spam or obviously fake profiles. If you have any concerns about what you see in comments, email the editor in the link above.
News from © iNFOnews, 2021