CLOSER TO HOME: Kamloops, Okanagan turn to small farms for locally-sourced food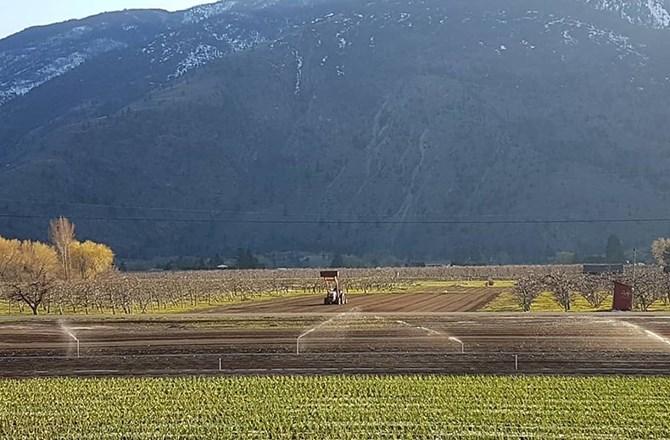 Fresh, local food producers in the Okanagan are seeing what appears to be a COVID-19 induced spike in demand for their products.
Small farms that produce local produce and other products are welcoming new customers in recent weeks amid a growing awareness of the value of locally sourced food.
Annelise Grube-Cavers and her partner Steve Meggait operate Fresh Valley Farms in Spallumcheen.
Grube-Cavers says the small scale farming operation produces primarily pasture-raised livestock, including pigs, chickens, cows and turkeys, in an operation that sells direct to consumers.
"We dabble in other things, such as garlic, but we mostly produce pasture-raised meat," she says.
Fresh Valley Farms delivers to designated pickup points on a monthly or weekly basis, or customers can come to the farm where there is an order window.
"There has definitely been more interest since the start of COVID-19," Grube-Cavers says. "People are interested in connecting with a secure food supply."
While Grube-Cavers says while she hasn't fully explored the reasons for her new customers' interes, she says it doesn't make sense from a financial point of view.
"Our meat will soon be certified organic, it's pasture raised, and those considerations are reflected in the price. If people are seeking us out, it's not to save money," she says. "It seems to me, from what people are ordering, they are cooking at home more, and buying more groceries than they would have when they were eating out two or three times a week."
Customers are also buying more unique items.
"They aren't just buying more ground beef," she says.
Grube-Cavers says a lot of her new customers have told her they've been interested in sourcing food locally for a while, and COVID-19 restrictions have provided them with the opportunity to look into it further.
"I think it's awakened some principles or values people have been thinking about. I have concerns about what the future is going to look like, but I hope people are valuing local food and will continue to make connections with local producers," she says.
In the Similkameen valley in Cawston, Kevin Klippenstein of Klipper's Organic Acres says "things are blowing up on the farm."
"We are trying to get seeds planted and food growing. There has been a lot of demand for local and sustainable food during this COVID-19 epidemic," he says. "Our Community Supported Agriculture program has just jumped by 200 per cent from past years."
He says he and partner Annamarie have found themselves having to think on their feet to handle demand. They opened an online store where people can preorder, pickup from the farm, at market or get it delivered.
"The phone calls and emails have not stopped, with people trying to get their hands on local food," he says.
Klippers not only grows the food, they make preserves, salsa, pasta sauce, and other condiments.
"We have started making hard cider so we can put it all together in some amazing packages for pickup or delivery," he says.
Klippers currently has carrots, beets, celery, garlic, onions, apples, greens and in a few days, asparagus.
In Vernon, Dan and Kat Saxton of Pilgrims Produce are also looking at a busy Community Supported Agriculture box program this year.
"People are signing up right now. We offer a weekly box of produce for 21 weeks, running from May to October," Kat says. "The box program has been well received, We don't yet have as many members as we did last year, but people are buying larger amounts of veggies, and we are only just starting our season."
Pilgrims Produce added an online sales element this year due to COVID-19 restrictions, allowing people to purchase online and minimize personal contact.
"We're pushing the (Community Supported Agriculture) program. It provides us more security and gives us a better idea of how much we should grow," Kat says. "I think COVID-19 has awakened people to the value of local food. It's quite scary to go to the grocery store and find empty shelves, and not being sure of what tomorrow is going to bring," she says.
Jordan Marr of Unearthed Organics says traditionally he catered to restaurants and household sales accounted for just 15 per cent or less of total sales.
Marr grows certified organic vegetables and herbs at his Mayer Road operation in Kelowna.
"This year, restaurant sales are cratering. I was facing a severe drop in sales so about a month ago I began to focus on household sales," Marr says. "Interest was very high. I've since attracted more than 200 new customers."
Marr adds he's unsure whether the new signups will become serious customers. He's taking them on without requiring any financial commitment on their behalf, hoping that would translate into more sales.
"The highest point of the signups was during the initial stages of COVID-19 restrictions, when more store shelves were being emptied. I don't know whether people turned to me because they were facing empty shelves, but the number of signups has been very encouraging," Marr says.
Once the season gets underway, Marr plans a weekly distribution of produce, offering the choice to customers of receiving their order at a pickup point or to-the-door delivery.
"I have an online store that operates like an online farmer's market stall. I'm working with others to supply produce I don't grow, and I also connect with Fresh Valley Farms to provide their meat products," he says. "Customers can select their method of delivery at checkout, and I have a refrigerated van to keep everything fresh," he says.
Once restaurants are back in business, Marr says he plans to be back supplying them when the time comes.
"I love working with chefs. Ideally, I hope to add a number of household customers to my client base when this is over," he says.
— This story was originally published at 6:30 a.m. Wednesday, April 15, 2020.
---
To contact a reporter for this story, email Steve Arstad or call 250-488-3065 or email the editor. You can also submit photos, videos or news tips to tips@infonews.ca and be entered to win a monthly prize draw.
We welcome your comments and opinions on our stories but play nice. We won't censor or delete comments unless they contain off-topic statements or links, unnecessary vulgarity, false facts, spam or obviously fake profiles. If you have any concerns about what you see in comments, email the editor in the link above.
News from © iNFOnews, 2020