Celebrating Christine Coletta, the B.C.wine industry's trailblazing 'godmother'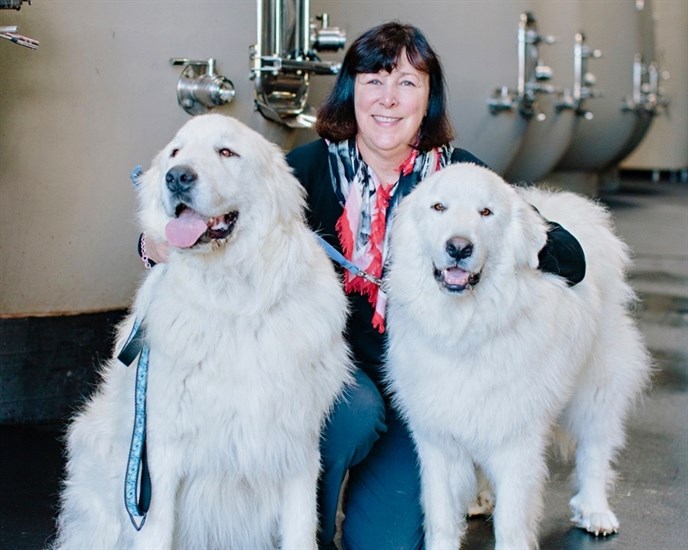 Everyone in B.C.'s wine industry knows Christine Coletta.
Innovator, community champion, visionary, land steward— these words all describe this unstoppable woman.
After 30-plus years in this industry, Christine has been learning, growing and working her way up from a server in the restaurant scene to one of the industry's most influential people, all the while being a champion of so many crucial causes. Christine has collected an enviable, intimate wealth of wisdom of the industry's DNA.
Christine, or CC as she is known by many, has earned awards and accolades throughout her illustrious career. Her most recent honour was being named One of Wine's Most Inspiring People for 2020 by Wine Industry Advisor.
In 2018 she was presented the Founder's Award at the Okanagan Fall Wine Festival in recognition of her contributions to the BC wine industry. Last year she presented the 2019 Trailblazer Award by the B.C. Chapter of Les Dames d'Escoffier and in 2018 was named one of Western Living's Top 10 Foodies of the Year.
She was also a founding executive director for the BC Wine Institute, where she helped form VQA as a standard of wine quality in the industry. She co-founded Wines of Canada, the national wine standards arm and created a roadshow that crossed Canada to encourage support for local food and wine. And on the culinary side of our industry, she was part of the industry team behind the creation and marketing of the training program Serving it Right, which is now recognized as a key training tool for the BC hospitality trade.
In 2011, Christine and her husband, Steve Lornie, opened Summerland's Okanagan Crush Pad (OCP) winery, Canada's first innovative custom winemaking facility that is now home to the winery brands Haywire, Narrative, and Free Form as well as wines made for other vintners. This project is a physical manifestation of her well-known mentorship mindset working intensely to build brands and wines for up and coming wineries. OCP's creation garnered her further accolades being named Innovator of the Year for 2013 from the Thompson Okanagan Tourism Association, and one of the Top Innovative Companies in BC from BC Business magazine.
As Harry McWatters was known as the Godfather of the B.C. Wine Industry, Christine has recently been called the "Godmother of British Columbia Wine Industry", a fitting title for one who cares so deeply about the industry and even more importantly, the land.
Her passion to support of sustainable and organic farming is palpable, with her own 400 acres of land officially deemed certified organic and 100 of those acres planted to grapevines. Okanagan Crush Pad is also now Canada's top producer of natural wines.
And let's not forget, that while this industry has been male-dominated, her strength and determination to rise up and become an authority in farming, viticulture, winemaking is extraordinary and further evidence of this powerhouse strength of character and work ethic.
Q & A with Christine Coletta:
Q: There have been major challenges for the small producers in the industry over the last couple of years with costs of grapes skyrocketing etc. You are very familiar with these up and coming wineries at OKCP. What do you seeing happening for them and describe the current state of the industry with all of the winery big buys going on?

A: I believe that the next several years are going to be very challenging. We have had a surplus of grapes and wine in recent years which has put downward pressure on pricing. That has corrected. Growers are currently in the driver's seat. Good for them. They work hard. It's a cycle. Having strong long-standing relationships with trusted growers is essential. Since the early '90s we have been telling the wine industry to focus on the higher price bands and this is very important for small producers who do not have any economy of scale. We will see people close shop as they will not be able to grow production due to lack of grape supply. This is a real challenge, but one that you could see coming down the road several years ago. The big guys will likely continue to purchase wineries and we may see buyers from Europe and the US as well. But in order to be attractive wineries at a minimum must check off two of these three boxes; profitability, solid producing vineyard holdings, killer brand. Good record keeping, a solid management team and a reputation for producing quality wine are also key. Small producers can be attractive, but they have to have their act together. In many cases ego gets in the way of making prudent business decisions.

Q: Looks like we are going organic. What are your thoughts on the direction, and will other wineries continue to follow suit?

A: Yes, it is finally happening. I thank Hans Buchler and the Cipes family for their pioneering efforts in the Okanagan. It is not just about organic farming of vines. Organic is an important move, but really it is about being good caretakers of your land. If you are organic certified, but you still have a classic "farmer junk pile" out back and your place is in disrepair, you need to up your game. You have work to do. You need to respect your farm and land in its entirety. We have carted off tons of old machines, stoves, oil cans, plastic buckets, pipes, etc. from the four farms we own. Every inch of the 400 acres have been tidied and cleared of garbage and put right. Gullies and streams have been cleaned up, and marginal hayfields returned to wetlands. It's so very rewarding to see all these properties sparkle. Underutilized land (formerly fallow hayfields) are now producing organic vegetables and we have grazing areas for sheep. Raw land that is now planted to vineyards. If you have not seen the movie The Biggest Little Farm you must. It is about the making of Apricot Lane Farm by Molly and John Chester. Our friend and biodynamic consultant Alan York (who passed away in Feb 2014) was a key person on that project. It is very inspiring, and it shows what you want can be done. You must watch this movie.

Q: If you could make one seismic change in the industry on your own, what would it be?

A: Remove all the VQA wines that have currently been sold in the BC Liquor Stores for more than ten years and replace them with new exciting wines from small and medium wineries. We could put a sign up that says FRESH VQA.

Q: If you could only choose 4 bottles to take with you on holiday, what would they be?

A: Lariana Viognier, TH Cab Franc, Free Form Vin Gris, Blue Mountain Gamay Noir

Q: What is your focus now?

Trying to figure out where I live. I've been told I have to pare it down. No one ever knows where to find me... but I rather like that.

Q: What is next for Christine Coletta?

A: Doing everything we do at OCP – in the cellar, in the vineyard and in the marketplace – but doing it better. Being smarter about how we all spend our time. Balancing it all out. Work wise, there is some replanting. Some Pinot Gris to pull out and replant with Syrah at our Oliver property. Some Pinot Noir to plant in Summerland. A new visitor center to build at the winery. Personally, I'll be 65 next week, so I guess I better go for a check up. And no, retirement is not in the cards. That ship sailed with the bright idea of a winery.
---
We welcome your comments and opinions on our stories but play nice. We won't censor or delete comments unless they contain off-topic statements or links, unnecessary vulgarity, false facts, spam or obviously fake profiles. If you have any concerns about what you see in comments, email the editor.
News from © iNFOnews, 2020