Celebrate Earth Day with a lesson on foraging from Chef Jesse Croy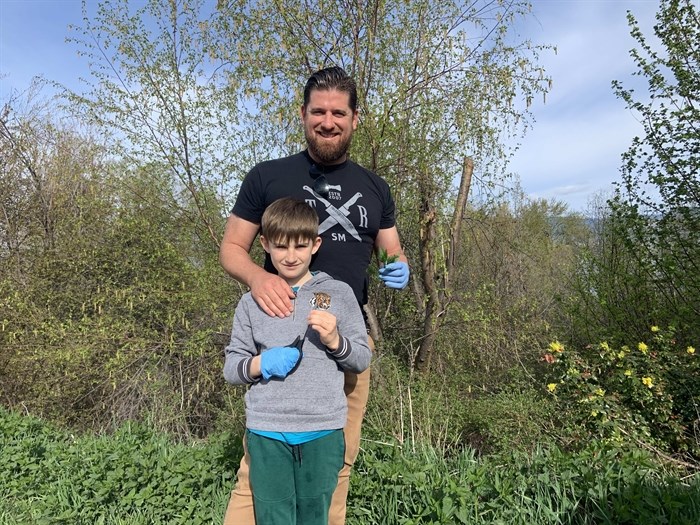 Have a little extra time right now? This might the perfect time to learn how to forage for delicious gifts from nature like greens, nettles and asparagus. And once you are 'in the know' you can continue throughout the seasons like treasure hunting for delicious mushrooms and other delights.
Foraging is all about paying attention. Once you learn about what is growing in our local forests and park lands, your nature walks will become food-seeking expeditions. And of course, the kids are all in for this kind of activity and it offers wonderful lessons to impart on them about nature and survival — perfect for Earth Day.
I asked one of our local chefs, Jesse Croy, who also happens to be a lifelong forager, for some advice. Croy was raised by a European "hippy mom" who impressed on him great respect and knowledge for the endless bounty that Mother Nature provides. He is sharing this knowledge with his children, who are all enjoying this 'extra' family time right now foraging together.
"Foraging gets you in tune with nature, the seasons and your community," Croy says.
Nettles have always intrigued me, and Croy shed some light on this elusive super green that arrives early spring – like now — for a very short period of time. He suggests connecting with someone in your local foraging community to learn about areas you might find it.
"Typically, they show up in areas with a lot of sun and light. Once you know what to look for, you will be able to spot areas where old nettles, essentially a 'graveyard ' as foragers call these spots, where you know they will return in the spring," Croy says, "Only harvest the tips from young growth, count down and cut below four sets of leaves. This will save the plant, save you from getting stung and also provide you with the tender part."
Now for the stinging part. The stems and foliage are covered with brittle, needlelike hairs called trichomes. Each trichome contains at its base a potent mix of irritating compounds, including histamine, acetylcholine, serotonin, and formic acid. The tips of the trichomes break off upon contact, releasing the chemicals. Really, it's not that bad, it causes a tingling sensation that lasts around 15-20 minutes, so wear gloves.
Once harvested, prepare a pot of boiling salted water and an ice bath. Rinse the nettles and then blanche in the boiling water for a couple of minutes. Drain and then submerge in the ice water. Drain and rinse the nettles two to three times again (there are tiny beetles that love to cling to the leaves). Squeeze out the water, it will feel like spinach and deplete exponentially. Croy likes to measure servings divided into sandwich bags and freeze or use ice cube trays for easy access to a serving for a smoothie.
So, what is the big deal about nettles? They are super-duper vitamin bombs.
"Amongst other things they are great liver cleansers and have four times the amount of vitamin C than an orange! Nettles also have tons of iron and magnesium," Croy says.
Stinging nettle tea is said to be good to reduce inflammation and historically was used for arthritis treatment.
Croy says to use it as you would cooked spinach. It is great in cannelloni, frittatas, omelets, soup and makes for a super healthy addition to your smoothie.
Now go forage — asparagus is coming now.
---
We welcome your comments and opinions on our stories but play nice. We won't censor or delete comments unless they contain off-topic statements or links, unnecessary vulgarity, false facts, spam or obviously fake profiles. If you have any concerns about what you see in comments, email the editor.
News from © iNFOnews, 2020