Celebrate Chinese New Year and the Year of the Ox with dumplings and B.C. Wine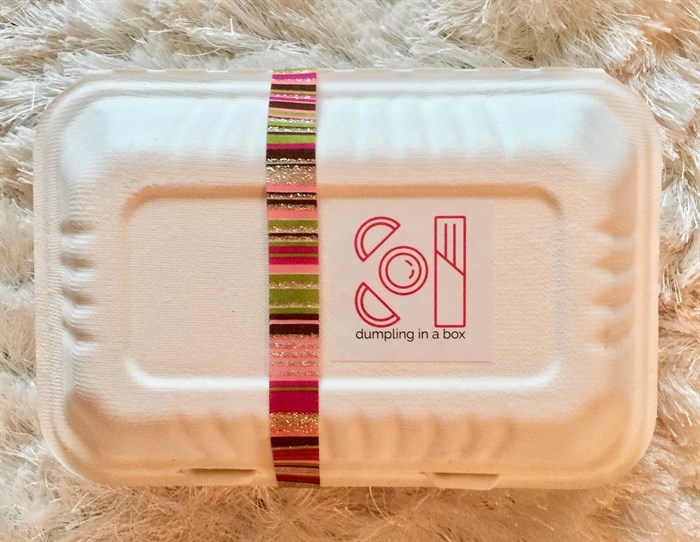 Dumplings, which Anthony Bourdain referred to as "little pillows of happiness", are wonderful anytime of year, and a must eat for celebrating Chinese New Year.
Chinese dumplings are thinly rolled pieces of dough that are filled with ground meat, seafood or vegetables. They can be boiled, steamed or pan-fried. Dumplings are served as part of dim sum (Chinese brunch) and are made for sharing with family and friends.
The tiny Vancouver company, Dumpling in a Box, is the brainchild of sommelier, pastry chef, restaurateur, and businesswoman, Van Doren Chan. Delicious homemade "grandma" dumplings are pre-ordered and delivered straight to your door.
We talked with Van Doren to learn more about her company and recommended B.C. wine pairings for Chinese New Year and dim sum dishes.
How did Dumpling in a Box start?
Dumpling in a Box started in December, 2019 as a project for two grandmas that have dedicated their life to promote the art of handmade dumplings. Every dumpling is made with the freshest local ingredients available and made to order in very limited quantities. The idea is to keep our older generation engaged in society, most of them have limited access and exposure with our community. On delivery day, we take them out for a short drive around town to drop off dumplings. We use the proceeds from dumplings to take them out to different restaurants and field trips to experience what Vancouver and BC have to offer. In 2020, we made one trip to the Okanagan.
Which B.C. Wine varietal do you think pairs best with Dim Sum?
Bubbles!!! A nice Pinot Noir and Chardonnay based sparkling would be the universal choice for pairing. Dim Sum often consists of the combination of meat and seafood dishes. To achieve the pairing of a combination of land and sea, the choice would be red and white. Pinot Noir will give the body and chardonnay adds fineness.
Wine suggestion: Blue Mountain Brut Reserve 2012
What B.C. Bubbles would you choose to Celebrate Chinese New Year?
Sparkling Riesling! The grape that tastes good with most Chinese food. A dry, lean crisp wine will match nicely with the fresh and pure Cantonese cuisine. For dishes from the Northern regions, there's no better foil than a Riesling with a little bit of sugar that will neutral the perception of salt and spice.
Wine suggestion: Tantalus Old Vines Riesling Brut 2016
Dumplings in a Box & B.C. wine pairings:
Black Truffle –Try a Chardonnay aged in small percentage or neutral oak barrels with a bit bottle age. Earthy and mushroom notes will complement the black truffle.
Wine suggestion: Meyer Family McLean Creek Road Chardonnay 2019.
Prawn and Chive (gau choi gao) –Chives and prawns both have dominant characters, a young and vivacious Pinot Gris will pleasantly play a supporting role.
Wine suggestion: Averill Creek Joue White 2019 (Pinot Gris Blend)
Prawn (har gow) – Youthful Riesling, minerality in the wine and salinity from the ocean. It will be a tango in your mouth!
Wine suggestion: Synchromesh Storm Haven 'Blue Label' Riesling 2019
Pork and Shrimp (siu mai) –This is a full flavoured dumpling with a bouncy lively texture, a juicy delightful Cabernet Franc Rosé is its best friend.
Wine suggestion: Seven Directions Cabernet Franc Rosé 2019

BBQ Pork Bun (char siu bao) – Soft pillowy steamed bun with bbq pork with a layer of sweet and salty sauce needs a luscious plummy red Merlot to accompany the full range of flavours.
Wine suggestion: La Stella Maestoso 'Solo" Merlot 2016

Lotus Rice Wrap (lor mai gai) –To pair with the umami flavours in rice wrap, we can go two ways, a rich and bold Red Bordeaux Blend can be the go-to for texture and weight and if you feel adventurous a white Marsanne & Roussanne Blend.
Wine suggestion: Rigour and Whimsy - Roussanne Marsanne 2018, Clos de Soleil Signature Red 2017
Celebrate Chinese New Year on Feb. 12 with Dumpling in a Box's delectable menu of handmade dumplings along with recommended B.C. wine pairings.
Dumplings must be ordered by Feb. 7 in time to celebrate Chinese New Year or Valentine's Day. Delivery is currently only available in Vancouver and Richmond. Dumplings are delivered frozen and require simple reheating that even a beginner home-chef can master.
Suggested wine pairings can be ordered directly from the winery or found at private wine stores.
Dumpling in a Box will be doing special orders and delivery for the Okanagan this spring!
---
We welcome your comments and opinions on our stories but play nice. We won't censor or delete comments unless they contain off-topic statements or links, unnecessary vulgarity, false facts, spam or obviously fake profiles. If you have any concerns about what you see in comments, email the editor.
News from © iNFOnews, 2021