British Columbians don't really want to get rid of tips: Restaurants CEO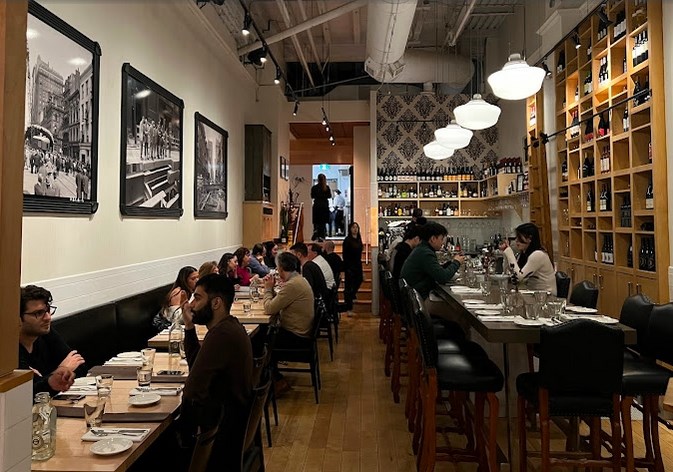 Long before the recent onslaught of tip-flation and tip-creep, Toronto's Richmond Station restaurant was moving towards a tip-free dining experience.
While it wasn't easy and it took a pandemic-mandated shut down to make it happen, it's a practice that the majority of Canadians want to see expand.
An Angus Reid poll found, in a survey posted last month, that 59%of respondents preferred a "service included" dining model.
Yet, such models are almost impossible to find in B.C.
"Canadians like tipping," Ian Tostenson, president and CEO of the B.C. Restaurant and Foodservices Association, told iNFOnews.ca. "It's ingrained in them. They like the control of being able to show gratitude by tipping."
Certainly, it's a practice that can be very lucrative to servers who can pull in hundreds of dollars a night in tips, which makes them particularly resistant to change.
That's what Richmond Centre found when it started moving in the tip-free direction a few years ago.
"Tips are kind of a hallowed ground in restaurants," Ryan Donovan, co-owner of Richmond Station, told iNFOnews.ca. "But there's lots of questions around about who they belong to and who they don't belong to."
It was due to that inequity in the distribution of tip money – with the lion's share going to servers – that got him and his partners thinking about alternatives.
Back in 2016 through 2018, Richmond Station – which has more than 80 employees – started making changes like paying higher wages and providing health benefits.
But, when they changed to a more equitable sharing of tips, all their front-of-house staff quit.
Part of Richmond Centre's argument back then was that as much as 75% of servers' incomes could be undeclared earnings in the form of tips.
Government programs for things like maternity leave or retraining allowances are based on a percentage of declared income.
"That was a difficult conversation for people to understand in 2016, 2017, 2018, when we started to talk to our staff about it," Donovan said. "They went: 'Oh, what are the chances?' or 'That's not going to happen to me.'"
Then the restaurant closed for three months in the spring of 2020 when COVID hit and all the staff were laid off.
"Everyone was going: 'Oh ya. Now I get it.'"
Given the limitations of government funding based on income, many of his staff moved back home or to other cities.
While his management staff remained, Donovan had to hire all new people when Richmond Station re-opened. That's when it switched to "hospitality included," meaning no tips.
Staff now have things that most workers take for granted, like higher wages, statutory holiday pay and vacation pay.
"We've said to our customers and to our staff and to our partners: 'There is no service charge. There's no fee. There's no percentage.'" Donovan said. "We just charge for our product what we need to charge for our product and our service, which is exactly what airlines do and hotels do and Home Depot does. Every other business does that. We haven't reinvented business. We've just taken restaurants and made them a better business."
That means the price of meals went up by about 20%.
READ MORE: New Kamloops frozen yogurt and cheesecake shop makes sweet, soft opening
There's only been a handful of similar experiments in B.C. in the last few years and they've all failed, Tostenson said, in part because of their higher menu prices.
"If you were paying, just for the sake of discussion, $15 for a hamburger then you would tip on top of that," he said. "Now, we're going to charge $18, or whatever. What they found was, it wasn't sustainable because people go: 'That hamburger is kind of expensive.'"
One of the first tip-free experiments in Canada was by David Jones when he opened Smoke 'n Fire in Parksville on Vancouver Island in June 2014.
According to an Aug. 21, 2014 article in the Vancouver Province, the trial ended less than three months after it started.
"When we listen to our locals, the majority want to have a say in whether or not they tip on good service or poor service, on good food or bad food," Jones was quoted as saying. "They want to have a say. … They feel like we have taken their freedom away."
Tostenson agrees.
"They feel, and I think it's true, the service standards are probably higher than if you were a model like Australia, which is all built in," he said. "If you talk to people who go to a restaurant in Australia, the service is not good."
Donovan takes a drastically different view.
"We were prepared for that exact discussion – people saying: 'You've taking my freedom away.' Or 'This is a liberty issue. If I'm no longer in charge of that, aren't people going to forget my order or I'm going to have to wait a really long time?'
His staff is professional so, just like a clerk in a hardware store, good service is part of their job.
"The incentive for everybody who works here, including me, in showing guests a great time is that they will come back – not that they'll leave $15," Donovan said. "I'd rather have customers for life than have them leave 18%. Our role as a business is to show people such an excellent time that they think of us the next time they have a special occasion."
Besides, people really don't want to judge how someone does their job.
"We found people don't want to be involved in that decision at all," Donovan said. "People don't want to go out for dinner and, while they're enjoying their anniversary dinner, also have to adjudicate somebody's compensation."
While cost and quality of service are central to the whole question of whether restaurants should ban tipping, there are other issues triggering some tipping shock to consumers.
One is dubbed 'tip-flation' where the amount expected is now typically in the 20% range with some tipping options reaching as high as 30%. Combined with increased costs for food over the past few years, that can really add to the bill.
The other issue is 'tip-creep' where more and more stores are showing tip options on their debit machines.
"We say to people, don't do it," Tostenson said. "Go to your conventional places and tip well if you get good service and if you don't get good service, go talk to the management."
Just leaving a small tip doesn't necessarily get the message across that either the food, the service, or both are lacking.
He has some advice to those tipping big because of good service and good food.
"I'll tip and then I'll go and make a big deal about how awesome the food was and the server was to the owner or manager," Tostenson said. "So many times the servers, they never get that feedback. It means a lot to people."
So, are tip-flation and tip-creep enough to change the restaurant world?
READ MORE: Iconic, long-established cheese company in Armstrong closing
iNFOnews.ca was only able to find one B.C. restaurant online that promotes itself as tip free.
It's called Folke and is a specialty vegan restaurant that opened in the Kitsilano area of Vancouver last June.
They did not respond to requests for an interview but did talk to the online publication, Narcity, in August.
"The incentive to work hard isn't tips, it is being part of a professional team that is here because they believe in the restaurant and their values align with ours," owner Pricilla Deo is quoted as saying.
"We have a hospitality included pricing model that includes tipping," Folke says in its website. "We aim to create a sustainable model for work and pay for our team."
"I've heard of them doing this," Tostenson said. "I don't know how well it's working. My expectation would be that it's not going to set any trends and/or it's just going to be on the fringe. It's not going to convince anybody to start going down that road."
Donovan says he gets about a call a month from restaurants interested in his hospitality-included model but some, like Folke, are just starting out so have the opportunity to hire staff into that model rather than convert.
---
To contact a reporter for this story, email Rob Munro or call 250-808-0143 or email the editor. You can also submit photos, videos or news tips to the newsroom and be entered to win a monthly prize draw.
We welcome your comments and opinions on our stories but play nice. We won't censor or delete comments unless they contain off-topic statements or links, unnecessary vulgarity, false facts, spam or obviously fake profiles. If you have any concerns about what you see in comments, email the editor in the link above.
News from © iNFOnews, 2023