Best breakfast spots in Kamloops and the Okanagan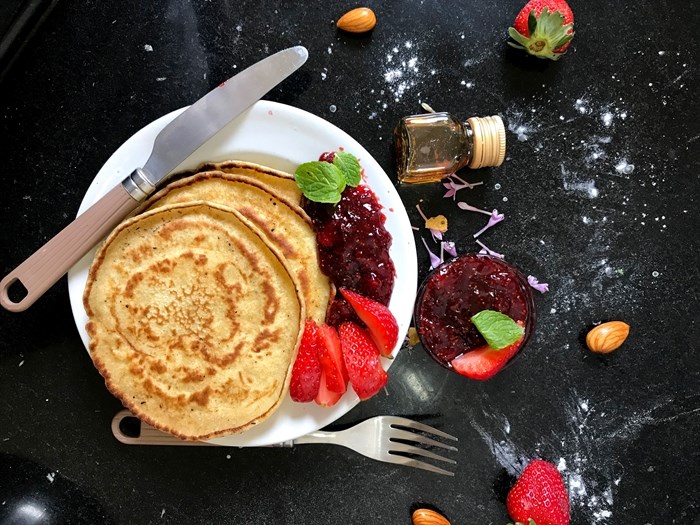 Doing anything in the morning takes extra effort, let alone trying to find the perfect breakfast spot on a hot Okanagan morning. There are so many factors to consider: location, menu, pricing, busyness, cuteness?
Don't get overwhelmed and give up on your breakfast outing. Cereal is boring, and you deserve better.
No more thinking critically before noon — we've got everything you need to know to help you decide where to go. Check out these awesome breakfast joints around the Okanagan.
Kelowna
Krafty Kitchen & Bar
It's a match made in heaven: classic '90s hip-hop and delicious brunch. Every Sunday from 10:30 a.m. to 3 p.m., Krafty blasts dope jams and serves up inspired breakfast classics, with a creative flair. First of all, the menu is puns from start to finish — and we're totally onboard. One of our favourites is the Got Chick or Fry Tryin', a breakfast bowl with buttermilk fried chicken, blue cheese, hot sauce, hollandaise, two poached eggs served on crispy smashed potatoes. If you're a vegan, there's nothing standing between you and a delicious meal at Krafty. Try the Tofutang Clan bowl, with grilled tofu, quinoa salad, avocado, vegan mayo and hot sauce. They've got Drop it Like it's Hot cakes (or pancakes if you're boring) and sandwiches like the New Pork State of Mind, with crispy pork belly, kung pao sauce, kimchi and a sunny side egg. We're gettin' jiggy with it.
The Orchard Room
The Orchard Room was opened by head chef and owner of Krafty's Kitchen and Bar Chris Shaften earlier this summer. The menu is primarily made up of plant-based small plates with a sophisticated, light twist. Most of the dishes are vegetarian, but that doesn't mean there's nothing tasty for your average meat lover. Just like Krafty, the Orchard Room does a brunch, that they've called "Lil' Hip Hop Brunch" on Saturdays and Sundays from 10:30 a.m. to 3 p.m. Their menu features brunch bowls, coming with either Nicoise, lox, applewood smoked ham or pico de Gallo and jackfruit. They have four types of bennies, tomato with smoked olive tapenade, avocado with feta, smoked ham and smoked salmon. If you're looking for a unique, creatively crafted breakfast, the Orchard Room is the perfect place to try something new.
The Bohemian Café
Talk about beautiful looking food. The Bohemian café's food presentation is on point, and isn't half of tasting done with the eyes? Fondly called "The Boh," this family business was founded in 1991, and many locals consider it a Kelowna staple. The Bohemian boasts homemade strawberry jam, bread and bagels and even homemade bacon and sausage. Their menu features four flavours of omelettes, three types of bennies, blueberry pancakes, French toast, hues rancheros and must-have sides including home-made guac and fresh cut salsa. Located on Bernard Avenue, Wednesday Friday 7:30 a.m. to 2:30 p.m. and weekends 8:30 a.m. to 2.
Sprout Bread Shop
Sprout is where all your bread dreams come true. This little bakery on Cannery Avenue is a bright, airy space where artisan bread magic happens, in house. As this is a new business, the menu is small and simple for now, featuring fresh pastries, toast, granola, salads and sandwiches, in addition to artisan coffee. Sprout is all about community and supporting local. That's why they're retailing items from fellow local shop Canoe Coffee, including jams, honey and flour. Sprout is open Tuesday to Saturday from 8 a.m. to 4 p.m.
The Bunkhouse
Calling all golfers, this is your homestyle breakfast destination. Start with a round of morning golf amongst the apple trees at Orchard Greens, then hit the bunkhouse for all your breakfast classics, either beside the fireplace or out on the patio overlooking the golf course. Located on K.L.O Road, open seven 7 days a week from 8:30 a.m. to 10 p.m. Monday and Tuesday, 11 p.m. the rest of the week.
Lake Country
The Wooden Nickel
This simple diner is one of the most well-loved breakfast spots in Lake Country. The Wooden Nickel is known for their fresh-made baked goods, particularly the huge, doughy cinnamon buns that span the open palm of your hand. They serve all the breakfast classics at a decent price, and although they're usually busy on weekends, there's plenty of seating and long wait times are pretty infrequent. Located on Highway 97 across from the Dairy Queen, the Wooden Nickel is open Monday to Saturday from 7 a.m. to 3 p.m. and Sunday 8 a.m. to 2 p.m.
OK Patio Café
Breakfast on the patio is a great way to start your day. The OK Patio Cafe features freshly baked white chocolate and macadamia cookies and fruit scones, in addition to some breakfast staples: sweet or savoury waffles, Smoked Salmon toast and frittata. They also have a lunch menu if you got a late start to brunch. Located at 11255 Okanagan Centre Road West, open every day from 9 to noon for breakfast every day except Tuesdays.
Vernon
Rosalinda's
This family diner serves all-day breakfast in downtown Vernon. They also bake fresh breads, buns, desserts and pastries. Their menu features homestyle breakfast classics, like the Spanish omelette, eggs benedict, Meat Lover's breakfast platter and hamburger steak and eggs. They also have a 55 years and over menu, with both breakfast and lunch items. Located on 33rd Street open 7 days a week from 7 a.m. to 2:30 p.m.
EATology
EATology has been serving locals since 2015 in downtown Vernon, just a block away from Main Street. All their ingredients are local and fresh, so customers are guaranteed a great meal no matter what they order. Their menu features Chicken and Waffles, stuffed French Toast, Corn Beef Hash and a Mexican Skillet with bell pepper, black beans, hash, eggs and pico de Gallo with guac. EATology is open Monday to Friday 6:30 a.m. to 3 p.m. and weekends 8 a.m. to 3 p.m.
Kamloops
Reubin's Diner
With a friendly staff and large portion sizes for a reasonable price, Reubin's Diner is a great choice for breakfast. This cozy spot features a breakfast wrap, French toast, eggs benny, Pastrami Hash and omelettes. Located at 204 Tranquille Road, open Monday to Friday 7:30 a.m. to 6:30 p.m. and 8 a.m. to 6:30 p.m. on weekends.
Hello Toast
Located on Victoria Street, their menu features The Bomblette, a 3 egg pesto infused omelette filled with asiago, feta, spinach, bratwurst & bruschetta topped with hollandaise and chives, served with spuds and toast. Feeling nostalgic? Take a stroll down Dr. Seus memory lane with the Green Eggs and Ham, three eggs scrambled with freshly made pumpkin seed basil pesto, Swiss cheese, smoked ham and spuds. Craving something sweet? Try the Strawberry Shortcake Stuffed Toast. Enough said. Hello Toast is open Monday to Saturday at 7:30 a.m. to 3 p.m. and Sundays 8 a.m. to 3 p.m.
Penticton
Prague Café
If you're craving a European style breakfast, Prague Café is the perfect place to go. This family-owned cafe makes fresh fruit cakes, babovka (Czech marble cake), muffins, apple strudel, old-style ginger bread, carrot cake and more. The Breakfast No. 1 is an assorted plate of Swiss cheese, ham, boiled egg, jam, juice and coffee. The No. 2 is oatmeal, fresh fruit, yogurt, a croissant, toast or bagel, juice and coffee. Located lakeside on Marina Way with outdoor seating, open Monday to Sunday 8 a.m. to 4 p.m. Cyclists get free coffee!
---
To contact a reporter for this story, email Brie Welton or call (250) 801-9235 or email the editor. You can also submit photos, videos or news tips to the newsroom and be entered to win a monthly prize draw.
We welcome your comments and opinions on our stories but play nice. We won't censor or delete comments unless they contain off-topic statements or links, unnecessary vulgarity, false facts, spam or obviously fake profiles. If you have any concerns about what you see in comments, email the editor in the link above.
News from © iNFOnews, 2019