B.C. wine country can be grateful for our Aussie expats on Australia Day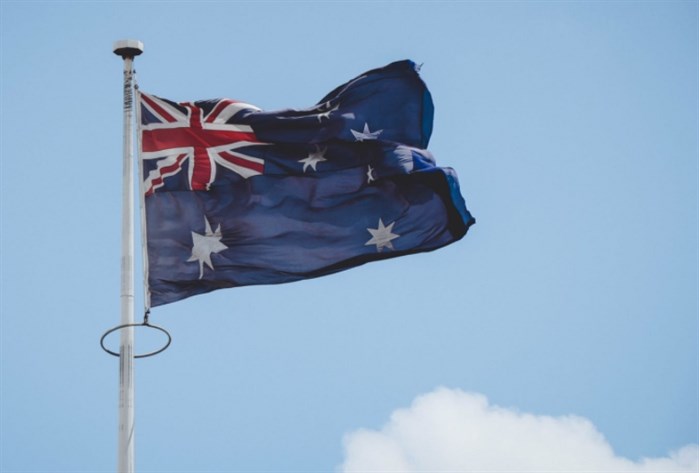 In celebration of Australia Day, we talk to five Okanagan wine stars that hail from down under, and ask the important questions including Aussie wine recommendations, favourite sports and what boots to wear in the vineyard. With a Master of Wine in the line-up, find out what B.C. wines pair best with Australia's most recognized foods including vegemite.
Andrew Moon, Viticulturist/Vineyard Manager, Tinhorn Creek Vineyards:
As any winemaker will tell you, good wine begins in the vineyard. Andrew Moon is a viticulturist with a Diploma in Viticulture from Melbourne Australia. Since 2009, he has been the vineyard manager/viticulturist and part of the award-winning team that has made Tinhorn Creek one of Canada's best wineries.
Favourite Australian wine varietal? Riesling
Favourite Canadian wine varietal? Cabernet Franc
Two Australian wines you would recommend?
Barossa Valley Estate E&E Black Pepper Shiraz
Grosset Polish Hill Riesling
Do you wear Blundstone boots?
NOOOO… I wear mongrel boots, a small family run business with boots that are designed and made in Australia.
Which sport- Cricket, Australian Rules Football, Rugby or Hockey?
As most Aussies I like all sports. I love Aussie Rules and have followed the doggies (Western Bulldogs) most of my life, which is kind of funny as they haven't won many (flags) cups.. which is why I probably gravitated toward the Canucks. lol
Kristy French-Winemaker, The View Winery
A graduate of Western Australia's Curtin University Wine Excellence Centre with a Bachelor of Viticulture and Oenology degree, Kristy French has been the winemaker at the View Winery, a family-owned winery in East Kelowna, since 2013. This small winery was the first B.C. winery to release sparkling wine in a can under the brand name, BLING. It is now one of the winery's best sellers along with an award-winning portfolio that includes Pinot Gris, Gewurztraminer, Ehrenfelser, Pinot Noir and Pinotage.
Favourite Australian wine variety? Viognier, Riesling and Cabernet Sauvignon
Favourite Canadian Wine Variety? Chardonnay and Viognier
Two Australian wines you would recommend?
A good Aussie wine Faber Wines Verdelho or a Riesling from Clare Valley
Do you wear Blundstone boots?
Yes, I have a pair of Blundstones
Which sport- Cricket, Australian Rules Football, Rugby or Hockey?
Definitely Aussie Rules Football is my sport of choice.
Phil McGahan-Winemaker & General Manager, CheckMate Artisanal Winery
Phil started his career as a lawyer before turning to wine. As well as a law degree, he has a Bachelor of Applied Science, Oenology degree from Australia's Charles Sturt University. After working in Australia's Hunter Valley wine region, in 2007, he moved to California to work for the prestigious Williams Selyem Winery located in Sonoma County's Russian River Valley. Recruited personally by Anthony von Mandl, in 2013, he became the winemaker and general manager for CheckMate Artisanal Winery, part of the prestigious collection of estate wineries owned by the von Mandl Family.
CheckMate is located on the Okanagan's Golden Mile Bench and focuses on only two varietals, Chardonnay and Merlot, grown on extremely small lots. Their goal is to produce wines to be amongst the best in the world. In 2019, Phil McGahan made Canadian wine history when Checkmate's 2015 Little Prawn Chardonnay received the first 100 perfect score from wine expert and writer, John Schreiner.
Favourite Australian wine varietal? Semillon (from Hunter Valley as the style is so unique), Chardonnay (from Yarra Valley), Sauvignon/Semillon Blends (from Margaret River). For red varieties, South Australian Shiraz and classic Shiraz-Cabernet blends (it's an Australian thing). Margaret River and the Coonawarra for Cabernet Sauvignon.
Favourite Canadian wine varietal? Chardonnay and Merlot, they both excel. Syrah (and Rhone varietals in general) can be excellent too. Pinot Noir and Riesling up near Kelowna can be stunning.
Two Australian wines you would recommend? Bindi Chardonnay (Macedon Ranges, Victoria) and Yarra Yering Dry Red # 1 (Yarra Valley, Victoria)
Do you wear Blundstone boots? I'm a recent convert. I have traded in my other Australian brands, Hard Yakka & King Gee boots, for a set of Tasmanian Blundstones. I never knew they were so comfortable!
Which sport- Cricket, Australian Rules Football, Rugby or Hockey? I am, as they say in Australia, a "cricket tragic" which means you are quite obsessed by the game and can recite the history and statistics of it, to the extent that you can bore an entire dinner party. I have managed to keep it in check in more recent years.
Darryl Brooker- President, Mission Hill Family Estate Winery
For those in the wine industry, Darryl Brooker needs no introduction. He is recognized as one of Canada's most influential winemakers. Darryl has a winemaking degree from Australia's Charles Sturt University and a Diploma in Wine Business from the University of Adelaide. His resume includes working with Australia's iconic Mountadam Vineyards, as well as four years at New Zealand's Villa Maria Estates Winery. In 2003, he arrived in Canada to launch Ontario's Flat Rock Cellars and in 2005 spent five years as chief winemaker for Niagara's Trius Winery.
In 2010, he moved to the Okanagan to work for CedarCreek winery with the goal of making exceptional Canadian wine. In 2013, Anthony von Mandl bought CedarCreek Estate Winery and chose Darryl to succeed Mission Hill's legendary chief winemaker, John Simes. In 2015, Darryl became chief winemaker of Mission Hill and was promoted to President in 2018. As president, Darryl is also responsible for overseeing the privately owned von Mandl family portfolio which includes CedarCreek Estate Winery, CheckMate Artisanal Winery and Martin's Lane Winery.
Favourite Australian wine varietal? Semillon. I love Australian Semillon from the Hunter Valley.
Favourite Canadian wine varietal? Cabernet Franc.
Two Australian wines you would recommend? Tyrrell's Vat 1 Semillon (first produced in 1963 and is considered to be one of the best Semillon wines in the world.) Penfolds Bin 311 Chardonnay (available at select BC Liquor stores.)
Do you wear Blundstone boots? Absolutely. Almost every day. I have worn them for so long it is just habit now. They are comfortable, durable and easy to put on and take off.
Which sport - Cricket, Australian Rules Football, Rugby or Hockey? Definitely Cricket. Such a classic Australian past time and one that I have never been able to shake. It is great in the Okanagan as we have so many expats from Australia, New Zealand and India that I am able to share my love for cricket.
Rhys Pender-Master of Wine, WinePlus
Since he was 14 years old, Rhys has worked in the food, wine and hospitality industry. After working and travelling in Europe, he moved to the Okanagan in 1998. In 2010, Rhys Pender became Canada's youngest Master of Wine. This is the wine world's highest honour and only 483 people living in 31 different countries have passed the MW exam since its creation in 1953.
Rhys is the owner of WinePlus, an educational wine school that provides Wine & Spirit Education Trust (WSET) courses in the Okanagan, as well as Vancouver, Victoria and Tofino.
Favourite Australian wine varietal? Semillon - Hunter Semillon with some age to be exact.
Favourite Canadian wine varietal? Syrah
Two Australian wines you would recommend? We don't have the best selection in B.C. unfortunately but these two are always a good bet. Wynns Black Label Cabernet Sauvignon 2014 is a great value wine to cellar for a decade. And Pewsey Vale Eden Valley 2018 is a classic Aussie dry, racy Riesling. *Both available at select B.C. liquor stores.
Do you wear Blundstone boots? Yes. Steel toed version.
Which sport- Cricket, Australian Rules Football, Rugby or Hockey? Aussie Rules and street cricket. A little known thing is that I actually was paid as a pro for a few games in Aussie Rules in Canberra before I jetted off around the world ending my career, haha.
Which BC wine would you pair with below:
Vegemite and Toast - add some Okanagan heirloom tomato and pair with Stag's Hollow Dolcetto.
Vegemite is a dark brown spread made from leftover brewers yeast extract with vegetable and spice additives. It is very rich in Vitamin B and noted for its strong and salty taste.
Meat Pies - Le Vieux Pin Syrah
Find authentic meat pies from Real Deal Australian Meat Pies at the Kelowna and Penticton's Farmers market or Peaked Pies with locations in Whistler and Vancouver..
Tim Tams - Elephant Island Framboise
Tim Tams are a brand of chocolate cookies made by the Australian biscuit company Arnotts. They are widely available in BC.
Lamingtons - Quails' Gate Botrytis Optima
Lamingtons are little squares of sponge cake dipped in chocolate and rolled in coconut.
Shrimp on the barbie* We don't say shrimp in Aus! First time I heard that word was when I arrived in Canada. But for prawns on the BBQ try a dry Riesling like Orofino Vineyards.
For most North Americans, "throw a shrimp on the barbie" is a classic Australian quote. However, the truth is most Australians have never heard the phrase. In Australia, shrimps are called prawns. The famous line was created by Tourism Australia in the late eighties which ran a series of ads featuring actor Paul Hogan, known for his role as Mick Dundee in the action-comedy movie, Crocodile Dundee to promote North Americans to visit Australia. To avoid confusion, Tourism Australia changed the name from prawn to shrimp. The saying hit North American cult status in 1994 when the famous line was quoted by actor, Jim Carrey, in the movie Dumb and Dumber.
Claire Sear is a Vancouver-based food, drink & travel writer
---
We welcome your comments and opinions on our stories but play nice. We won't censor or delete comments unless they contain off-topic statements or links, unnecessary vulgarity, false facts, spam or obviously fake profiles. If you have any concerns about what you see in comments, email the editor.
News from © iNFOnews, 2021