BC restaurant industry looking for more help through rough patch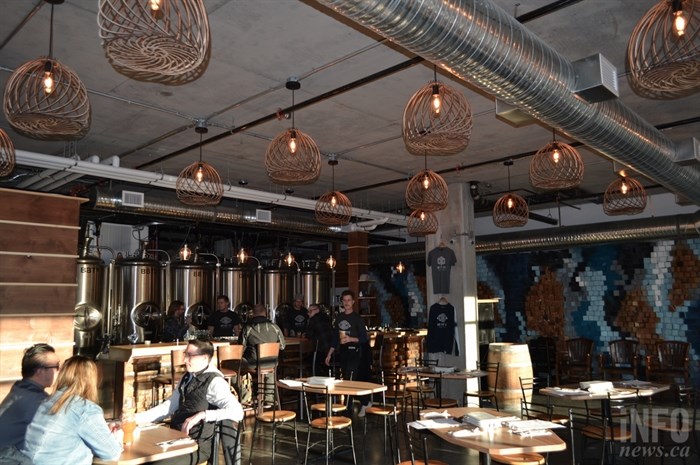 Premier Dave Eby is pushing local governments to cut their red tape so more housing can be built to meet the looming shortage in the province.
Now, the BC Restaurant and Foodservices Association, is asking him to do something similar for them.
"We don't want a bail out," Ian Tostenson, president and CEO of the association, told iNFOnews.ca. "We just want to see what makes sense, given the situation. I think collectively, we'll find some ways to come up with some solutions here."
And what is the current situation in the restaurant industry?
"It's not good right now," Tostenson said, simply. "I've never seen anything like it."
Last week, Restaurants Canada put out a statement saying the rate of bankruptcy filings for restaurants is up 116% this year and that half its members are operating at a loss or just breaking even.
Statistics can be misleading. While the 116% is accurate when compared to 2022, that was not a normal year.
The bankruptcy filings are not much higher, so far this year, than they were in the first three months of pre-pandemic 2018 and 2019.
That doesn't mean times aren't tough because not all restaurants that close file for bankruptcy.
"We've seen a lot of closures," Tostenson said. "You do have a lot of churn in the industry, there is no question, but we see little restaurants giving up all over the place that are at the end of their patience and their financial ability."
He estimated that restaurants were closed for 116 days over the two years of the COVID pandemic and need some help over the next couple of years to recover, despite being fairly busy.
"The effect of the pandemic is really starting to hit us now," Tostenson said. "It's the inflation. The upcoming increase in the minimum wage. It's the employer held tax (that pays Medical Services Plan premiums for workers). It's the 10 days of sick pay leave. It's the extra holidays. All those things are starting to take a toll and, of course, the labour shortage.'
On the federal level, Restaurants Canada is lobbying for an extension in the repayment time for Canada Emergency Business Account loans. Restaurants were able to borrow up to $60,000 to help them through COVID but repayments are due at the end of the year. The association is asking for a three-year extension.
Tostenson met with Premier Eby earlier this week and had a number of suggestions for changes.
He's asking that the Medical Services Plan payment system be changed. Currently, businesses that pay less than $500,000 in wages are exempt. Tostenson is lobbying for that to increase to $1.5 million.
The minimum wage is expected to go up 6.9% on June 1. He would like to see that held to 3%.
There also needs to be some "discipline" around the use of sick days since some workers are abusing it, Tostenson said.
Right now, they can start a new job, take their 10 sick days, then move on to another employer and do the same thing again.
Tostenson is also calling for red tape to be cut, which is similar to what the province is doing with housing.
The restaurant industry faces similar frustrations in getting building and other permits.
Tostenson cited the example of a Vancouver restaurant that is applying to expand its patio by 28 seats but will have to wait until October before that's approved.
He also noted that, in Alberta, it only takes five months to get approval to hire foreign workers while it takes twice as long in BC.
Despite all the doom and gloom, there are some bright spots.
"At the higher end, there are a lot of people that have disposable income and they don't care," Tostenson said. "They want the experience and they'll pay for it. People that were shuttered in because of the pandemic still want to go out. At the high end, there's still a lot of money. Business is coming back and there are businesses entertaining and stuff. That's a good thing. That market is really strong. All the high end restaurants are hard to get into."
That doesn't necessarily mean their balance sheets are all that healthy.
"Even for them, the cost of ingredients and the costs of goods is more expensive," Tostenson said. "They're doing all right but they're not making a killing. There's the perception that: 'Wow, these guys are really busy and it's hard to get reservations!' But it's still a grind because they're buying more expensive ingredients.
READ MORE: This Kamloops bakery can be yours for $1,000, but there's a catch
Fast service restaurants, at the other end of the price scale, are also doing OK, just as they did during the pandemic.
"There is an economy here that people can afford," Tostenson said. "It sometimes is less expensive to eat in the quick service restaurant because of their pricing than it is to go out and buy food and cook it yourself."
There is a lot of investment coming into the industry so there is, potentially, a bright future once a few hurdles are overcome.
"This is not about no business," Tostenson said. "The business is fairly strong when you're looking at sales and, now that the summer's coming, the patios are getting going and people are getting excited about that and getting out. It's always going to be somewhere maybe a little contraction in the industry, but we're always going to have a need, as a society, to have a place to go, like restaurants, just for peace of mind and celebrations and mental health."
---
To contact a reporter for this story, email Rob Munro or call 250-808-0143 or email the editor. You can also submit photos, videos or news tips to the newsroom and be entered to win a monthly prize draw.
We welcome your comments and opinions on our stories but play nice. We won't censor or delete comments unless they contain off-topic statements or links, unnecessary vulgarity, false facts, spam or obviously fake profiles. If you have any concerns about what you see in comments, email the editor in the link above.
News from © iNFOnews, 2023