B.C. orchardists fear summer labour shortage due to COVID-19 pandemic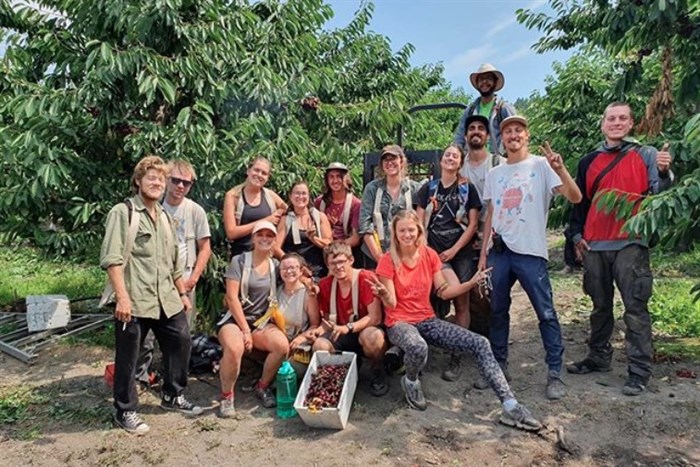 It's going to look very different in orchards and tree planting sites in B.C. due to the COVID-19 pandemic thanks to a shortage of workers and the drastic physical distancing changes needed to make operations safe.
The B.C. Fruit Growers' Association expects there to be significant staffing shortages this year, as many of the pickers traditionally hired by orchardists are from outside of B.C. and may face difficulty travelling during the pandemic.
Holly Wright worked at Coral Beach farms in the summer of 2018 picking cherries and doing quality control. She says many of her Quebecois peers are the people who would cover many of the labour-intensive seasonal jobs.
"A lot of the French Canadians, they go tree planting before, and then they go straight to cherry picking, and afterwards some of them go apple picking or grape picking," Wright says.
Wright says her group of around 150 workers camped in close quarters and used a large refrigerated trailer for their food, shared a kitchen area and ten showers. The pickers would also travel together to get groceries.
They would also travel between different company-owned orchards up and down the Okanagan valley.
"Some days we wouldn't pick at that specific orchard we were camping at, we would take a bus for sometimes an hour to go and pick at another orchard," Wright says.
David Geen, the owner of Coral Beach Farms and Jealous Fruits, says the company is planning on how to maintain social distancing when the picking season arrives.
Geen says he and his team have already come up with one way to keep their current Mexican workers, who arrived in February, safe from the virus while keeping the nearby Lake Country community at ease.
"People put in (grocery) orders, and there's a weekly delivery," Geen says. "Its a bit of a logistical undertaking to get everything organized, but we're planning that unless this thing miraculously goes away by summer, we're planning to have that program."
Geen says the orchard usually employs 1,000 people per year between the various picking groups, factory workers and administrative jobs. Geen says the pickers who camp will be more spaced apart in their tents and may have to abide by new rules as to who can use the kitchen and when.
Glen Lucas, the general manager for the B.C. Fruit Growers' Association, says he understands the concerns that some municipalities may have around hosting a large number of farm workers but says it is important to support local food growers during the pandemic.
"The municipalities want to talk about shutting down the Quebec workers, and that's really talking about shutting down our tree fruit sector and the economic impact to the area and impacting food security so we're inviting those municipalities to come up with ideas rather than just criticism," Lucas says.

Even if municipalities choose to support the presence of these workers, there may not be enough hands to pick all of the expected crops because of travel restrictions.
Lucas says the average season brings in about 1,500 fruit pickers from Quebec and eastern provinces, and another 1,500 backpackers from outside of Canada on work or visitor visas, in addition to the 4,500 temporary foreign workers. He expects those numbers to be less this year due to travel restrictions and health concerns.
"Normally that 1,500 fills up during the summer, but the border is closed to visitors and they come in on visitor visas, so we'll be missing those 1,500 international backpackers," Lucas says.
Lucas says anyone from B.C. who applies to be a picker will likely be accepted because of the staff shortages already seen in other seasonal labour industries, such as tree planting. However, even if the necessary number of workers arrive, the orchards may not be able to offer the space and facilities to meet the provincial COVID-19 safety orders.
"With the protocols, it may not work for a grower to get all of the workers in they did last year. They may be set up for ten workers, but this year, protocols on spacing and other restrictions... That farmer may say I'm not getting ten in, I'm only getting five," Lucas says.
Lucas says orchards are already making tough decisions about the upcoming picking season, which kicks off with cherries in June and ends with the already financially depressed apple growers in September.
"Apple growers are stretched financially now… They may choose to say, 'I'm taking a year off, I'm going to thin all my apples off and keep the trees alive, but I won't have a crop this year or I'll have a partial crop,'" Lucas says. "People are making those decisions now… all growers are having to make the decision, 'Do I try and produce to my full capacity and fight it the whole season long, or am I going to back off a little and protect my sanity?'"
Although it is too early to share estimates, he believes many will have to scale back or halt operations because of staff shortages or social distancing requirements. Lucas is not very hopeful there will be as many out of province workers as there usually is based on his knowledge of what is happening in the tree planting sector.
The Western Forestry Contractors' Association says it is hard to determine the financial impact COVID-19 will have on the tree planting sector but says the implications will be felt into the next year.
In a normal year it would hire 4,500 to 5,000 tree planters, but at this point it doesn't know what the summer workforce will look like. Currently, 400 workers are planting a project that was started earlier this year on the B.C. coast.
Work in the Interior is supposed to begin soon, with a goal of 240 million seedlings planted. The Association says the provincial goal is to plant 314 million seedlings, but the success of that is uncertain.
The association hopes to plant all 314 million seedlings, but that may not be the case. If the seedlings aren't planted, they will be thrown out because they will die in storage.
---
To contact a reporter for this story, email Jenna Wheeler or call (250) 819-6089 or email the editor. You can also submit photos, videos or news tips to the newsroom and be entered to win a monthly prize draw.
We welcome your comments and opinions on our stories but play nice. We won't censor or delete comments unless they contain off-topic statements or links, unnecessary vulgarity, false facts, spam or obviously fake profiles. If you have any concerns about what you see in comments, email the editor in the link above.
News from © iNFOnews, 2020