After 75 years, South Okanagan's Matheson farm transitions to winery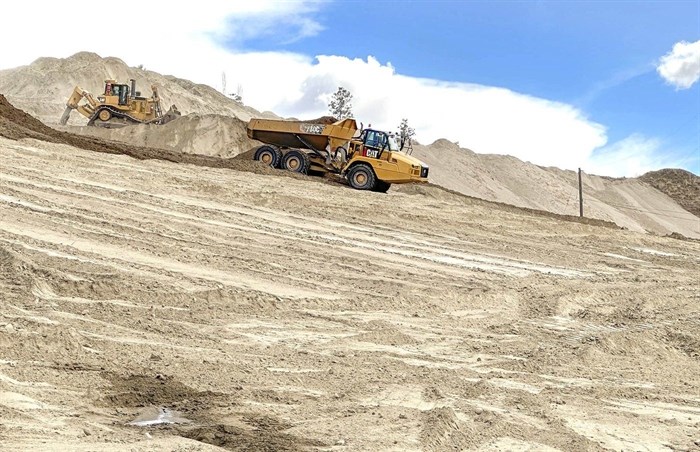 A nine-hectare property on Eastside Road in Okanagan Falls that for 75 years was the Matheson Creek Farm is transitioning to a winery.
Located about 15 kilometres south of Penticton, the land and existing buildings were sold last September for $5.2 million to a Coquitlam numbered company headed by owner Bert Evertt of South Okanagan Montalvino Wineries Inc.
The new venture will see Uppercase Winery, which opened in July 2021 at the District Wine Village near Oliver, move to Eastside Road.
It will join two others, the existing gadZook Vinery in Oliver and soon-to-open High Note Estate Winery on Naramata Road, under the Montalvino umbrella.
"They have cleared out the vegetation and as far as I know we're supposed to be planting for 2023," said Barbara Hall, Montalvino operations chief and company spokesperson.
"We'll get our first crop of consequence, about 30% of our production, in 2026 and it will be in full production by the time we're in 2028.
"It's exciting because this vineyard at 19 Eastside Rd. particularly is a nod to Bert's time in Italy and we're working on getting pecorino vines from Italy, which would be the first planting in North America."
While production is still years away, she believes taking the time to do the work properly is particularly important to her boss.
"You have to have commitment, dedication, patience," said Hall. "He's quite inspiring and he definitely has a vision for what he wants."
An accomplished opera singer in his youth, Evertt has gone from a hobby vineyard of seven hectares just two years ago to soon having over 36 hectares in production.
He is also currently the head of the family's retirement home operations, Belvedere Seniors Living in Coquitlam, which began in 1952.
The Sloan family started the Matheson Creek Farm with 121 hectares of raw land in 1948 which stretched from the Skaha Lake shores to the hills to the east, according to its website, which is still online.
Over the years, they specialized in apples, at one point growing over 20 varieties, and eventually adding other tree fruits and vegetables.
By the late 1970s, the property holdings were down to just nine hectares — four of them planted in apples — although the family did put in an additional 2,300 fruit trees in 2017.
During that time, they also branched into growing grapes with two hectares dedicated to wine varieties that were sold to the nearby Blasted Church Winery.
Calls and emails to the Sloan family seeking comment for this story were not returned.
According to Hall, there were some public concerns when the large-scale clearing work was underway earlier this year.
"I had heard that someone thought it was going to be condos but it is going to be a vineyard, it is a farm and I can assure you it'll be planted," she said.
Long-term plans for Uppercase Winery, which is expected to open this year at its new home, include a wine shop and production area.
While the property is located within the Agricultural Land Reserve, the land reshaping underway at the site does not require additional permits, according to Kim Grout, CEO of the B.C. Agricultural Land Commission.
Grout noted the ALC does have regulations around removal and deposit of soil in the ALR, but they do not apply in this case.
— This story was originally published by the Penticton Herald.
News from © iNFOnews, 2023