A 'Fresh Start' for those struggling through life has room to grow beyond its Kelowna roots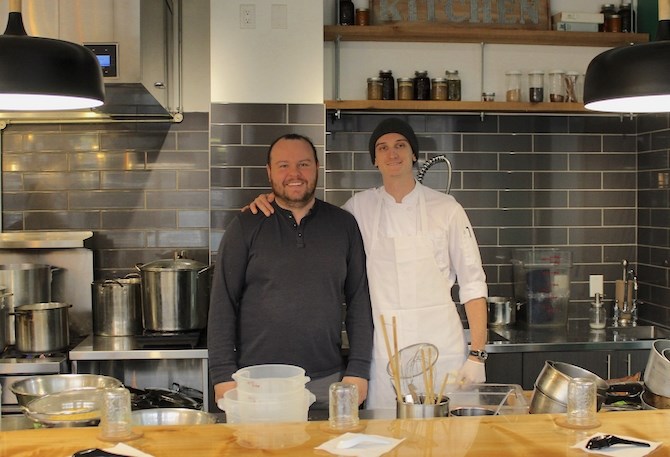 Michael Buffett walked away from his dream job running a Banff restaurant to live in a tiny pickers' shack, launching the most rewarding phase of his and many others' lives in Kelowna.
As the founder of the Start Fresh Project, he's helping people who are dealing with homelessness, addictions or other challenges and giving them the skills to make better lives for themselves.
"My experience has been that they're often going through a hard situation," Buffett told iNFOnews.ca. "Maybe they're experiencing mental health struggles. Maybe they've gone through addictions but they genuinely want to improve their lives."
The CAFÉ (Culinary Arts and Farm Education) program offers six months training on a working farm and in the kitchen. Graduates come out with a number of certificates and some life skills.
"As much as it's employment training, we also measure a few things," Buffett said. "We measure quality of life. We measure how happy they feel, if they feel they have better access to healthy foods, if they eat home cooked meals more often."
This effort comes from his own troubled youth and struggles with depression.
Buffett grew up in Niagara, Ontario. His father left when he was young and he said his mother was no much of a cook.
"Gramma would come over and cook with me and bought me my first cookbooks," he recalled. "She said, if I'm going to eat well, I'm going to have to learn to do it myself."
He moved out when he was 16 and supported himself with cooking jobs until he finished high school. He moved to Sunshine Village to snowboard and where he worked in a kitchen. His boss encouraged him to go to culinary school, which he did at the Alberta Institute of Technology.
Finally, he worked his way up to chief chef at the Waldhaus Restaurant at the Banff Springs Hotel – his dream job even though it meant working 16-hour days – before he crashed after his grandfather died.
"When you're feeling good, 16-hour days are fine," Buffett said. "I loved that job and I was knocking it out of the park. But when I came back after my grandfather died, I was in a motorbike accident and I was injured and I was depressed and 16-hour days at that point were killing me."
He packed it in, moved to Kelowna, worked hourly jobs in restaurants and on farms and lived in a 10 foot by 10 foot pickers' shack with his partner Sarah Martin.
They attended an event called "A Conversation Worth Having" with its discussion of difficult topics like tragedies and addiction. On the way out they were given back part of their entrance fee - $100 for the two of them – and encouraged to use it to do some good.
It wasn't long before he was teaching people how to make good meals out of their Food Bank food hampers and they used the $100 to register the Start Fresh Society.
Bigger space and getting the use of farmland led to three businesses that support the training program: the Start Fresh catering company, boutique cooking school and Wise Earth Farms that, along with other fundraising efforts, supports the Start Fresh Project.
The first class of 12 launched in 2017 and has been trimmed from 12 to six months. The next intake process – though a dozen agencies – will start in February with the class starting in May.
"They're often extremely, extremely difficult to employ," Buffett said of his students.
They have to meet certain criteria, such as a roof over their heads and a desire to make changes in their lives.
"If they don't have even the basic stabilities in their lives, the odds of them finishing our program are extremely low," he said. "Once people decide they want to recover, they get a little bit of stability in their lives and they want to re-integrate into the work force. That's where we come in."
The course is free for the students and runs 16 hours a week. It gives them the chance to get their Food Safe and Serving it Right certificates but also gives them broader qualifications, like an Ag Safe B.C. and Fire Suppression certification.
Out of the three classes, 60 to 80 per cent have graduated and 80 per cent of graduates have found jobs.
Some are on farms, others are in grocery store delis, bistros or in institutional settings. Some restaurants work well but those with late night shifts or those with a focus wine or beer pairings aren't usually a good fit for recovering addicts.
Some, because of mental health issues or suffering from brain damage, will never be able to work full-time jobs.
"There's a lot of great successes we've had here, and there's a lot of difficult things we've had here," Buffett said. "We've definitely had people come to our program and relapse and overdose and succumb to the fentanyl/opioid crises. We've had people that were not successful in our program who started using again and ended up in the situation they were in before."
"But we've had a lot of really amazing successes. When I walk into a restaurant or a grocery store and see someone who came to our program and they call me over and they're telling me all about how they're loving their new job and they're telling me how much better their life is now, that's the most meaningful thing I've ever experienced so I couldn't imagine doing anything else now."
That includes not going back to running gourmet restaurants.
What he would like to do is expand the program. It could easily handle a second 12-student class if he head the funding for it and it could expand to other Okanagan communities.
"I think there are passionate people throughout the Okanagan," Buffett said. "We will happily partner with people in Vernon or Penticton to facilitate our non-profit programming."
That doesn't mean he will go back to his 16-hour work days. All he needs to do is put the right people in place so he's not teaching all the classes, although keeping his hand in as a cook (he prefers that word to chef) and teacher are highlights of his life these days.
---
To contact a reporter for this story, email Rob Munro or call 250-808-0143 or email the editor. You can also submit photos, videos or news tips to the newsroom and be entered to win a monthly prize draw.
We welcome your comments and opinions on our stories but play nice. We won't censor or delete comments unless they contain off-topic statements or links, unnecessary vulgarity, false facts, spam or obviously fake profiles. If you have any concerns about what you see in comments, email the editor in the link above.
News from © iNFOnews, 2020