A Fabulous New Cookbook to make entertaining super fun and easy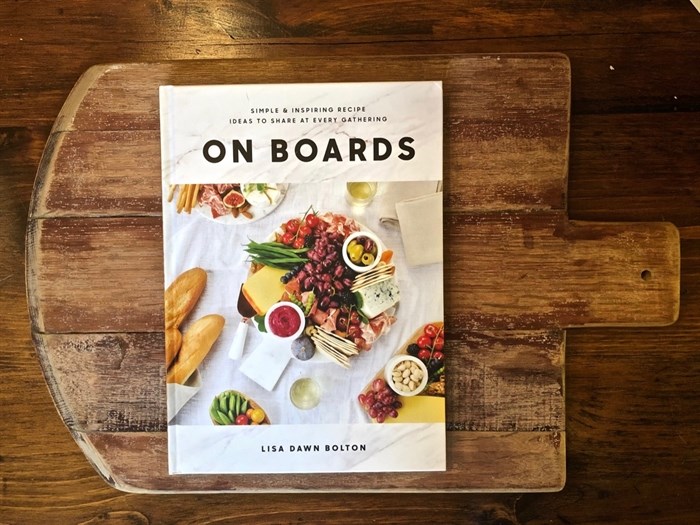 Cookbook alert! On Boards is a MUST for your cookbook shelf. This beautiful, clever new book was created by Vancouver food stylist Lisa Bolton. In it is a whole new world of entertaining ideas. Gorgeous and delicious, serving meals on boards is a genius style of serving. Not only does the chef get to sit down to enjoy the meal with the guests but most of the recipes are prep way ahead resulting in an easy peasy stress-free party day.
On Boards contains 50 ideas for 'instantly approachable boards' and 52 recipes for the delicious accoutrements like Beet Hummus, Bourbon Bacon Jam, Mashed Potato Dip and Chocolate Salami. Lisa shares her food styling tips showing you how to make any assortment of food into a work of art. If you don't already have a stack of boards like I do (minor obsession), do go and purchase a couple of different ones. If you are in wine country, the local Farmers' Markets always have an artisan or two making fabulous cutting boards and serving boards, some made from used wine barrels (like the one I used in the photo above with the cookbook atop).
The board themes vary from holidays like Christmas Dinner on a Board and Hoppy Easter (love the vertical devilled egg idea) to country themes like Little Italy, to a seasonal fare lineup. The classic, Picnic in the Park is fabulous and there is even a No Grown Ups Allowed for kids (gluten-free and vegan options too!). This cookbook is also going to be my new favourite hostess gift and makes the perfect Christmas gift) – especially if you include a board.
Thanksgiving is right around the corner and Lisa and her publisher Appetite by Random House has allowed me to share this fabulous Thanksgiving Board with you all. I have left the page numbers on so you can see how wonderfully laid out the book is. Happy boarding!
Thanksgiving Feast
Serves 8
Bourbon Pumpkin Butter (page 160)
Mashed Potato Dip (page 144)
Pickled Cranberries (page 170)
Green globe grapes, 3 cups
Brussels sprouts, 8
Green and yellow string beans, 32
Radicchio, 1 small head
Assorted radishes, 1 bunch, greens attached
Speck, 20 slices
Barbecue roast turkey, 16 large slices
Spiced-cumin Gouda, 9 oz
Farm-style aged Cheddar, 7 oz
Semisoft artisan amber-ale Cheddar, 7 oz
Garlic and rosemary chèvre, 5 oz
Miniature dinner buns, 24
Edible flowers, for garnish
Miniature gourds or pears, for garnish
Preparation:
Make the Bourbon Pumpkin Butter, Mashed Potato Dip and Pickled Cranberries. Serve in bowls on the board.
Prepare the fruit and vegetables: Snip the grapes into clusters of 4 to 6. Steam the Brussels sprouts until fork-tender (7 to 9 minutes), pop them in an ice bath to stop them cooking, then cut them in half. Cut 4 slices of the speck into 4 equal pieces (keep the rest for arranging across the board). Thread one half of a Brussels sprout on a toothpick, followed by a piece of speck, then the bottom half of the sprout and finally another piece of speck. Repeat with all the sprouts.
Steam the string beans (you can do them with the Brussels sprouts—they will take less time, so add them when the sprouts have been steaming for about 3 minutes), then pop them in an ice bath. Cut the radicchio into small wedges. Trim the radish tops, leaving just under 1 inch of green stem.
Serve the other components in the style that works best for you (see page 23 for tips), then arrange everything piled up on the board for an overflowing feast effect.
TIPS: Encourage your guests to make little open-faced sandwiches topped with pickled cranberries for a burst of flavour. The pumpkin butter borders on a sweet spread, so for a more savory board, you could replace it with a trio of mustards.
Pickled Cranberries:
1 cup fresh cranberries (or thawed frozen ones)
¾ cup white vinegar
2 Tbsp granulated sugar
¼ tsp freshly ground cinnamon or nutmeg (optional)
Fill an 8 oz mason jar with the cranberries. Add the vinegar, sugar and cinnamon or nutmeg (if using). Close the lid tightly, shake to combine and store the jar upside down in the fridge. The cranberries will be ready to eat within 6 hours. Keep in an airtight container in the fridge for up to 7 days.
NOTE: Don't add both cinnamon and nutmeg, as that would be overpowering. For more of a pickle flavour, you can pierce the cranberries before adding them to the jar. I prefer the pop they have when left untouched, but it's a personal choice.
Mashed Potato Dip:
½ cup mashed potatoes (1 medium potato), room temperature
1/3 cup full-fat sour cream
1/3 cup full-fat mayonnaise
1 tsp flaked sea salt
1 tsp onion powder
½ tsp garlic powder
1/3 cup chopped scallions (white and green parts), 1 Tbsp reserved
1/3 cup crumbled cooked bacon, 1 Tbsp reserved
Place the potatoes, sour cream, mayonnaise and seasonings in a food processor. Blend until smooth, but do not over process. Fold in the scallions and cooked bacon. Transfer to a serving bowl and sprinkle the reserved scallions and bacon over top. Serve right away or refrigerate in an airtight container for up to 3 days. Remove from the fridge 1 hour before serving.
Pair with BC Pinot Noir & Sparkling wine. Rosé would be fabulous as well!
---
We welcome your comments and opinions on our stories but play nice. We won't censor or delete comments unless they contain off-topic statements or links, unnecessary vulgarity, false facts, spam or obviously fake profiles. If you have any concerns about what you see in comments, email the editor.
News from © iNFOnews, 2019