8 sexy B.C. reds to sip by the fireside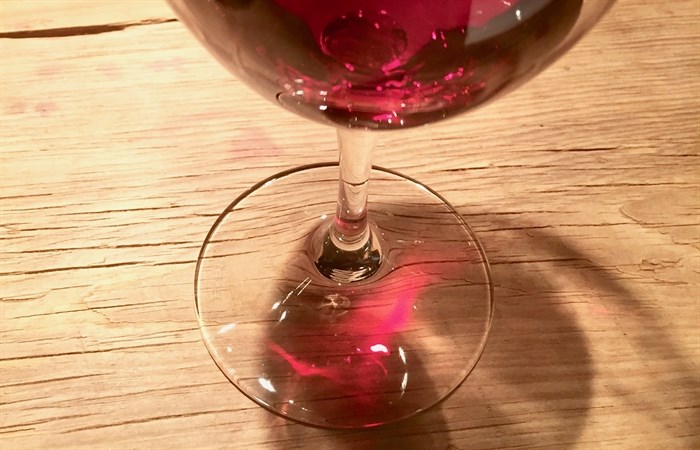 'Tis the season to light a fire, break out the sweaters and snuggle up under a blanket. Red wine is the go-to choice for cooler weather, and enjoying a glass by a roaring fire, or with dinner, is sure to help create the perfect cozy vibe to get you through the long winter.
Here are 8 beautiful B.C. reds to get your snug on with:
1. Fort Berens Estate Winery- 2017 Cabernet Franc Reserve- $31.99
This elegant Cabernet Franc Reserve has earthy characteristics along with aromas of blackberry, rosemary, and floral notes of lavender, roses and violets. This full-bodied, well-balanced wine features notes of blueberry, blackberry and licorice, very soft and ripe tannins, and a long finish. A portion of the Cabernet Franc grapes were vinified in a passimento style. These grapes were air dried over a period of six weeks, leaving the winemaker highly concentrated, partially raisonated, Cabernet Franc berries. These berries were then fermented in open top French oak barrels over the period of a month. Then the wine was aged for 10 months in French and American oak barrels.
Pair with mushroom risotto or with a good book and a quilt. http://www.fortberens.ca. Read more about this Fort Berens Estate Winery here: https://infotel.ca/inwine/inwine-delicious-adventures-lillooet/it62878https://infotel.ca/inwine/inwine-delicious-adventures-lillooet/it62878
2. The View Winery & Vineyard - 2017 Pinotage Reserve $25.95
Discover the beautiful signature wine of South Africa in this rare B.C. expression from The View. Pinotage is a cross between Pinot Noir and the aromatic Cinsaut grape and in South Africa. The View's Pinotage Reserve 2016 brought big accolades winning a Gold in the Six Nations Cup and was awarded Gold in the B.C. Best of Varietals Competition. The 2017 vintage offers rich notes of dark cherry, red berry and spice complemented with robust, velvety tannins, a bright acidity and a persistent smooth finish. Pair with pizza or after a skating day at Big White. https://www.theviewwinery.com
3. Fairview Cellars- 2016 The Bear $44.90
From Fairview's premier series, this big beauty is a blend of five of the classic Bordeaux cultivars (Cabernet Sauvignon, Merlot, Cabernet Franc, Malbec and Petit Verdot) with Cabernet Sauvignon being at least 50% of the blend. The best barrels are always chosen for this wine, with the Cab. Sauv. grapes usually coming from a later picking to add to the complexity. Winemaker/proprietor Bill Eggert is known as the Cab-man due to his great success with growing and making excellent Cabernet wines. Pair this Bear with a romantic steak dinner or Earth, Wind & Fire. http://www.fairviewcellars.ca/
4. McWatters Collection- 2016 Meritage $34.99
Harry McWatters taught us all about Meritage (including how to say it: rhymes with heritage). Bold and elegant, with velvety tannins, well-balanced fruit and oak characteristics. Blackberry and cassis with dark black fruits and supple texture. This Meritage is crafted with 50% Cabernet Sauvignon, 35% Merlot, and 15% Cabernet Franc and matured in small French oak casks for 15 months prior to bottling. Ready to drink now, this wine should age well through to 2024 and beyond. Pair this with beef stew or a game of chess. http://www.encorevineyards.ca/
5. Moon Curser Vineyards – 2017 Dead of Night $39.99

Owners Beata and Chris Tolley planted Tannat in their Osoyoos East Bench Vineyard in 2005 and it was the first of its kind in Canada. Dead of Night is a blend of Tannat (a dark and tannic red grape, traditionally grown in the Madiran region of South West France) and Syrah. This is their flagship wine. Cellar for up to 10 years. The 2017 Dead of Night is a dry, medium to full-bodied red wine with deep ruby colour and nose of baking spices, chocolate and raspberries. The palate brings out characters of lavender, cherry, leather and cinnamon. The wine has fantastic structure; the silky and plush tannins provide the perfect underpinning for the lingering acidity and the generous savoury and floral notes. Pair with roasted lamb shanks or a scary movie like IT Chapter Two.
https://www.mooncurser.com
6. Black Market Wine Co. - Syrah $35.00
In the classic Northern Rhone style, the wine is a co-fermentation of 94% Syrah and 6% Viognier. Medium-bodied with an elegant mouthfeel, the smooth tannins are lifted by a hint of acidity. Aromas of violets and red cherry are followed on the palate by savoury notes of black olive, black cherry, vanilla and cinnamon. The wine lingers with the hallmark pepper notes on the long finish. This is a wine that is approachable now, but with great cellaring potential. Winemaker Rob Hammersley suggests: "The Syrah is perfect with smoked baby back ribs and my homemade dry-rub. It's got a nice balance between sweet, spice and smoke that pulls on the savoury notes in the Syrah. And the medium body doesn't overpower the dish."
Also pairs well with shoveling snow.
https://blackmarketwine.ca
7. Larch Hills Winery – 2018 Lemberger- $15.04
Lemberger (also known as Blaufränkisch) is a German varietal that is rare to find in the Okanagan. The Manser family at Larch Hills Winery is one of B.C.'s most Northern vineyards located high in the hills above Salmon Arm. Lemberger's dark skin provides the beautiful ruby red color of this wine, on the nose it offers beautiful aromas of black cherries with a touch of spice. In keeping with the Manser family's Swiss heritage, pair with a lovely cheese fondue or snowshoeing.
https://www.larchhillswinery.com/
8. Rathjen Cellars - 2016 Pinot Noir $39.91
The grapes for this wine come from Saison Vineyard, a dry-farmed vineyard meticulously tended by grower Frederic Desbiens in North Cowichan. This vineyard has been racking up the medals over the past few years for the Pinot Noir and Pinot Gris they grow for us and other Vancouver Island wineries and we are so honoured to be able to work with this top notch fruit. Pair with salmon or a bawling episode of This is Us (it will make you feel better).
---
We welcome your comments and opinions on our stories but play nice. We won't censor or delete comments unless they contain off-topic statements or links, unnecessary vulgarity, false facts, spam or obviously fake profiles. If you have any concerns about what you see in comments, email the editor.
For more information or to book an appointment with Dr. Iampen, visit SenSei Laser and Vein Rejuvenation Centre's web site here, or give them a call.

News from © iNFOnews, 2019