13 non-pretentious wineries to tour in the Okanagan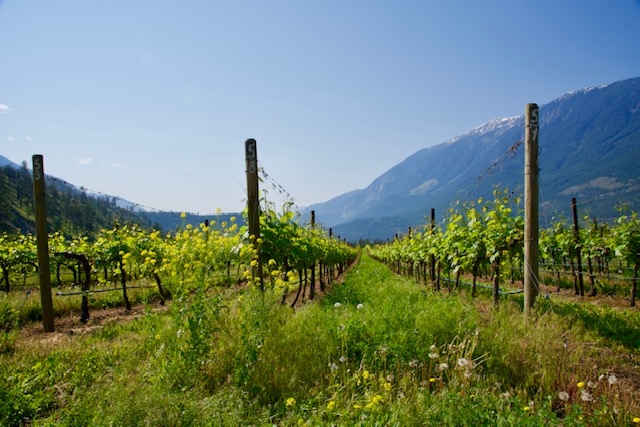 Dressing up fancy is hard. It involves uncomfortable shoes, stuffy necklines, and just too much effort. This may pose a problem if you want to get out and enjoy a wine tasting, especially if you've just come from a hike or a morning trip to the Farmer's Market.
We have a solution, and it doesn't involve any personal growth or changing your effort level.
Check out these 13 relaxed, casual, fun wineries around the Okanagan.
1. The hatch - Kelowna
People know the hatch for their amazing label art and rustic tasting room. If you're looking for somewhere down-to-earth, this is where you'll want to go.
Affordable? You're damn right. The 2018 B. Yanco is only $15.99.
2. Beaumont Family Estate Winery - Kelowna
The first plantings were put in the ground in May 1995 at Beaumont. As a family owned estate, each generation brings with it the expertise of past learning in order to continuously improve the vintage, and create new ones. With a spectacular view of Okanagan Lake, this is a relaxing, tranquil place to enjoy family made wines.
Affordable? Try the Beaumont Pinot Rosé for $19.90. You had us at Rosé.
3. Off the Grid - West Kelowna
Nigel and Travis Paynter run the winery with their wives next to their family's fruit market in West Kelowna. The land on which the winery stands was acquired by Edwin Paynter before World War 1. In 1919 they began to farm the land. Since then, it has been passed down and divided amongst the family. If you like goats, you're in luck, because that's who will be greeting you.
Affordable? You can get a 2018 Unoaked Chardonnay or Pinot Gris for $26. Not too shabby!
4. Dirty Laundry - Summerland
Have some fun with their Naughty Chardonnay, or a little less fun with the Not-so-naughty Chardonnay. Don't worry about a stuffy waiter eyeing your Juicy sweats at Dirty Laundy, because all their food and brews are self-serve. You get what you want, whenever you're ready. Light and breezy. At Dirty Laundry, they're not pretending that wine is the only worthy beverage—they serve an assortment of craft beers and espresso beverages too.
Affordable? Their Woo Woo Gewurztraminer is $15.99. Woo Hoo!
5. Little Straw - West Kelowna
Originally owned by the Slamka family, they planted their first vineyard at Little Straw in 1969 with the intention of selling their fruit to commercial wineries. By 1996, three Slamka sons had changed the path and established their own winery. In 2018, Peter Slamka passed the keys over to a new winemaker Barb Hall, who has a B.Sc. in Biochemistry from UBC Okanagan.
Affordable? Get the 2017 Tapestry for $16.90
6. Upper Bench - Penticton
Pizza and wine on a patio, does it get more chill than that? Upper Bench has a custom wood-fired pizza oven for all your stomach's needs. They also handcraft their own cheese on site, using cow's milk from Sicamous.
Affordable? Pick up a 2018 Pinot Blanc for $20.80
7. Red Rooster - Penticton
You can book a private tasting at Red Rooster, so you get a tasting room all to yourself. Red Rooster was founded in 1990. Since then, they've become known for a certain style of hospitality that isn't quite like the other wineries in the area. The current building stands just a few kilometres from the original site. Check out the large arched doorways in the tasting room: they're made using wood from the old Naramata Train Dock.
Affordable? The Pinot Blanc 2017 sure is, at $16.99. Skip the restaurant, wine is cheaper than dinner.
8. D'Angelo - Naramata
Sal D'Angelo purchased the plot on Naramata Bench were D'Angelo sits today in 2001. The winery boasts a breathtaking view of the lake, and a Food Truck serving Danelo's authentic Italian sandwiches.
Affordable? The Rosalina 2017 is made from Merlot grapes and priced at $17.
9. Roche - Naramata
The owners of Roche have wine in their blood, and they know exactly what they're doing. Penelope Roche can count back six generations of viticulture and winemaking at her family's estate. She studied wine making in Spain, New Zealand and Australia, and is a viticulture teacher at Okanagan College. Dylan Roche apprenticed making wine in the Cote d'Or, Chablis and New Zealand and holds a diploma in viticulture and winemaking. The vineyard is ideally located on the edge of the Naramata Bench overlooking the city of Penticton and Okanagan Lake.
Affordable? Grab a bottle of the "Texture" Rosé 2018 for $19.90.
10. Nk'Mip - Osoyoos
This is a special place, as it was the first Indigenous winery in North America. Their wines are inspired by a long history of rich culture and relentless spirit. The word Nk'Mip translates to "Bottomland" in English, as the winery is located at the Southern end of the Osoyoos reservation, surrounded by time-weathered mountains and that semi-desert landscape the Okanagan is known for. Rick Mercer visited Nk'Mip for the Rick Mercer report in 2017. Check out the video here!
Affordable? Very much so. The "Talon" Red Blend is only 19.99.
11. vinAmite - Oliver
vinAmite specialized in traditional French varietals, created using both old and new techniques. Ray Coulombe founded the winery, and is still currently the owner. Ray and his wife bought a house in Oliver B.C. which just happened to have five plus acres of neglected vineyard. They acquired the needed education and opened vinAmite six years later.
Affordable? Their Pinot Gris is crisp, bright and $20.90.
12. Covert Farms - Oliver
Covert Farms is where the farm to table philosophy becomes a reality, with an abundance of certified organic crops. Original owner George Covert bought the desert-like piece of land in 1959, and no one would have predicted the success of a farm in such hot weather. If only they could see it now. You can buy produce at Covert Farms' in-store location or pick your own in their organic fields.
Affordable? Their Pinot Blanc is $22.90 and hard to refuse.
13. Clos du Soleil - Keremeos
Clos du Soleil is a small artisan winery on the Upper Bench of the South Similkameen Valley. The name of the winery is French for "enclosed vineyard of the sun" as the area is sun soaked for most of summer. They're a small team, but they're well-knit and they know what they're doing.
Affordable? Get your hands on their Fume Blanc, retailing at $20.90
Did we miss anyone? Rave your favourite buttoned-down wineries in the comments below.
---
To contact a reporter for this story, email Brie Welton or call (250) 801-9235 or email the editor. You can also submit photos, videos or news tips to the newsroom and be entered to win a monthly prize draw.
We welcome your comments and opinions on our stories but play nice. We won't censor or delete comments unless they contain off-topic statements or links, unnecessary vulgarity, false facts, spam or obviously fake profiles. If you have any concerns about what you see in comments, email the editor in the link above.
News from © iNFOnews, 2019