Findoor – The Door Revolution
More and more Okanagan companies are finding that FinDoor folding doors are the perfect solution for any agricultural, industrial or commercial building. FinDoors are derived from Finland and now manufactured in Alberta. They provide a better alternative to overhead doors – with less service and maintenance requirements. With 20+ years of experience installing and servicing doors, Armour Overhead Doors in Kamloops is proud to be a distributor of FinDoors. Guaranteed satisfaction.
Findoors – Durable for the Toughest Environments
Tough and durable, these doors operate reliably within the most variable weather conditions. Not only that, but the doors can be customized, offering a feature-rich solution that is tailored to match your individual needs. Armour Overhead Doors in Kamloops takes pride in offering these high-quality industrial grade doors. The product provides an optimal balance between weight and robustness, withstanding the test of our B.C. changing weather and workplace conditions, day after day with no reduction in reliability or functionality.
Customize according to colour, dimensions, placement of windows, electric operators and door types. Need to add a man door or passage door? FinDoor has a solution for you.
Thermal glass windows made up of double paned thermal glass units
Pass doors are an option
Energy efficient
Retains its clarity for decades
FinDoors are a revolutionary product when it comes to industrial-grade doors. Built to handle heavy usage and continuous operations without interruption, you'll love their reliability and low maintenance – lasting for years. Additionally, FinDoors are surprisingly light and quick to operate manually – even as they stretch across a large space. FinDoors also give you the security needed in an industrial environment. Benefits include:
Thermal Insulated Core
Clad in sheet metal
Variety of colours to choose from
EPDM Rubber weatherstripping
Add an Entry Door and/or Windows
Armour Overhead Doors looks forward to helping you plan a FinDoor installation. Our goal is to keep your barns, fire stations, shops or warehouses functioning flawlessly for decades to come. Our trained technicians are available for repairs, maintenance, replacements, and upgrades that will exceed your expectations.
Give Armour a call to learn more about our preventative door maintenance plans that reduce the need for repairs and emergencies by closely monitoring the door's condition. Additionally, we provide both in-house extended warranties and supplier lifetime warranties for added peace of mind.
No matter what door service you require, you can rest assured knowing that our team is here to help. Call for a free quote on FinDoors from Armour Overhead Doors in Kamloops at 778-696-3667 (DOOR).
Sponsored By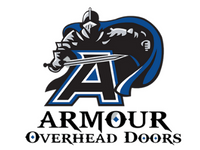 News from © iNFOTEL MULTIMEDIA, 2023