Work from home? New office towers in Kamloops, Kelowna defy the pandemic trend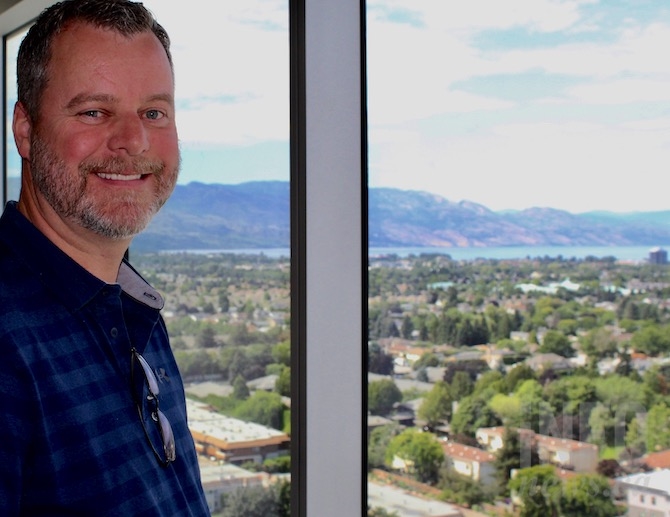 Construction of the 23-storey Landmark 7 office tower in Kelowna hasn't slowed because of COVID-19.
The Hive – which is not as tall at six storeys – is also going ahead as the first new office space built in Kamloops in more than a decade.
All this is happening at a time when working from home has become the "new normal" during the COVID-19 pandemic and, many say, will be the wave of the future.
But, as the demand for new office space in the Interior shows, being in the office, at least part of the time, is the most likely model for many businesses. It just might be a different kind of office environment that provides more work from home options.
"For some people, they're going to flock back to the office because the research is showing that one of the major motivators for people to go into work on a daily basis is their colleagues, the people they work with, their friends. It's a social connection," Graham Lowe told iNFOnews.ca.
Lowe is a former University of Alberta professor and now is a self-employed consultant on workspaces, based out of his Kelowna condominium where he has clear views of both the new Interior Health building and Innovation Centre.
"They're empty," he says. "Occasionally I'll see a cleaner. There are a couple of people at Interior Health. I think it's the IT."
He described the Interior Health office layout as a "cube farm" – a workplace design that, long before the pandemic, was seen as an unhealthy work environment.
While employees may want to flock back there to be with their coworkers, they will also want a better quality of work life that will likely lead to the "de-densification" of offices, Lowe predicts.
"I've certainly seen, pre-pandemic, lots of published articles on the down sides of cube farms, people being densely packed into very confined work spaces and complaining about the distractions. Basically it's not a great work environment," Lowe said.
"That's been identified so, do we de-densify offices? That's going to be one of the big questions. I think that's likely on the drawing board for many organizations, at least those that can afford to do this. I also think the physical space layout is going to be part of the consideration around how do we design a healthier physical work environment. They're going to be looking at everything from ventilation to air flow to natural light to basically trying to make the work environment safer from a physical perspective.
Urban Systems, a major consulting firm – "committed to supporting vibrant communities," according to its website – is going to be the anchor tenant at The Hive when it opens in about a year.
"There was already some of that balance at Urban, even before the pandemic," Kelly Wolter, a social media specialist with the company said. "They are very adaptable and work really well with people on an individual basis around their needs."
That doesn't take away from the fact that, primarily, Urban Systems will return to an office-centric business model, whether that's in Kamloops, Kelowna or any of its other locations.
"Traditionally, we're very used to connecting in person in an office space so, being back in the office and having that ease to be able to put on your mask and go over to someone and have a quick chat about something, is obviously very lovely," Wolter said, noting that people are also becoming very adaptable to using technology to make those connections when working from home.
A project like The Hive – which is the first of three phases planned for downtown Kamloops – is a sign that the city is experiencing a bit of a boom despite the pandemic.
"It's too early to really see an impact (of work from home) on the office space market," Matt Wallin, managing broker for CML Properties said. "I haven't heard a lot of tenants saying they want to get out of our lease or shutting things down or anything like that. It seems to be more leaning towards the hybrid model. I think employers understand there's still a desire for their employees to have that face to face contact and not exclusively work from home."
Over at the Landmark, marketing agent for commercial properties Dallas Gray says the six existing buildings have a one per cent vacancy rate and there's no slowdown in leasing the new tower for when it opens in 2022.
And, judging by how full the parking lots are, there's not been any real drop off in office use, he said.
"In the bigger cities, people don't want one hour or two hour commutes to work," he said. "In Kelowna, everybody's commute is under 15 minutes."
Even in the big cities, while the downtown cores are suffering, suburban office space is growing, he said.
Some of the new Landmark 7 space is being filled by companies like Rogers Communications. In September, it opened a new call centre with more than 100 employees working remotely in Kelowna. The company, in an email, said they still plan to put those workers into the Landmark 7 and grow to about 350 employees when the tower opens in 2022 and it's safe to do so.
Gray is also signing leases with existing tenants who, in some cases, are doubling their office size as their businesses grow.
Many people, Lowe noted, aren't equipped to work from home. They may be sitting at a kitchen table surrounded by children, pets and spouses who are also trying to work. They may need access to high quality equipment, such as printers, that they're not about to go out and buy for themselves.
What's likely to unfold in the coming months, once a vaccine makes the return to offices safe, is a lot of negotiations between workers and employers.
An RBC report issued earlier this week shows quite a disconnect between what employers and employees feel about working from home.
It found that only 20 per cent preferred to be in the office full time.
More than 50 per cent of employers, on the other hand, said remote work was "not relevant" to their workplaces and almost 25 per cent more said they are very unlikely to offer such work.
At the height of last spring's lockdown, five million Canadians worked from home, the report said. By October, only half as many continued to do so.
"The work-from-home model is here to stay, to some extent and for some workers," the report said. "With so many employees demanding remote work, and experience showing that it often works well, companies will need to create flexible arrangements if they're to compete in tight labour markets for highly skilled and mobile knowledge workers."
Lowe noted that during the lockdown last spring, women found working from home and helping children with their school work was an endless job. Many simply quit their paid work, which is a great loss to the economy, he said.
"We don't know what the medium and long term scenario is going to be," he said. "Once things start to move again in the economy, employers are going to be out there recruiting, looking for ways to attract the best talent. They may find that women who have left the workforce will only come back on their own terms."
And, he noted, this is not just a big city phenomenon. It's going to affect any office in any town.
That's why construction continues apace on Landmark 7 and The Hive.
---
To contact a reporter for this story, email Rob Munro or call 250-808-0143 or email the editor. You can also submit photos, videos or news tips to the newsroom and be entered to win a monthly prize draw.
We welcome your comments and opinions on our stories but play nice. We won't censor or delete comments unless they contain off-topic statements or links, unnecessary vulgarity, false facts, spam or obviously fake profiles. If you have any concerns about what you see in comments, email the editor in the link above.
News from © iNFOnews, 2020