Unique homes designed to be disability accessible being fought by Kelowna neighbours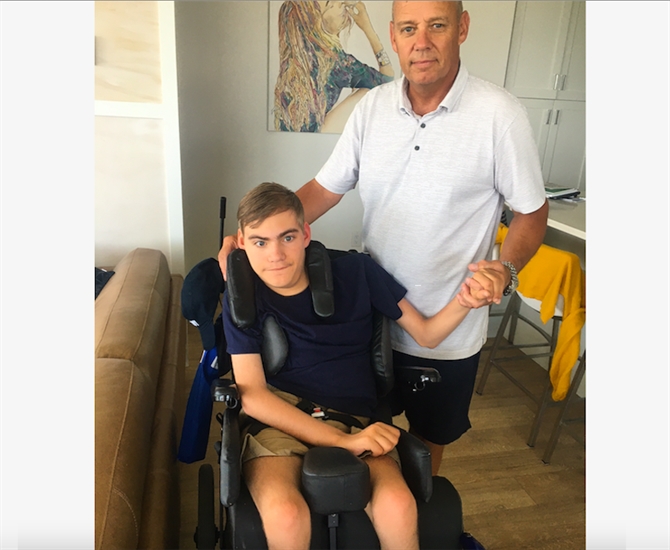 For the past 14 years, Kelowna's Gary and Joan McEwan have been living with the growing needs of their ailing son.
Now, they're running into neighbourhood opposition as they try to create accessible housing for him and others like him.
Ben has what's termed "global delay," meaning he has a multitude of debilitating medical conditions, his father, Gary, told iNFOnews.ca.
"He doesn't walk," Gary said. "He doesn't talk. He can't eat. He's fed through a tube. He sees. He can hear. But he has no control over his own arms and muscles and body. He can move but, it's random. He doesn't control any part of himself. He's been in a wheelchair pretty much since he was born."
Ben's condition is unfortunately not that unusual. Gary understands there are about 286 people living in the Interior Health region with similar levels of need.
After trying for years to find accessible apartments in Kelowna and failing, Gary and his wife Joan decided to build their own.
They acquired land in the Manhattan Point area, just north of Kelowna's downtown.
"We started off just being selfish and building something for ourselves," Gary said. "Like everybody else, we were trying to fill our own needs at first.
"Within about two weeks of starting the project and the design, it became obvious to us this isn't a building that's just for us. This is a building for families like us. Then it started growing just through osmosis."
READ MORE: With Tolko Mill closure, proposal for Kelowna's Manhattan Point may set tone for redevelopment in area
Five other families have already signed agreements in principle to buy into the proposed 10-unit apartment/townhouse complex.
Some of the units are designed to be smaller to facilitate single-parent families. Gary pointed out that 95 per cent of parents with children like Ben end up getting divorced.
Given the need for larger parking stalls, five-foot wide hallways and three-foot wide doors, the proposal has grown into a five-storey building in a neighbourhood of single-family homes.
The proposed fifth storey has been reduced from a full apartment to a single bedroom in response to concerns from city planners, McEwan said.
Still, there is strong opposition from neighbours who say there are too many units for that site. In a recent meeting with some of them, McEwan wasn't able to sway them by the fact this his lot is twice the size of any others in the neighbourhood.
The City of Kelowna has received dozens of letters of opposition, some saying that 63 of the 70 households on Manhattan Point (90 per cent) have signed a petition against the project.
They cite things like narrow streets, a lack of on-street parking and sidewalks and the concern it will set a precedent for other large buildings in the area.
McEwan says he's not a developer but retired from an office manager job with PCL Construction in Kelowna four years ago.
He said he led the building committee for three years to build the Child Advocacy Centre of Kelowna and, if this housing project goes ahead, has hopes of moving on to building a long term care facility for children like Ben in Kelowna. Currently there's not even a respite home in the city.
Right now the family, which includes a 19-year-old daughter, live in a rental apartment in Sopa Square that, like the 20 or 30 others in the city McEwan looked at to possibly buy, really is not accessible.
The doorways are the standard two-foot, six-inches wide, giving barely enough room for Ben's wheelchair to fit through.
Ben, at 14 years old, is only 90 pounds so he can fit in a small wheelchair. A larger one may not be able to squeeze through such doorways.
As it is, Gary has to do a seven-point-turn to get the wheelchair down his hallway and turn it into Ben's bedroom. It does fit into the bathroom but there's no room beside or in front of it for someone to assist Ben.
There's a four-inch high curb in the shower so it's unusable. Putting in a shower chair leaves no room for anyone else to get in and wash him.
To get onto the balcony means stepping over an eight-inch high curb required by the building code to keep water out so Ben doesn't get to sit with his family on the balcony.
With a wheelchair that weighs 100 pounds and a growing child, it's not feasible to lift Ben outside.
"The indoor-outdoor living doesn't work at all," Gary said.
That's why he wants to build an apartment building that, while limited to 10 units, is large enough to justify the cost of things like a commercial grade elevator and higher ceilings so mechanical lifts can be used.
"It will be beautifully designed," Gary said. "It's not going to look clinical. It's not going to look like it's a handicapped facility. We didn't want that."
In fact, the idea is to have it suitable for able-bodied people to feel comfortable in so they can grow old while living there.
"Joan and I want to live there forever," Gary said. "We want to age in place there."
The application to rezone the property, along with a height variance, is scheduled to go to city council on Tuesday.
If it passes, it will still take another two years of struggling in non-accessible spaces before the McEwans will be able to move in. If it fails, which is likely, he's back to the drawing board.
---
To contact a reporter for this story, email Rob Munro or call 250-808-0143 or email the editor. You can also submit photos, videos or news tips to the newsroom and be entered to win a monthly prize draw.
We welcome your comments and opinions on our stories but play nice. We won't censor or delete comments unless they contain off-topic statements or links, unnecessary vulgarity, false facts, spam or obviously fake profiles. If you have any concerns about what you see in comments, email the editor in the link above.
News from © iNFOnews, 2021