TwinCon Enterprises - your excavation expert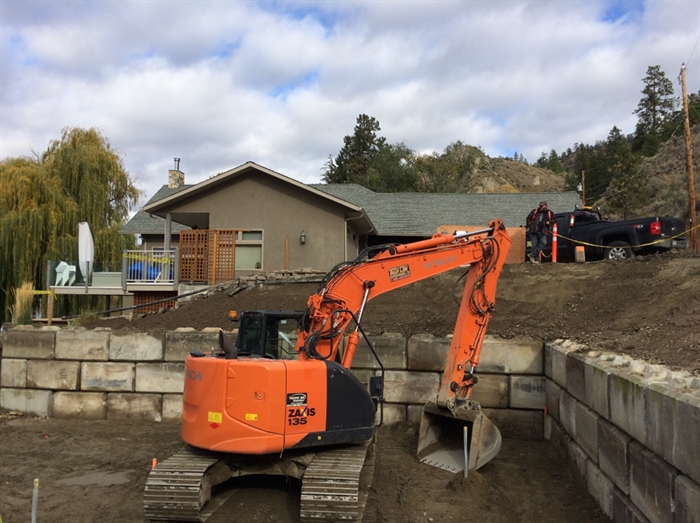 When it comes to excavation, civil construction, subdivision development and earthworks, TwinCon Enterprises has you covered. The Penticton-based company, with its large inventory of heavy equipment, can get your job done no matter the challenges.
From small residential projects to larger commercial development and municipal infrastructure, TwinCon has the people, equipment and know-how to deliver high-quality work in a safe, reliable manner. It is committed not only to quality and safety but also to building relationships with its clients.
As its mission statement says, the company adheres to the highest standard of quality while building relationships in the community. According to Operations Manager Maryssa Dandurand, those relationships are very important because the company wants to work with clients again in the future.
"We really care about those relationships and want to give the best quality of service and finished product," she says.
TwinCon, which services the Okanagan Valley from Osoyoos to Vernon, has 70 employees and a large fleet of trucks and machinery, including 23 excavators, as well as dump trucks, bulldozers, work trucks and bobcats. Currently, the company has about 33 trucks on the road servicing projects as diverse as backyard excavations to subdivision work and large municipal projects like sewer and water lines installations.
And the company's services are in demand. Dandurand says a large part of the company's business is subdivision and municipal work and in a typical year, TwinCon will do 30 to 40 excavations for homes. Keeping all those projects coordinated and running smoothly — given the many components of each job, which can include civil permitting, working with engineers and clients, managing the equipment, the work itself and the staff — is all part of the stellar service TwinCon has provided for the last 15 years. Committed to excellence, the company has shown repeatedly through its work that it can handle site challenges to complete projects on time and on budget in a safe and efficient manner.
In addition to excavations, the company also offers rock drilling and blasting services, demolition, drainage and flood preparation services, as well as grading, sand and gravel and trenching.
The company adheres to six core values including:
Safety—It views safety as a right, not a privilege and maintains the highest standards to ensure its workers are safe on the job.
Customer commitment — It prides itself on providing the best service to clients and the community with a focus on the work and building relationships with clients.
Collaboration—Using the talents and knowledge of everyone on its team to get the job done.
Respect for its people - Encouraging employees' growth and development.
Integrity —Priding itself on being an open, honest and fair company to deal with.
Accountability—Believing employees should enjoy where they work and who they work for in order to provide the highest customer service.
And like any good company, it's the people who make it all work. Dandurand says at TwinCon, the team is valued and that shows in an excellent safety record. The company is currently working toward attaining its Certificate of Recognition (COR), a program that recognizes companies implementing safe working practices and policies that exceed regulatory requirements and include continuous improvement in their programs.
TwinCon Enteprises is located at 101-1850 Camrose Street in Penticton and can be contacted at (778) 646-2082 or info@twincon.ca.
Sponsored By

News from © iNFOTEL MULTIMEDIA, 2021