Tough times ahead for struggling renters in Kelowna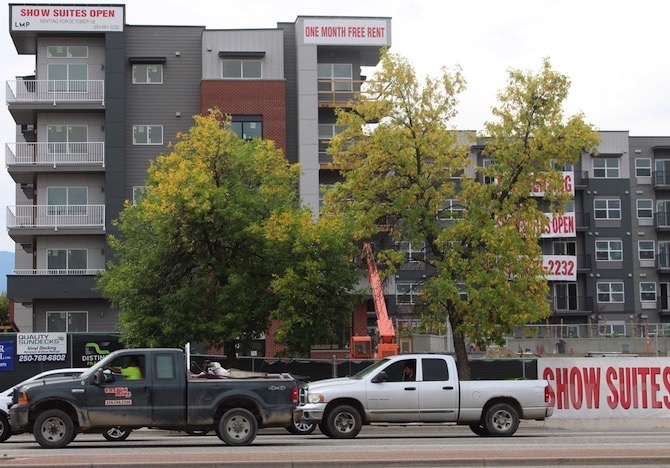 Despite a construction boom in Kelowna, it's going to continue to be tough for lower-income renters to find places to live in the coming months and years.
The city's Annual Housing Report, which is going to city council on Monday, outlines a world of outsiders and knowledge workers driving up housing prices while lower-paid service sector workers – those most harshly hit by COVID-19 layoffs – struggle to stay afloat.
"It's been a challenging market for renters for the last five years," Ross Soward, the city's planning specialist and author of the report, told iNFOnews.ca. "There are some signs that the market is starting to get more challenging for people to find the housing that meets their needs."
But it's not all doom and gloom.
"We are seeing some good responses in the sense the city is increasing its efforts on affordable housing that serves those people on the lower-income side," Soward said. "Certainly, there's more work that needs to be done there but we have some good partnerships with the provincial government and B.C. Housing right now. There are some projects coming down the pipe on the affordable side."
The report shows two sides to the COVID-19 pandemic.
On the one hand, the number of jobs in the city actually increased by the end of 2020 compared to the year before but that largely came from people working in the "knowledge" sector.
"People with more education and who work in knowledge-based jobs were more likely to be able to work remotely and stay employed during the pandemic," his report states. "Knowledge-based workers were more likely to have strengthened their economic position further during the pandemic, due to job stability and the benefits of low interest rates."
In the lower paid services sector – retail, tourism and hospitality – 6,000 jobs were lost and 54 per cent of renters saw their incomes fall.
At the same time, 3,635 homes sold in the city in 2020, well above the 10-year average of 3,246.
The median price for a single-detached home climbed 7.8 per cent for the year to $735,000.
The median price for a newly built single-detached home was close to $1 million, the report states, well out of reach for those earning the city's median household income of just under $75,000.
That means it would take a renter about 10 years to save the required $100,000 down payment if they were able to save money at all.
The median annual income of renters was $25,000 lower than homeowners and 47 per cent of renters spend more than 30 per cent of their income on rent, the report says.
These tough times come despite the fact that 2018 and 2019 saw record numbers of "purpose-built" rental units. The rental vacancy rate fell to 2.1 per cent last year from 2.7 per cent in 2019.
The city can, and is, helping by providing land for subsidized housing and giving tax breaks for projects that sign agreements to stay in the rental pool for 10 years.
That needs to continue and, hopefully, expand in coming years if the needs of lower-income residents are going to be met as the city continues to grow, Soward said.
Despite there being a rent freeze in B.C. for most of 2020 because of COVID-19, the average rent went up 2.7 per cent to $1,255 per month.
That's because new rental units fetch higher rates.
That doesn't help today but will in the long run, if the supply continues to grow.
"New purpose-built housing today is going to be the more affordable rentals in five to 10 years from now," Soward said.
And there is no slowdown in the need for new housing in the foreseeable future.
Last year, Kelowna was the fourth-fastest growing city in the country. The city has grown by an average of about 3,000 people a year over the past five years, with most of that growth coming from residents relocating from other parts of the county.
Right now, there are 4,700 housing units under construction. It will take three years for some of those to be finished.
There are another 4,500 units going through the city's approval system. It will take a few more years before they come on stream.
So, while the supply is there, prices of existing homes continue to go up – by 7.8 per cent for single-detached homes in 2020.
About 20 per cent of that growth is coming from buyers from the Lower Mainland.
For new construction that ratio can be much higher.
Ninety of the 150 units sold in the Bertram condo tower in downtown Kelowna have been snapped up by people from the Lower Mainland, the report states.
---
To contact a reporter for this story, email Rob Munro or call 250-808-0143 or email the editor. You can also submit photos, videos or news tips to the newsroom and be entered to win a monthly prize draw.
We welcome your comments and opinions on our stories but play nice. We won't censor or delete comments unless they contain off-topic statements or links, unnecessary vulgarity, false facts, spam or obviously fake profiles. If you have any concerns about what you see in comments, email the editor in the link above.
News from © iNFOnews, 2021