Renting can put the right tools in hands of the home handyman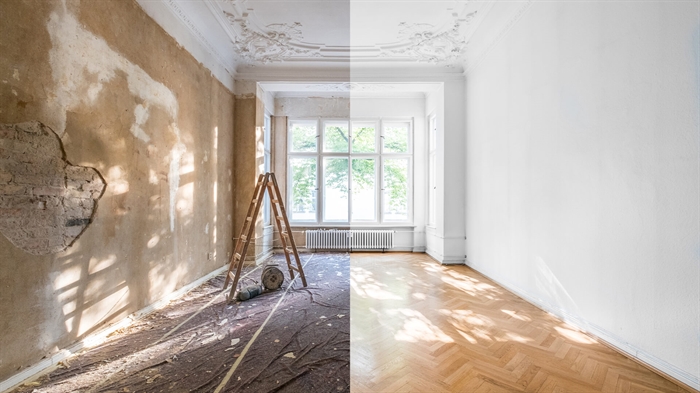 The impact of the pandemic has kept a lot of people at home over the last year and as a result, many have cast a critical eye over their living space. While some have opted to sell and move, many others who like their neighbourhood and home but want more features or space, are looking to renovate, and some are taking those home improvement tasks into their own hands.
Whether it's a bathroom or basement renovation, repainting, creating a new home office or remodelling a kitchen, the right tools and the knowledge of how to use them properly are critical to making your DIY dream a reality. And your local tool rental store is one of the best places to start.
Companies like United Rentals in Kelowna can not only provide the right tools for the job, its well-trained staff can advise you on what tools you will need and how to use them for the best results. For the novice DIY devotee, rental stores can be rich sources of both resources and knowledge. Homeowners delving into renovation projects will find a vast array of tools available to rent — tools that will help them get the job done in the most cost-effective way.
Residents tackling long-overdue tasks to improve their homes will find the right tools go a long way towards making the job easier, faster and turn out right. And renting is often a better choice than the costly alternative of buying specialized tools that may not be used again.
And it's not just men who are taking on DIY home improvement tasks. In growing numbers, women are also picking up tools and making the changes they want to see in their homes. A number of female DIY home renovation bloggers are growing in popularity, dispensing practical, common-sense advice to readers, explaining how to tackle projects big and small around your home.
Women like Brittany Bailey, an American licensed general contractor, artist, graphic designer and self-proclaimed "lover of doing everything myself," have blogs explaining how to successfully undertake DIY projects, including plumbing, electrical work, tiling and painting, decorating and construction. Her website Pretty Handy Girl (prettyhandygirl.com) also includes advice from contributors.
"I live to break stereotypes and empower you to take on your own DIY projects," she says on her website. Also on Bailey's website are tutorials about which tools to use when and how to use them properly.
Another popular site is Sandra Powell's Sawdust Girl (sawdustgirl.com). Powell, an American who lives in Tennessee, says on her website she has a passion for taking what she describes as "blah" homes and making them beautiful. She has been designing and building for more than 15 years and in that time has renovated seven homes. She says she does almost all the work herself because she's a perfectionist and likes to stretch her dollars as far as possible.
And that's exactly what anyone interested in home renovations can do. With a go-get-'em attitude, a little sweat and hard work and the assistance of experts at your local tool rental store, hardware store or advice found in books, magazines and on the internet, you can make your vision for your home a reality too.
And those DIY projects will not just be personally rewarding when they are done. Remodelling rooms like bathrooms and kitchens, and even repainting outside and inside can add value to your home when it comes time to sell.
But keep in mind, while some projects like painting may be easier than others, experts agree, proper preparation work is crucial to any job and will result in it turning out right in the end. Planning out a project, knowing what tools will be needed and having them on hand is just as important as the task itself.
So, if you are sitting at home, staring at the walls and thinking about a change, maybe it's time to look at a DIY home improvement project. And your local tool rental store can help you make that happen.
Sponsored By

News from © iNFOTEL MULTIMEDIA, 2021