Rejection of free parkland in Kelowna likely means more pollution, not less: developer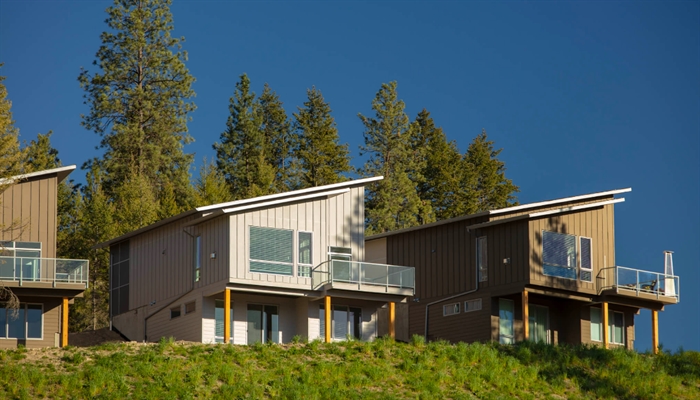 The fight over a proposal to donate 250 acres of land near the McKinley reservoir to the City of Kelowna was fought largely on environmental grounds.
Opponents – who won their battle and got the proposal rejected by city council – argued the land near McKinley Beach is too far from the city centre so pollution from traffic would increase.
They also talked about protecting currently vacant wildlands.
But Andrew Gaucher, who runs the G Group Land Development company that owns the McKinley Beach lands, sees it otherwise.
"As far as greenhouse gasses and commuters go, in my opinion, this is a disservice to that," he told iNFOnews.ca "We're going to have less single-family now. That single family is going to be served somewhere, from a different market, and those people are going to commute in Kelowna and create more greenhouse gases."
McKinley Beach was originally going to be a resort community with a wellness centre, Gaucher said, but his father Grant has been trying every week for the last 10 years to "land a wellness centre" and it just hasn't happened.
The company has the approval to build 1,300 homes on 872 acres of land. Instead of having many of them clustered into multi-family units as a resort community they wanted to add 350 acres to the project and build single-family home spread over a larger area reaching towards Glenmore Road.
In exchange, they were willing to donate 250 acres of land around the reservoir to the city for a park that, while it wouldn't rival Knox Mountain for views, would be close to that park in size.
About 160 acres of Knox Mountain Park, including Kathleen Lake, were donated to the city by the Marshall family in exchange for development rights on other parts of their land, so such a dedication is not unique.
READ MORE: Kelowna city council says no to urban sprawl but loses out on major public park
During the public hearing last week, council was told that a developer is planning to apply to Lake Country this fall to develop 2,200 units of housing on Kelowna's northern border.
Gaucher said that's on the McCoubrey Plateau, which is about 150 metres from the lands he wanted to develop.
A plan for up to 2,800 units was approved for that area in 2013, Jamie McEwan, Lake Country's director of planning and development, said in an email to iNFOnews.ca. The majority of those would be multi-family but a significant number could be single-family.
While it's seen as a future growth area the vision for those lands needs significant updating, he added.
For Gaucher, that's only part of the overall picture.
"If people think there is a lot of pressure to supply housing today, give it five more years," he said "I'm a believer that Kelowna is going to grow disproportionately faster that other metros in the region, especially after what we've seen with COVID."
And, while McKinley Beach is seen as being sprawl development far from Kelowna's city centre – with a number of councillors voting no to the proposal for that reason – people need to look at the bigger picture, Gaucher said.
"If you look at a City of Kelowna map, oh my goodness, that's way out there," he said. "But the City of Kelowna is not an island. There are growth pressures completely surrounding us, whether it's from Lake Country or whether it's from Vernon or from West Kelowna.
"In my opinion, if you zoom out five or 10 or 15 years, a lay person who doesn't understand where Kelowna begins and ends will not be able to tell you if they're in Lake Country or Kelowna or West Kelowna. They'll all bleed together. There are only so many places to grow and our property is right in the dead centre of the Central Okanagan."
It was pointed out by some city councillors that McKinley is close to major employment centres like UBC Okanagan, Kelowna Airport and even the industrial areas bordering on Lake Country north of the airport. That makes it a shorter commute to work for those people.
There was also talk at the public hearing that the proposed development would simply be an enclave of $2 million dollar homes.
That might happen in an area called Magnum with 30 or 40 "very high end lots," Gaucher said.
But, the existing Forest Hills area that he built sold 1,600 square foot single-family homes in the $600,000 range.
And many of the proposed new lots would not have waterfront views so won't be in the kind of price range as the Magnum lots, Cassidy deVeer, president of Third Generation Homes, a preferred builder for McKinley Beach, told iNFOnews.ca
She built a number of 2,700 square foot homes as part of the McKinley Beach project sold with a list price of $879,000 last fall.
The rejection of the proposal to allow more single-family homes mean the value of the single-family lots she owns in the project went up overnight, she said.
"Decisions like these just drive up the cost of single-family homes because they are so desirable in this area," she told iNFOnews.ca. "The more we shut them down, the more expensive they become."
Even though she said it wouldn't be a financial benefit for her, she would prefer that the proposal had gone through.
"I want this to go through because I think the best thing for our community would be to secure that parkland, which would have cost us zero dollars and I think it would actually have protected some of these wildlife areas people were so concerned about protecting," she said.
READ MORE: Kelowna needs to rethink a massive new park as a gift from a developer, group says
Opponents suggested the city could just buy the land for is estimated $11 million value but, deVeer pointed out, the city has a massive infrastructure deficit and just doesn't have a spare $11 million kicking around.
READ MORE: Kelowna city council exploring ways to fund roads, parks and civic buildings
She will keep building but, instead of 2,700 single-family homes she'll be looking at townhomes – row housing with two, three our four units – that will likely be more than 3,000 square feet and generate just as much traffic.
Gaucher, for his part, plans to continue to build under the existing rules on the land approved for construction.
While suggestions have been made that people don't want to live in multi-family homes in an area like McKinley beach, Gaucher said he's got four "arms length" companies ready to announce four multi-family projects for the neighbourhood.
As for the park land, about half of it is in the agricultural land reserve so he'll keep raising cattle on it.
In five years, the city's new Official Community Plan, which is expected to be adopted this fall, will likely be up for review, Gaucher said. He figures, during that review, the vision of how these lands will develop likely be far different than it is today, whether he still owns the land or sells it to another developer.
Mayor Colin Basran, in speaking in favour of the project, expressed concern that there will likely be pressure in the future to build even more homes on that land.
"There is extreme development pressure on vacant land in our community, particularly when it was once designated future urban reserve," he said just before calling for a vote on the project. "We just heard that Lake County - and I don't make decisions for Lake Country - they're going to make their own decisions. But there's going to be thousands of units on the border of Kelowna and Lake Country and that is going to put development pressure on this land.
"The choice I have is, say no and hope for the best, or I get to make a decision now based on a major park dedication, a subdivision that is also going to include 100 acres of sensitive lands and natural park and open space and I can see some finality now as to what is actually going to happen as opposed to crossing my fingers and hoping that the best is going to happen."
The park dedication was defeated because of a 4-4 tie vote. Councillor Ryan Donn was absent from the meeting.
---
To contact a reporter for this story, email Rob Munro or call 250-808-0143 or email the editor. You can also submit photos, videos or news tips to the newsroom and be entered to win a monthly prize draw.
We welcome your comments and opinions on our stories but play nice. We won't censor or delete comments unless they contain off-topic statements or links, unnecessary vulgarity, false facts, spam or obviously fake profiles. If you have any concerns about what you see in comments, email the editor in the link above.
News from © iNFOnews, 2021