Putting Kelowna's $1 million for median-priced home in context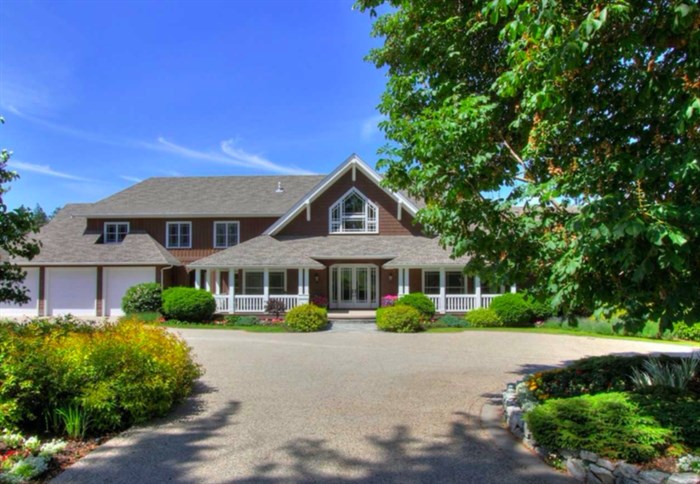 For the average working family, the idea of buying a $1 million home is simply out of the question.
Royal LePage's latest House Price Survey shows the median price of a single-family home in Kelowna reached $1.025 million in the third quarter of the year. But that's still cheaper than the 10 other B.C. cities that are included on its list.
West Vancouver tops all cities in Canada, at $2,695,500. Vancouver is right behind at $2,399,600.
Greater Victoria is at $1,135,700. All the other cities on the list are in the Lower Mainland with Abbotsford being the closest to Kelowna at $1,097,000.
That means, for many Lower Mainland homeowners, selling there and buying in the relatively affordable Kelowna market remains attractive.
"In our brokerage, two out of 10 transactions we see are from the Lower Mainland," Wade Webb, one of the broker owners at Royal LePage Kelowna, told iNFOnews.ca.
That 20% is a doubling of what it was just five years ago. At that time, 20% of the buyers came from Alberta. That's dropped to 10% today.
Another five per cent come from the rest of Canada. The House Price Survey lists about 60 cities across the country. Outside of B.C., only a dozen Ontario cities have median prices for single family homes at more than $1 million, with Oakville being the highest at $1.6 million. Toronto is just under $1.6 million.
The most affordable city on the list is St. John, NB at $257,500.
"The good news for us is that Ontario is keeping pace with us so they can afford to relocate here," Webb said.
READ MORE: When Canadians wanted to move during COVID, most chose B.C.
The Royal LePage survey used a median price, which Webb argued is the best measure. While its list refers to Kelowna, the data covers the entire Central Okanagan, Webb said.
The Association of Interior Realtors uses a "benchmark" calculation for most of its territory, which includes all the Okanagan and Shuswap. It shows a median price for the Central Okanagan of $923,500 in September, although it reached $961,800 in August.
It also compiles data that shows the average price of a single-family home in September was $1,043,238 and the median price was $913,750. The fact that the association and Royal LePage use slightly different data likely accounts for the difference in the median prices, Webb said.
So, which number tells the true story?
A median price is one where 50% of the sales are higher and 50% are lower, which Webb argues is the best figure to use.
"The benchmark price is a better representation of value compared to the average or median price as it represents a dwelling with 'typical attributes' to those traded in the area," the Association of Interior Realtors explains on its data reports.
The average price takes the total sales and divides them by the number of homes sold.
All figures can be skewed by the fact that, this year, high end properties are selling well.
READ MORE: UPDATE: This is the second most expensive home ever sold in the Okanagan
"It just means we have a lot more expensive homes selling in our area now, which is driving up that price point," Webb said.
The benchmark price for single family homes actually fell in September from August because of a softening in the high end market. Webb sees that softening to likely continue into the fall and winter.
READ MORE: Real estate prices fall in Central and South Okanagan
That could mean that the $1 million median price will drop in the coming months.
On the other hand, there's a real shortage of new listings on the market.
"As long as the inventory isn't there, we could see a marginal bump up in prices this fall and winter, only because there's absolutely nothing to buy," Webb said.
There are still bidding wars for certain types of properties with homes with suites or carriage houses being extremely popular.
"If you've got that mortgage helper, if you've got that shared family situation, that's in high, high demand," Webb said.
That means, for the first time ever, two-storey homes – which already have, or have the potential for, secondary suites – are outselling rancher, or bungalow-style homes that have always led the single-family market.
The resale market is also impacted by problems facing the new housing sector.
"With new construction, we've got supply chain issues, we've got labour issues, we've got wage issues, that's what's killing our new construction because, if they can build it, they can sell it," Webb said. "They can't get the product."
Outrageously high lumber prices in the first half of the year didn't help either, Webb said.
While no one can accurately predict the future of housing prices in Kelowna, it looks like the $1 million threshold will be around for awhile.
See the full list of housing prices here.
---
To contact a reporter for this story, email Rob Munro or call 250-808-0143 or email the editor. You can also submit photos, videos or news tips to the newsroom and be entered to win a monthly prize draw.
We welcome your comments and opinions on our stories but play nice. We won't censor or delete comments unless they contain off-topic statements or links, unnecessary vulgarity, false facts, spam or obviously fake profiles. If you have any concerns about what you see in comments, email the editor in the link above.
News from © iNFOnews, 2021