Kamloops, Okanagan residents are starting to curtail home projects as prices rise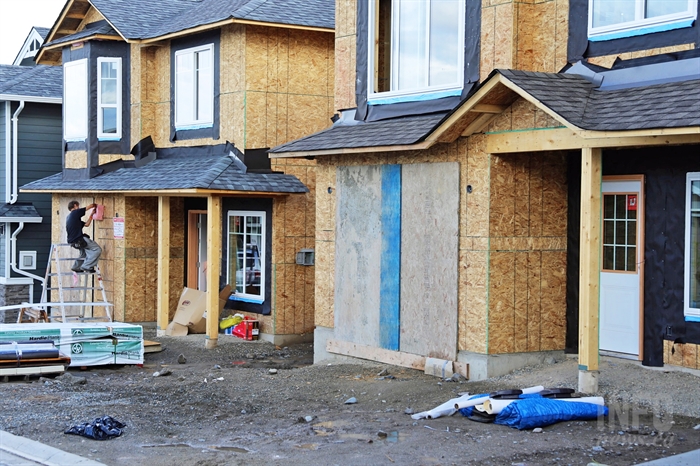 Whether it's building a new deck, a modest expansion or an entire house, consumers are facing one common dilemma — how do they manage skyrocketing costs?
Lumber prices have seen a meteoric rise in recent weeks, Dan Winer, executive director of the Canadian Home Builders Association said. Prices have surged as high as $1,300 per 1,000 board feet, which is a tripling from the beginning of last year. To put it in context, however, Winer has a better example.
"Before this last three weeks of lumber prices skyrocketing, we compared the costs of a 2,700-square-foot home in the Okanagan, last year to this year," Winer said. "The rise in cost was $30,000 for just lumber alone. That's just the framing — the cost of steel has gone up and the cost of all raw material to hinge finishings are high in demand and hard to get."
Driving the current price hike is scarcity. There was the pine beetle and mill shutdowns, but more than anything it's because of our southern neighbours. The U.S. Census Bureau reported April 14 that construction of new homes in the United States reached 1.74 million in March, which was a 19% jump from February. The majority of B.C. wood is going south because it's a publicly traded commodity and it goes to who wants it the most. Right now, that's Americans.
That's not the only area where demand is high and supplies are low.
"Fiberglass insulation that traditionally took us one week to arrive from time of order is now taking upwards of six weeks. Rockwool insulation is now sitting at 21 weeks for new orders to arrive," Ryan Kurzac from Kamloops Home Hardware Building Centre wrote in a newsletter to builders.
"Add in a winter Texas deep freeze which we didn't pay much attention to and two months later we're experiencing shortages across many product lines from a lack of resin supply; some of which we wouldn't really have considered. For example, garage door manufacturers can't acquire enough foam to fill the garage doors and are extending lead-times, or one of the largest North American fiberglass door manufacturers have curtailed production for the next two months due to lack of availability of foam insulation with the resin shortage. It seems every day we're hearing from another supplier about their supply constraints."
When supplies wane, costs rise, even when it comes to something that seems like it's in ample supply — like, in the case of the Okanagan or B.C. in general — lumber.
That's something Winer would like all levels of government to look at more seriously. Winer pointed out that COVID-19 and locking down a vaccine supply has prompted all sorts of discussions about finding "made in B.C." solutions from the provincial government. Housing, and securing materials to build, is one of those other issues that deserve the same amount of attention, he said, from all three levels of government.
"You look at Canada's population, look at what's occupied and what's not occupied, and you have to ask, 'do we have enough resources to support expected population growth in the next 10 to 20 years… we need made in Canada solutions and right now lumber is going to the highest bidder and that will put Canada on the less competitive path."
Until then, however, consumers and builders are in a tough position.
Some of the most common feedback that the builders association is hearing in the Thompson-Okanagan right now is from people who have embarked on a project and are facing an entirely different world of prices today than they did months earlier when they lined up contractors, signed deals and got the ball rolling. In turn, many are adjusting.
"These are the most common stories right now. Whether it's downsizing or building a smaller home, that's just part of it," he said. "Some are just shouldering the costs and biting the bullet."
It's obvious some are in a better position to do so than others, however. Winer said much of the demand in the Thompson-Okanagan is from people who have sold homes everywhere from Southern Ontario to Vancouver and beyond and that means people are coming to the Okanagan with capital to spare.
"A million dollars doesn't go as far as it used to," Winer said. "That's a crazy thing to say, but it's the way things are."
In the six years he's lived in the Okanagan, he's seen tremendous change.
"An average Glenmore home was only in the $300,000s then, and now it's in the $800,000s," he said.
And, he said, despite rising costs, there's increasing demand that doesn't look poised to slow down.
"Now that people can work from home, we will have to drastically increase supply and whatever regions can support that growth will be the benefactors," he said.
"If a city is pushed to its limits then those neighbouring areas will benefit."
---
To contact a reporter for this story, email Kathy Michaels or call 250-718-0428 or email the editor. You can also submit photos, videos or news tips to the newsroom and be entered to win a monthly prize draw.
We welcome your comments and opinions on our stories but play nice. We won't censor or delete comments unless they contain off-topic statements or links, unnecessary vulgarity, false facts, spam or obviously fake profiles. If you have any concerns about what you see in comments, email the editor in the link above.
News from © iNFOnews, 2021