North Okanagan company supplies key component to region's infrastructure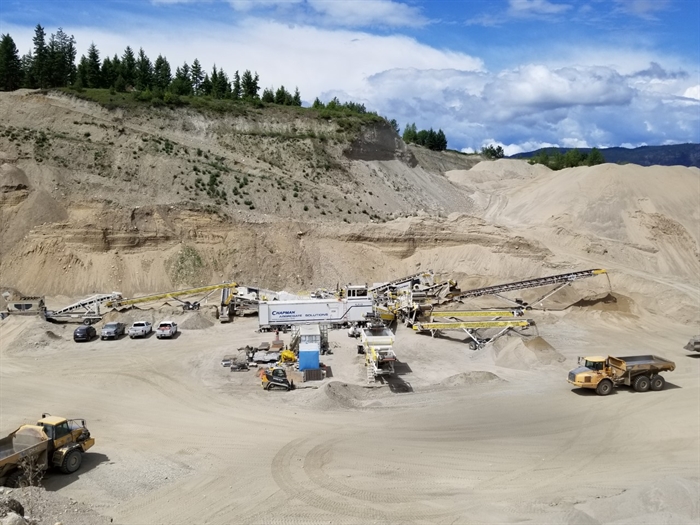 When it comes to producing aggregate, Chapman Sand and Gravel in Armstrong is crushing it.
One of the biggest producers and suppliers of aggregate in the Okanagan, the company provides the lifeblood of construction and infrastructure to a wide variety of customers, including municipalities, throughout the valley.
And, with the ongoing construction boom, the popularity of the aggregate that Chapman supplies has risen substantially.
"We are very busy right now," says Holly Haverkamp, Chapman's chief financial officer, pointing to the current construction boom.
"Aggregate plays a huge role in the province's infrastructure," adds Haverkamp. A major component in the production of concrete, as well as a key component for road building and other heavy construction, aggregate is used for building bridges, sewer and water pipes and a host of other infrastructure and civil construction projects.
Operating from its North Okanagan pit in Spallumcheen, the company uses its crushing spread there to produce more than 30 different types of aggregate for its customers. According to Chapman Sand and Gravel office manager Terri Wong, depending on the weather, the crusher can produce a variety of sizes of aggregate. Typically, large aggregate is produced in the winter, when it is more difficult to produce finer products.
"Weather plays a significant role," Wong says. "If it's too wet, producing fine aggregate is like sifting wet flour."
Because of that, the crusher — which operates throughout the year — produces larger aggregate, such as the type of rock used in drainage systems, in the winter months.
Products produced at the pit are loaded onto trucks and shipped to customers up and down the valley, including to many long-standing clients with which Chapman has developed strong relationships. In the case of municipalities, which require aggregate for roads and other infrastructure projects, companies like Chapman provide a critical component to their infrastructure operations.
"Without it, there wouldn't be the roads and bridges and other infrastructure we need," says Haverkamp.
Aggregate is so important to municipalities and to the B.C. Ministry of Transportation that the province requires municipalities to show they have sources of aggregate supply. Testing is also important to make sure the aggregate supplied meets the standards required by each municipality. Haverkamp says that individual cities and towns have their own specifications and requests which requires Chapman to manufacture aggregate to suit their needs. As a result, regular testing of the aggregate that Chapman produces is conducted.
The company is also fully committed to providing a safe and healthy work environment for all its employees, customers, visitors and personnel on any project or property location. Chapman Sand and Gravel is a family-owned-and-operated business that started in 1997. It is part of the Chapman Group, which is based in Vernon and includes businesses that specialize in heavy civil construction.
To contact Chapman Sand and Gravel, visit their website at www.chapmansand.com or email info@chapmansand.com or call 250 549-2907.
Sponsored By

News from © iNFOTEL MULTIMEDIA, 2021