New downtown Kelowna developments finally show what CD-21 could have been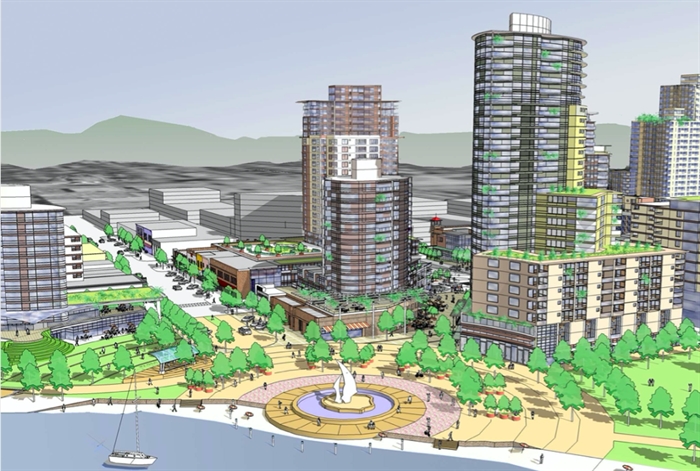 There once was a plan to transform the downtrodden south end of Kelowna's downtown into a "beautiful vision" where every building was in just the right place.
CD-21, a comprehensive development plan for the area, began more than 15 years ago but was killed by hostile politicians, unhappy participants and a vision that was maybe just too far ahead of its time.
It was an attempt to control the inevitable future development for the benefit of the city. Now, with Water Street on the Park, that development is happening — but without the plan.
It all started in the early 2000s when Ron Mattiussi was the City of Kelowna's director of planning, before rising to the job of City Manager.
"We were really concerned that the whole Leon Avenue area was kind of going the wrong way," he told iNFOnews.ca. "The Gospel Mission has a function and it serves it well, but we started seeing different businesses were closing down and having a harder and harder time to do business. As each year went on, somebody else would leave. Little by little, the whole area was starting to go down."
Social service agencies were starting to move in, rather than being distributed throughout the city.
"We met with local developers and said: 'What would it take for somebody to come in and develop in this area?'" Mattiussi said. "They said nobody wants to be a pioneer. Nobody wants to come into an area like this and be the first guy in an attempt to turn it around, in case it doesn't. Totally logical."
All these years later, that "pioneer" is the team of Anthony Beyrouti and Apriano Meola who created Orchard Park Properties and won city approval for three towers reaching as high as 42 storeys right on Leon Avenue. They are calling it Water Street by the Park.
Beyrouti, who lives in North Vancouver, said in a recent interview with iNFOnews.ca that he had no knowledge of the CD-21 zone and the turmoil the city went through trying to reconcile it. But he shares the same goal of revitalizing an area bordering the iconic City Park and Okanagan Lake.
"This will totally transform the area and it will bring a nice vibe to people who live down here and they'll want to move down here," Beyrouti said at the building site. "Three towers bring in a lot of density to the area and brings a lot of people to the area. We want people down here. We want people on their bikes. We want people walking around here."
They've already had 7,000 people, many of them local, interested in getting information packages even before putting their 650 condos on sale.
READ MORE: Kelowna's Water Street by the Park has 10 times more interest in suites than actual suites
Their vision for that block is not all that different from the one drawn into the CD-21 (Comprehensive Development zone number 21) plan that died in the summer of 2010.
A lot has happened in the city since then as towers went up to the north and east ends of the CD-21 area but in other ways, not much has changed at all. There's been little activity in the south end.
Back in the early 2000s, city staff did not sit back and wait for some "pioneer" to just come along and start the changes they wanted to see in the area.
They took the lead themselves deciding if the city started buying up some land for civic purposes – the RCMP highway patrol, for example, was looking for a new home – then that might take the pressure off developers who didn't want to lead the charge.
At about the same time, Phil Milroy, the president of Edmonton-based Westcorp, was doing his own bit of land assembly, which included buying the old Willow Inn at the foot of Queensway in 2007.
At some point, he and city staff got together, talked about a plan for the four-block area from Queensway to Harvey Avenue and from Water Street to City Park and the CD-21 planning process was launched.
There was speculation that Westcorp was the driving force behind the whole plan but, according to Mattiussi and Westcorp vice-president Gail Temple, that was not the case.
"We were involved because we had land within its boundaries," Temple said. "We only owned the Willow Inn site. Our interest was in our property there and still is."
When Milroy came forward with the idea for a hotel at that location the city wanted him to look at the context of where it was located.
"As soon as we started to go down that road a little bit with them, then they just went: 'No, no, no. Actually, we're going to do this' and that was that," Temple said. "That's where it became CD-21."
That didn't stop the City from asking Westcorp to help fund the process. Temple thinks it was to the tune of $60,000.
"What the city was trying to do with CD-21 wasn't to benefit any one particular developer," she said. "They wanted to think through what a master plan would look like for that area then developers could kind of follow. It was one of the city's attempts to do something that would allow the downtown core to develop in a really orderly fashion so that it would look like it was a master plan. I actually think it would have really been kind of cool."
The Westcorp hotel, which could become the other bookend to the area – almost matching the 42 storeys of Water Street on the Park at its currently-proposed 33 storeys – is on hold because of COVID and, like the three towers on the other end, may not actually get built after all this time.
READ MORE: COVID stalls major Kelowna waterfront hotel project
Doug Gilchrist, the current city manager who replaced Mattiussi when he retired in 2018, led the CD-21 process for the city – not as a city planner but as the city's director of real estate and building services, largely due to the complexity of the concept, Mattiussi said.
"It's not a plan for the faint of heart because it really did involve density transfers and air space titles," Mattiussi said. "It was complex."
The idea was to create nine "sub-areas" in the four blocks, — Queensway Avenue to Harvey Avenue and Water Street to Abbott Street — essentially consolidating the four blocks into nine lots with different building restrictions on each. Some would have more open space while others could have high rises up to 26 storeys but with view corridors for each.
"That was the beauty of the plan," Mattiussi said. "It was situated so that no one development hurt the other. If you look today, it's kind of random. If I happen to own this site and I happen to build a high rise, I could actually screw things up for the guy behind.
"One of the nice things about it was the buildings were situated to maximize the potential for everyone. If you happened to have a lot where you didn't get the density, there were provisions for density agreements so the right buildings went in the right places, not just by who happened to own them."
Not that politicians weren't involved early on but it became so controversial that current city Coun. Charlie Hodge and others ran and got elected in the 2008 election based on their opposition.
"I ran my campaign to get in on the fact the CD-21 was wrong," Hodge said. "I got elected to fight it. I don't believe high rises should be on the bottom block along Abbott Street. They shouldn't block the view of our park downtown."
He also didn't like the way it was being promoted by the sitting council and staff.
"Earls on Top was going to be knocked flat and become part of an open air market," Hodge said. "They were going to knock down the Paramount Theatre. They were going to knock out a whole bunch of those buildings and that was going to be an open air mall.
"Staff reported, and during the public presentation it was reported, that all these businesses that were going to be removed or altered or destroyed or bought out were in agreement, to a large degree, to the plan."
He went and talked to business and property owners and found some strong opposition.
"I ran largely because I heard how bad and opposed people were to CD-21, including a number of business people downtown," he said. "So I went and started to talk to business owners and found, lo and behold, half had never been consulted and half of those who had been consulted said 'no, go away.' Like the owner of Earl's at the time who said: 'Why would I want to become a parking lot for a hotel when I'm doing just fine with my restaurant? Why would I knock down my restaurant to be a plaza? It's stupid.'"
Hodge claims the previous council, just before the end of its term, tried to give final approval to the CD-21 plan but couldn't because the Ministry of Transportation had not signed off.
Following the election, the plan got snarled in a political no man's land.
Because it had gone through a public hearing, no new information was allowed to be heard by council, with many councillors not having sat through the early stages of the planning process.
It sat for the better part of a year until council rescinded second and third readings so they could restart the process, which was acrimonious, Hodge said.
"It was raucous," he said. "It was good old hockey-brawl politics."
On June 7, 2010, council voted 6-3 to rescind first reading, which killed the plan, and directed staff to look for funding sources to review the 1999 Downtown Plan.
That review was completed in 2012 and showed building heights up to 26 storeys along Leon and Lawrence avenues and 19 storeys at Queensway and Mill Street.
Controversy over the CD-21 plan did not end with its defeat in 2010.
Leading up to the 2011 election, a group called FourChange targeted Hodge and three other councillors who voted against CD-21, including Angela Reid-Nagy, Michele Rule and Kevin Craig.
The group spent more than $30,000 on its campaign and all four were defeated. Three of the four replacement candidates it supported got elected: Gerry Zimmermann, Gail Given and Colin Basran. Carol Gran did not.
At the same time, Walter Gray challenged Mayor Sharon Shepherd for not being pro-business and defeated her at the polls.
Hodge got elected again in 2014.
Since then, little has changed on or around Leon Avenue. Another homeless shelter, Cornerstone, was opened two blocks to the east of the Gospel Mission in the fall of 2017. A homeless camp was set up along Leon Avenue's sidewalks in the fall of 2019. Businesses continued to struggle and close.
In December 2019, the city relocated the homeless tenters to a city-run camping space on Recreation Avenue.
The next month, Beyrouti and Meola filed their plans for Water Street by the Park. It was given a development permit in January of this year. They hope to start selling condos by early June and begin construction on their first tower in January.
Whether that will be the catalyst for dramatic change in the old CD-21 plan area remains to be seen. At this point, no further major developments for that area have gone to City Hall.
Learn more about the CD-21 zone here.
---
To contact a reporter for this story, email Rob Munro or call 250-808-0143 or email the editor. You can also submit photos, videos or news tips to the newsroom and be entered to win a monthly prize draw.
We welcome your comments and opinions on our stories but play nice. We won't censor or delete comments unless they contain off-topic statements or links, unnecessary vulgarity, false facts, spam or obviously fake profiles. If you have any concerns about what you see in comments, email the editor in the link above.
News from © iNFOnews, 2021