Kelowna is one of the most unaffordable cities in Canada and looking for ways to change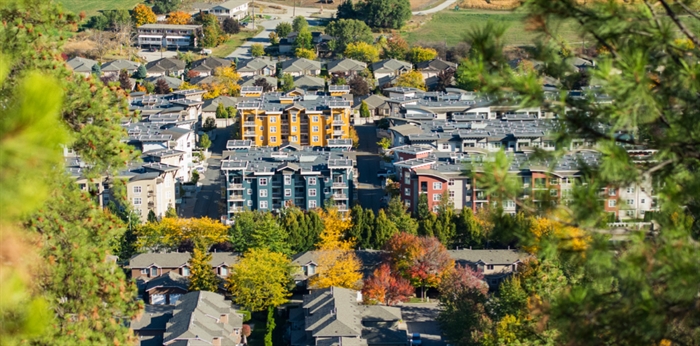 It's been known for some time that Kelowna is one of the most expensive cities in the country when it comes to housing costs – whether that's rental or home ownership.
A report going to Kelowna City Council on Monday, Jan. 10, shows that it matches London, England when it comes to unaffordability.
"The proportion of renter households in Kelowna which are spending more than 30% of their gross income on rent – the standard measure of affordability on a household scale - is 47%," the report, prepared by city staff, says.
"This is higher than both Vancouver (44%) and the provincial figure (43%). In absolute numbers, this represents more than 8,000 renter households which could be struggling or could be on the verge of homelessness every month."
READ MORE: Kelowna is now ranked the third most expensive city for renting in Canada
Calculating the ratio of the median house price to the median income creates a "median multiple" that is used to compare housing affordability.
"A value of 3.0 or less is considered affordable," the report says. "Vancouver and Toronto are the highest in Canada, at 13 and 9.9, respectively. Kelowna currently sits at a median multiple of 8.6. This is the same score as London, UK, which ranks our city in the same affordability class as some of the most unaffordable major urban centres in the world."
READ MORE: 2021 record year for Okanagan real estate sales
The report cites a recent UBC study that showed the average house price would have to be cut in half or incomes increase by $100,000 to bridge the affordability gap.
Given the high cost of buying a home that means 80% of Kelowna renters cannot afford to buy, the report says.
On top of that, more than 70% of renters are spending more than 30% of their income on rent.
"A household would need an annual before-tax income of $75,520 to keep this rent below 30% of their income, which is significantly higher than the 2021 median renter household income of $50,300," the report says.
The stock of rental housing has increased in the past decade with 2,834 units built since 2001. That's a dramatic increase from 547 in the previous decade but it hasn't made those rental units any more affordable.
While the report paints a grim picture of the existing situation in Kelowna – which is not dissimilar to other cities around the world – it also shows some ways to make things better.
"There is no near-term solution or quick fix to unaffordability," the report cautions. "More new rental housing and other types of affordable units will take years to be brought to market and policy changes will take years to have an impact on the housing system."
Both the provincial and federal governments are stepping up to help the situation but it will take cooperation with all levels of government and the development community to find solutions.
The price of land, not construction costs, is one of the key driving forces behind the unaffordability of new housing, the report says.
"Research in Vancouver comparing private, for-profit with non-profit development has shown that for-profit rental housing development leads to market rents being upwards of 45% higher as compared to non-profit projects where land is provided at no cost," the report says.
Vancouver has developed a "Land Trust Model" where city-owned land is used to provide a mix of market and below market rental housing.
Kelowna has taken similar actions by providing the land for affordable housing projects.
The UBC study found the City of Kelowna owned many parcels of land that were either vacant or used for parking that could be used for more affordable housing.
The city report points to B.C. Housing's Affordable Home Ownership Program that creates partnerships between it, municipalities and developers, with each making concessions.
B.C. Housing provides low interest loans, the developer takes a lower profit and cities can do things like lowering development cost charges or providing parking concessions.
Examples of what other cities have done to address the unaffordability issue include Vancouver. It bought former hotels to provide below-market rentals. Berlin, where 83% of residents are renters, passed a referendum and bought 15,000 rental apartments to take them out of the private rental market.
Cambridge, Mass., imposed city-wide zoning changes to allow increased density if the new units are affordable to those making the median wage or less.
Portland did a similar thing, allowing up to six units to be built on a single-family lot. Two of the new units have to be sold at below-market values or three units have to be rented at below market rental rates.
Toronto is working on zoning changes for projects of 100 units or more where 10% will have to be affordable for 99 years with set rental rates and targeted income ranges.
B.C. housing affordability experts are calling for more co-op and non-profit housing.
"Kelowna is at a crossroads," the report says. "Further unaffordability will have serious consequences. Repeating the same methods of delivering housing - with the same view of the system, the same roles, and the same resources - is likely to continue to deliver the same challenges.
"While federal and provincial governments have committed to changes and to providing significant funding towards new housing, the role of regulating housing and land use still falls with local government. As a result, a large part of the responsibility for taking action on affordability also falls to the local scale – municipal government and the home building industry – to deliver housing that is actually affordable."
The city will do a Housing Needs Assessment this year, which is required by the province. That will be followed by an update to its Healthy Housing Strategy.
"These processes present opportunities to incorporate these examples into a renewed approach and change the state of affordability," the report concludes.
---
To contact a reporter for this story, email Rob Munro or call 250-808-0143 or email the editor. You can also submit photos, videos or news tips to the newsroom and be entered to win a monthly prize draw.
We welcome your comments and opinions on our stories but play nice. We won't censor or delete comments unless they contain off-topic statements or links, unnecessary vulgarity, false facts, spam or obviously fake profiles. If you have any concerns about what you see in comments, email the editor in the link above.
News from © iNFOnews, 2022