Gardeners from Kamloops, Okanagan offer early season tips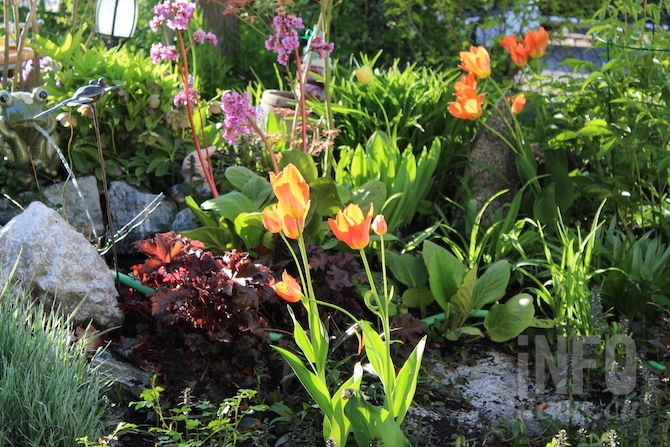 Forget the websites with their conflicting "last day of frost" calendars or trying to determine what growing zone you live in before planting your garden this spring.
Sometimes, especially with such dramatic climatic changes in recent years, it's best to see what's naturally growing around you.
"Looking around you is what I used as a guide when I came here because I didn't know exactly when I could plant," said Marilyn Degraw, president of the Kelowna Gardening Club and a "recent" arrival from Alberta six years ago.
"I did know, just from always doing lots of gardening, that if you're looking at nature around you, you can kind of tell what to plant."
When lilacs are in full bloom, it's safe to plant "tender annual flowers," she said. Beets can be planted when dandelions are in full bloom while carrots coincide with apple blossoming.
The value of that method is that, if the dandelions bloom at different times in Penticton versus Kamloops, the advice holds true.
Others are more scientific and research oriented.
Judy Villeneuve is the newsletter and membership coordinator for the Kamloops Garden Club.
She follows weather forecasts carefully and looked online to find that the last day of frost in that city is generally around May 4.
The Farmer's Almanac says May 3 for Kamloops and May 8 for Kelowna. Another source, Veseys says May 1-10 for Kamloops, April 21-30 for Kelowna and April 11-20 for Vernon.
The reality is, the climatic zones of the Kamloops and Okanagan regions are not all that different when it comes to gardening. There can be greater differences based on the fact that Villeneuve lives in the higher elevation Aberdeen area of Kamloops while Degraw lives next to Okanagan Lake in Kelowna. And the last day of frost can change if a late season cold front passes through.
Some important things to keep in mind are soil and air temperatures, the importance of which varies depending on the crop being planted.
Villeneuve's husband has a hand-held gauge that can read the surface temperature of the soil, although it may be better to dig down a bit to get a feel for temperature and moisture.
"In one place I read, here's a tip, the posterior test," Degraw joked. "With only your underwear on, or nothing at all, go sit in the soil and, if you find it uncomfortably cold, that's too early for tomatoes."
That may be suitable for those who want to celebrate World Naked Gardening Day on the first Saturday of May but both activities are likely too chilly and too risque for most gardeners in the region.
Given that it has been an extremely dry winter and spring, Degraw has started watering her garden beds. Villeneuve, whose higher elevation usually gives more snow cover and, therefore puts more moisture into the soil, suggests digging down three or four inches to feel the soil before deciding whether shrubs need early watering.
Certainly some cool weather vegetables can be planted already, things like onion sets, peas, lettuce and spinach. If it's too cold they just won't sprout right away but likely won't die.
Villeneuve touted the recent trend towards no rototilling gardening.
"Rototilling your garden every year releases a lot of carbon in the air," she said. "So, now they're telling farmers not to do that anymore because it's ruining the soil. Leave it alone. The structure of the soil is important and it has mycelium – it has these little microscopic threads that help feed the plants, that help give nutrients to your plants."
She's a firm believer in composting, so the no rototilling method recommends putting compost over gardens in the winter then digging rows to plant the seeds in the spring.
Or, about an inch of compost in the spring may serve as well. The compost also helps balance the PH in the soil, Villeneuve said.
Many dedicated gardeners have already started growing their flowers and veggies from seeds indoors. It can be a lot of work and take up space on windowsills and kitchen tables but can give the garden an earlier start and save money compared to buying potted plants.
Villeneuve suggests blowing or gently brushing the young plants every day to simulate the wind they will face outdoors. That makes them build stronger root systems to help withstand real winds outdoors.
Once plants are big enough, and the air and soil are warm enough to move outside, they still have to be "hardened off" or the shock can set them back.
Ideally, seedlings can sit in a garage where the door can be opened to warm sunlight for a couple of hours the first day, gradually increasing the exposure time over about a week. If a day is going to be unseasonably cold, just keep the door closed.
Alternatively, the seedlings can be packed in and out every day to give them their time in the sun.
The basic rule of thumb for gardening in the Kamloops and Okanagan regions is that the May long weekend is generally safe for planting everything that wasn't given an early start, ranging from carrot seeds to tomato plants.
Following the instructions on seed packages as to when, where and how to plant is always a good start and there's tons of information online.
Or, there are numerous garden clubs throughout the region.
Learn more about the Kamloops Garden Club here, the Kelowna Gardening Club here, Penticton and District Garden Club here and Vernon and District Garden Club here.

Here are some of the tips Degraw collected when she first moved to Kelowna. She can't remember where the list came from but a similar list is available on the Old Farmer's Almanac web page, here.
Beans - wait for apple trees to bloom.
Beets - plant when dandelions start to bloom.
Broccoli - when quince is blooming, transplant outdoors.
Cabbage - plant when mock orange is in full bloom.
Carrots - plant seeds when dandelions and daffodils bloom.
Chard - half-hardy vegetables can be planted when the daffodils bloom.
Corn - when Apple blossoms start to fall.
Cucumbers - plant when lilac blooms start to fade.
Lettuce - sow seeds when dandelions bloom.
Melons - when peonies blossom.
Onion sets -when forsythia blooms.
Peas -when daffodils bloom.
Peppers - when irises bloom.
Potatoes – when dandelions bloom.
Spinach - blooming crocus.
Tomatoes - plant tomato plants when lilies bloom.
---
To contact a reporter for this story, email Rob Munro or call 250-808-0143 or email the editor. You can also submit photos, videos or news tips to the newsroom and be entered to win a monthly prize draw.
We welcome your comments and opinions on our stories but play nice. We won't censor or delete comments unless they contain off-topic statements or links, unnecessary vulgarity, false facts, spam or obviously fake profiles. If you have any concerns about what you see in comments, email the editor in the link above.
News from © iNFOnews, 2021