First-time homebuyers with 2 incomes, no kids priced out of Penticton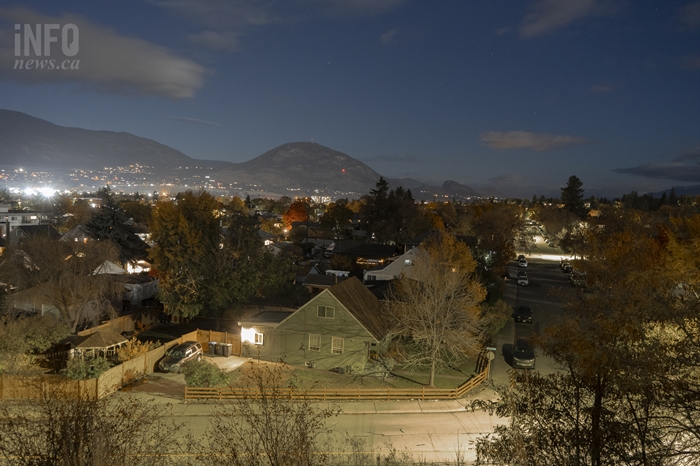 An electrician from Penticton is looking to purchase his first home but he and his partner are finding the options in the South Okanagan are very limited.
Jared Mamic and his partner work full-time and they have no children.
Despite having a decent dual-income and no significant debt, the bank has only pre-approved the couple for a mortgage that can't afford much more than a condo or mobile home. Mamic – who's been a resident of Penticton for the past six years – said the best house he can afford is 700 square feet and over 80 years old.
"You spend five, six years saving money to buy a house and then all you can afford is a one-bedroom for half a million," he said.
The couple hopes to eventually own property in Penticton. But their first home is probably going to be in Prince George, as they're waiting for the bank to finalize an offer they made that was accepted by the seller.
The property in Prince George is a much larger lot with a newly-renovated 2,400 square foot house and double garage. And it cost roughly the same as the 700 square foot house in Penticton.
"It was a no brainer to me – it was either a full-sized house in Prince George or a little cottage in Penticton," Mamic said.
The cost of property throughout the Okanagan is rising rapidly. The assessed value of homes in Penticton rose by one-third from 2020 to 2021.
READ MORE: B.C. property assessments continue to rise; rural communities show highest increases
Real estate agent Jesse Chapman of Chapman Real Estate has a few ideas as to why prices are rising at such steep rate, and he believes COVID has been the main driver.
"Everybody's getting out of the coast," he said. "Now that more people can work remotely, they can work somewhere more rural."
Also, with the last wave of Baby Boomers reaching retirement age, Chapman expects their habits will continue to drive the market for the next 10 years or so. Similar to remote workers, retirees who want to escape big cities seem to like the Okanagan.
For investors, there is a more attractive cap rate in the Okanagan compared to the Lower Mainland, he said, adding that low interest rates are also a contributing factor.
"Money is very cheap to borrow right now, we're circling around 2% for mortgage rates… Once that number gets up to 2.4% we'll see a lot less people wanting to buy," Chapman said.
He doesn't expect mortgage rates to rise to that level for at least a year. And since a federal election was just held three months ago he doesn't expect any sudden changes in fiscal policy.
In 2007, he remembers local property values rising at an even steeper rate than they did over the past year. That previous run was followed by the global financial crisis.
However, there is more regulation now compared to 2007 so Chapman doesn't expect the next corrections to be nearly as severe.
The best place for first-time buyers to look may be in Okanagan Falls, Chapman said, as the lower cost of land allows for cheaper pricing and there seems to be an appetite to develop. He predicts a housing boom to begin there within the next year or so.
READ MORE: Residential property values plunged most in Lytton at -23%
Penticton's MP Richard Cannings has also noticed more folks moving into the South Okanagan from metropolises, and he suspects Vancouver's hot housing market is spilling into the Okanagan.
"People want to get away from COVID. They're coming here because they want easy access to the outdoors, and far more people are able to work from home," he said.
Another reason prices seem to be rising so fast is because big businesses are investing more heavily in real estate, he said.
"It's essentially impossible for most first-time home buyers to enter the market," Cannings said.
Currently, the federal government is addressing housing challenges by supporting developers who's projects are often sold above average market values, he said, adding that average market values are already too expensive for most people.
READ MORE: All but 5 of 100 most expensive homes in Thompson-Okanagan are lakefront
But while the ability to purchase and own property is becoming further out of reach for average income earners, Cannings is more worried about people who don't even have a place to rent. He said many newly homeless people are on the streets because they are unable to find or afford housing.
The number of housing rentals in most markets were been reduced by the advent of Air B&B, he said, and added it's common to hear about residents getting evicted for renovations.
But he feels like there hasn't been enough relief for those who rely on the dwindling rental market.
And like most cities in the Okanagan – places where tourists like to vacation – many of the houses in Penticton are not primary residences.
"We need to find ways to deal with that issue in our area," he said.
Sticking with a promise the NDP made in the 2021 Federal Election, Cannings said the best solution the federal government could provide is to invest in 500,000 units of affordable housing throughout Canada.
"We need to start building serious amounts of affordable housing – that means rental properties and co-op homes."
Some employers in Cannings' riding of South Okanagan-West Kootenay told him they've purchased properties specifically to rent out to their employees, as the housing crunch was preventing them from attracting workers.
According to recent stats from U-Haul, Penticton ranked 21st among Canadian cities for the greatest number of move-ins. One-way truck rentals to Penticton in 2021 increased by 30% compared to 2020, while one-way departures only increased by 19%.
Kamloops and Kelowna/West Kelowna also made it onto U-Haul's list of cities with the most growth, ranking 11th and sixth respectively.
---
To contact a reporter for this story, email Dan Walton or call 250-488-3065 or email the editor. You can also submit photos, videos or news tips to the newsroom and be entered to win a monthly prize draw.
We welcome your comments and opinions on our stories but play nice. We won't censor or delete comments unless they contain off-topic statements or links, unnecessary vulgarity, false facts, spam or obviously fake profiles. If you have any concerns about what you see in comments, email the editor in the link above.
News from © iNFOnews, 2022