Covers make patios and decks year-round outdoor leisure space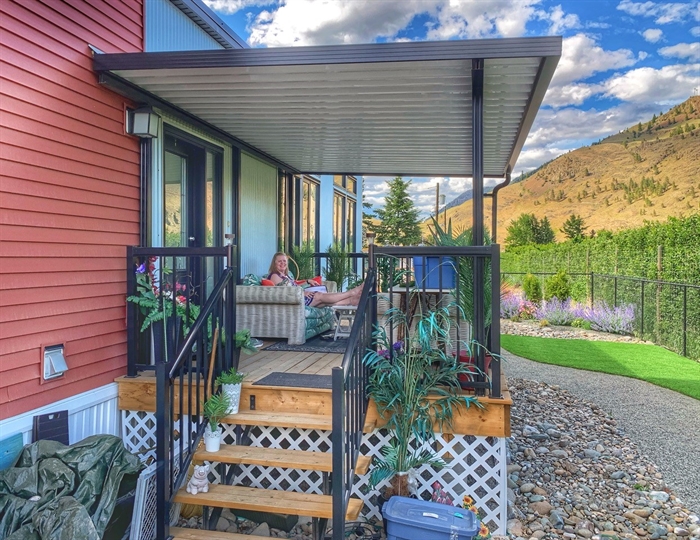 Got shade? If not, a patio or deck cover could be just what you need.
With summer here, most people are planning to spend more time outdoors. And many are planning to do that at home. If you have a patio, the ideal way to make it the perfect year-round leisure space is by installing a cover that will provide shade in the summer and protection from the elements in the winter.
Patio covers not only create more year-round useable space for your home but also help increase the value of your property. When it comes to patio covers, the company to turn to in the Okanagan is Tropicana Sunrooms and Patio Covers. Based in West Kelowna, Tropicana has served the entire Okanagan — from Sicamous to Osoyoos — since 1982. The company is an expert when it comes to expanding your patio or deck's use while giving you more privacy to enjoy your outdoor experience.
And patio covers are growing in popularity. "The demand has been huge" says Tropicana owner Bill Wickman, adding in the last few years, business has been brisk as homeowners discover the benefits of covering their patios and decks. He says with so many people working or hanging out at home due to the COVID-19 pandemic, many are looking to improve their living space and seeing how they can effectively, and economically, expand the use of outdoor areas like patios and decks.
The high-quality aluminum roof covers produced by Tropicana at its 2,000-square foot workshop in West Kelowna provide shade in the summer and keep snow off decks and patios in the winter. That allows for new uses like year-round barbecuing and outdoor entertaining.
Covers are a convenient, quick and less expensive way to add more living space to a home. Features like skylights can also be incorporated into any design at an additional cost. Using its roll-form machinery to create the high-quality aluminum roof panels that are installed by Tropicana's team of professional installers, the process is quick and affordable. Most installations can be completed in a day.
The cost of a typical 200-square-foot deck or patio cover is around $3,600 plus tax. Tropicana offers a two-year warranty on parts and labour. The covers come with their own supports and specialized built-in gutter systems. The supports are powder-coated to resist corrosion and the panels are UV-resistant. The optional skylights are made of polycarbonate and can be tinted if required.
Tropicana's patio covers meet all building code requirements and are engineered to handle snow loads. They are specifically engineered for use on different styles of residential homes, commercial buildings and businesses. So, if you are looking to improve the outdoor leisure space of your home, give Tropicana a call for an in-home estimate.
You can contact Tropicana at 250-769-6616 or by email at bill@tropicanapatiocovers.com. For more information, and to see more examples of the company's work, go to tropicanapatiocovers.com.
Sponsored By

News from © iNFOTEL MULTIMEDIA, 2021