Caring for Trees: Call your local Pine Valley Tree Service Team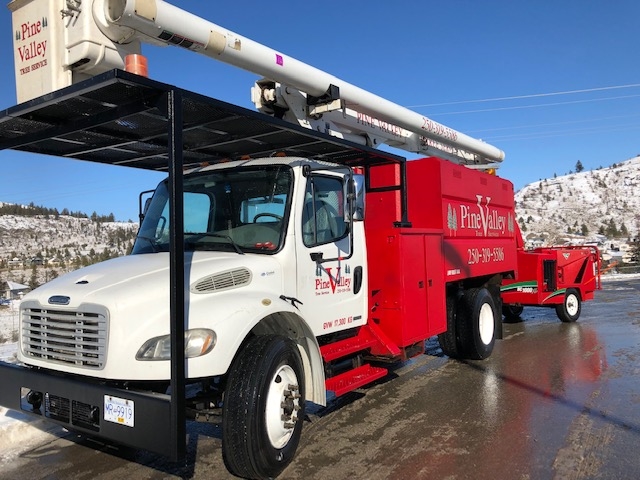 In 1982, when Larry Kwak was 13 years old, he started working part-time for his dad's tree service company in Abbotsford. He chipped branches, tree limbs and foliage that the climbers cut down. By 16, he was one of the climbers — working with his dad after school and developing what would be a life-long passion for trees. More than 40 years later, he is still climbing while he runs a large tree services business, Pine Valley Tree Service and Landscaping.
And just as he worked with his dad, his son Ryan is part of Larry's business, acting as his dad's second-in-command and the company's head general foreman. The family participation in the business does not end there. Larry's wife is his partner and helps run the company. His daughters work there too, along with an uncle and aunt who run the stump machines.
"Yeah, it's definitely a family business," says Larry, who said he wants to retire, but not just yet.
The company started in Kamloops in 2008. Pine Valley Tree Services and Landscaping has become the premier tree services company in central B.C. — providing clients with dependable, reputable and honest service in addressing their tree care needs. The company has now expanded to Salmon Arm, Vernon and Kelowna.
Staffed by a "family" of reliable, expert professionals, Pine Valley's services include removal of hazardous trees due to wildfires or disease, tree pruning and shaping, and utility arborist services designed to keep power lines safe and intact. They also offer 24/7 emergency services response.
In addition to residential services, the company also works with municipalities, school districts and other institutional clients, as well as commercial clients such as property management companies, B.C. Parks and TELUS. Larry Kwak says his 25-person staff is kept very busy serving between 5,000 and 6,000 clients a year.
Part of the service Pine Valley offers is also educational. Teaching the public about tree care is important, because proper preventative maintenance will not only extend the life of a tree but also save money in the long run if it helps avoid an expensive removal later.
Because of the importance of getting that information out to the public — especially in the dry climate of the B.C. Southern Interior, Pine Valley includes a series of blog posts on its website that talk about various aspects of tree maintenance and the importance of trees to the environment.
At this time of year, one maintenance tip Larry Kwak gives is the importance of not only giving trees plenty of water but also fertilizing them a few times a year to help maintain their health and growth.
"A lot of people don't water their trees enough and most don't think about fertilizing them," he says. When people water their lawns near trees, the grass tends to absorb most of the water. So, it's important to provide enough water to help sustain the tree too. If it is a large tree or a number of trees, that can mean more water than one may think.
As certified arborists, Larry and his managers Ryan or Nathaniel can also advise about the health of trees - they are trained to identify tree species and know about their specific management needs.
With its expansion to Salmon Arm, Vernon and Kelowna, Pine Valley is bringing its expertise to the central Okanagan. Give Pine Valley Tree Services and Landscaping a call at the Kamloops office (778-362-3230 or toll-free at 1-888-778-3230) or send an email at info@pinevalleytreeservices.ca. The locations, hours of business, telephone numbers and other information for Kelowna (250-801-8405), Vernon (250-241-1704), and Salmon Arm (250-241-1704), are available on the website, in addition to reference materials on tree care.
Sponsored By

News from © iNFOTEL MULTIMEDIA, 2021